Andy Bandos.
Andy is a name that everyone in the Shenmue community should know. It's so hard to imagine today that all Shenmue fans had during the turn of the millennium, in regards to online Shenmue news and information, was via major news outlets such as IGN, Gamespot, and various general fan sites created to cover video games in general. The internet was still primitive, a wasteland, an exciting frontier where anyone with some coding and design knowledge could pitch their own individual stake, and lay claim to their newly acquired blank canvas within the World Wide Web.
The Shenmue Dojo is the oldest, and longest running Shenmue dedicated site still active on the internet today, and whilst the entire Shenmue community has grown beyond what anyone could ever have imagined, it's important to us here to go back to the very beginning of where this all began. One person, one game, one small idea that would go on to touch millions of people over the course of time since its creation in 2000.
Thank you, Andy for starting it all.
________________________________________________________________________________
"I read the magazine article over and over, but I was disappointed not to find much of anything online. GameSpot and IGN had very few details.
I figured I could use my newly acquired web design talents to make something better."
Andy Bandos – Team Yu "Community Spirit", 2016.
In the fall of 2000, Shenmue had been available in Japan for around 8 months, and as customary it was back in those days, news began appearing thick and fast in the Western world's video game magazines. Official Dreamcast Magazine, both UK and US editions, began to grace their issues with mouth-watering screenshots and news articles covering Yu Suzuki's latest and most ambitious video game ever, and it was these very issues where Chicago based Andy Bandos began to get hooked.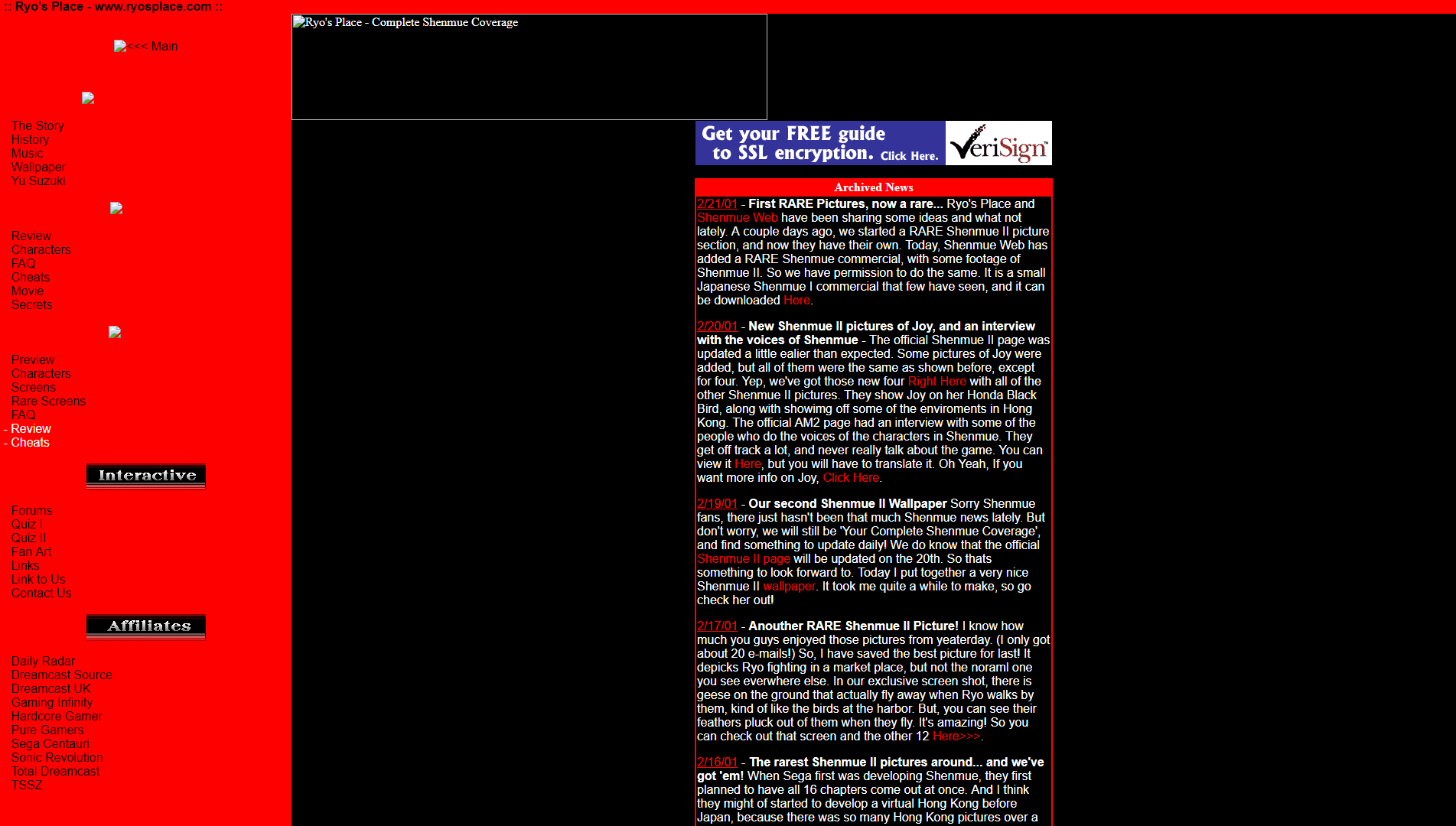 With that, the idea was set in motion, and the birth of a Shenmue centric, online website was born just days after the US release of Shenmue on November 14th, 2000. "Ryo's Place" was the first incarnation of what would become the "Shenmue Dojo". Designed with a red and black theme (popular with most new internet sites from that era, due to the desire of wanting to "stand out") and a bulletin layout, Ryo's Place demonstrated 2 key principles right at the very beginning; the latest news on all things Shenmue related, and the building of a community.
The first 2 weeks of the sites opening saw Andy begin to add anything and everything Shenmue related to the site, including the history of Shenmue, chart position of the newly released title, and gathering various reviews from both printed and online sources. Along with keeping the site as up to date as possible with Shenmue related content, Andy simultaneously reached out to build connections with other sites on the net at that time. Developing affiliations with other sites was a tactical strategy used to not only grow your own site at the time, but to also help others grow along with your own, and the first site to affiliate with Ryo's Place was "Outpost Sega". Whilst other affiliates would be achieved in the future, Outpost Sega was not just influential with being the first affiliate of Ryo's Place, but on 16th December 2000, they allowed Ryo's Place to have their defunct ikonboard forums, and thus the first interactive fan community was born. Within a month, Andy had set up one of the world's first Shenmue fan sites, as well as a community forum where fans could register and share their love for this new Shenmue video game.
The original site address of Ryo's Place was "ryoshenmue.cjb.net", and with changing to "ryosplace.com", the site began to take shape. Daily additions from Andy included reviews, previews, images, music, movies, character descriptions, wallpapers, history, hints, secrets, cheats, archives, articles, merchandise, staff page, and an FAQ page, Not content with just site content, the affiliates list began to build up; Outpost Sega, Dreamcast Source, Pure Games, Hardcore Gamers, The Super Sonic Zone (TSSZ), SegaEye, DC UK, Sega Centauri and Total Dreamcast.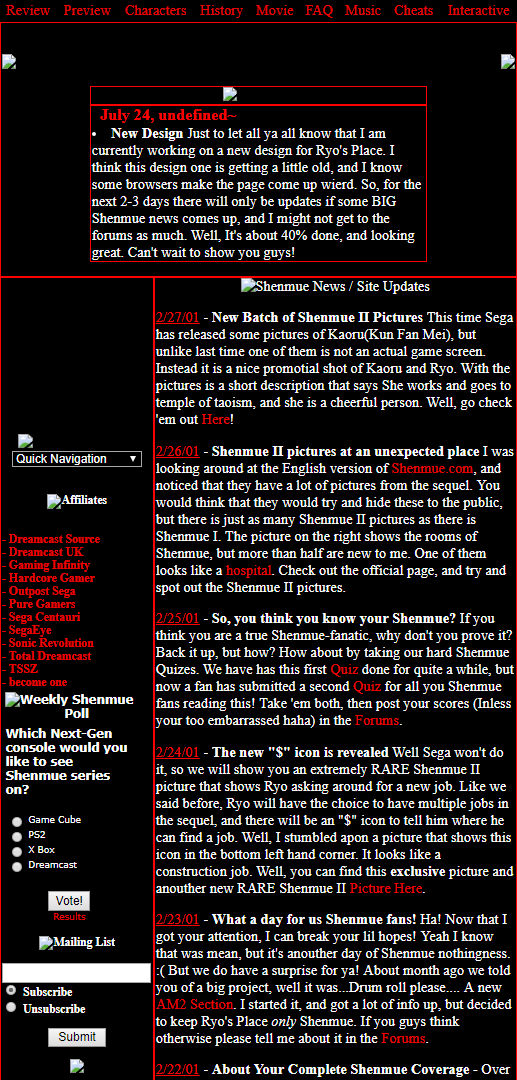 There was no resting on laurels for Andy and Ryo's Place, as the site continued to add in-depth content throughout the beginning of 2001, in preparation for the release of the hotly anticipated sequel, Shenmue 2, on the Sega Dreamcast. A new site design was revealed consisting of a maroon, silver and black colour palette (images unavailable at this time), and more interaction was encouraged on the site. The forums were being used to discuss all things Shenmue, seeing daily members increase the community growth, and with the introduction of polls, quizzes fan art and articles, new staff were required to come on board to help Andy maintain Ryo's Place to its high standard. ShenmueWeb, The Great TC, and Ryo were brought on board as site contributors.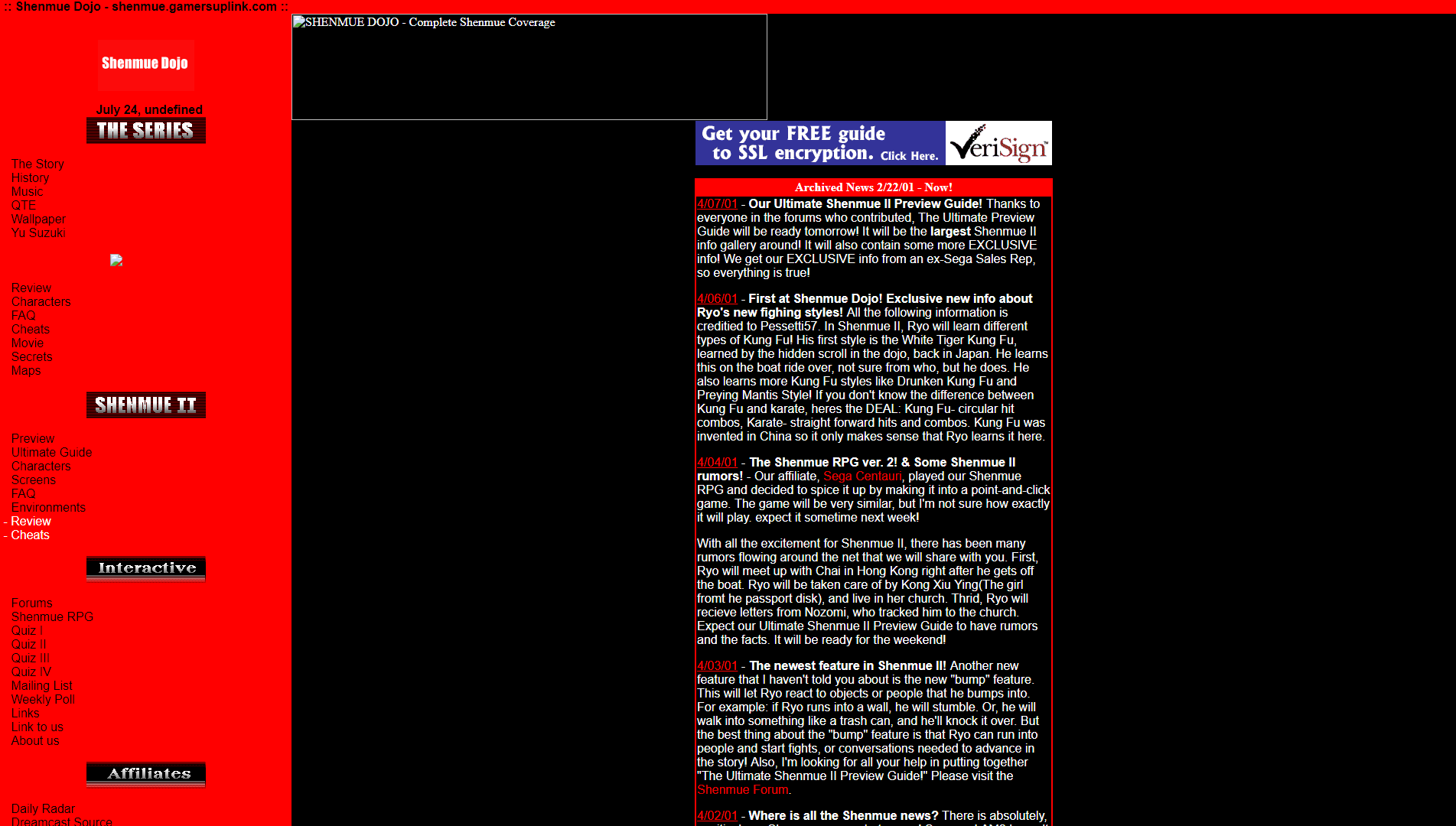 Throughout March and April, the news was pouring in regarding Shenmue 2, and Ryo's Place continued to be the first site with screenshots, news and updates. It was in the latter half of April that year when it was decided that Ryo's Place should have a name change, and whilst the exact date of the change cannot be pinpointed, Andy had renamed Ryo's Place as the "Shenmue Dojo". A full site and forum rebranding began to take place, with the forum header reading, "enter the Dojo as a gamer… exit a Shenmue master!".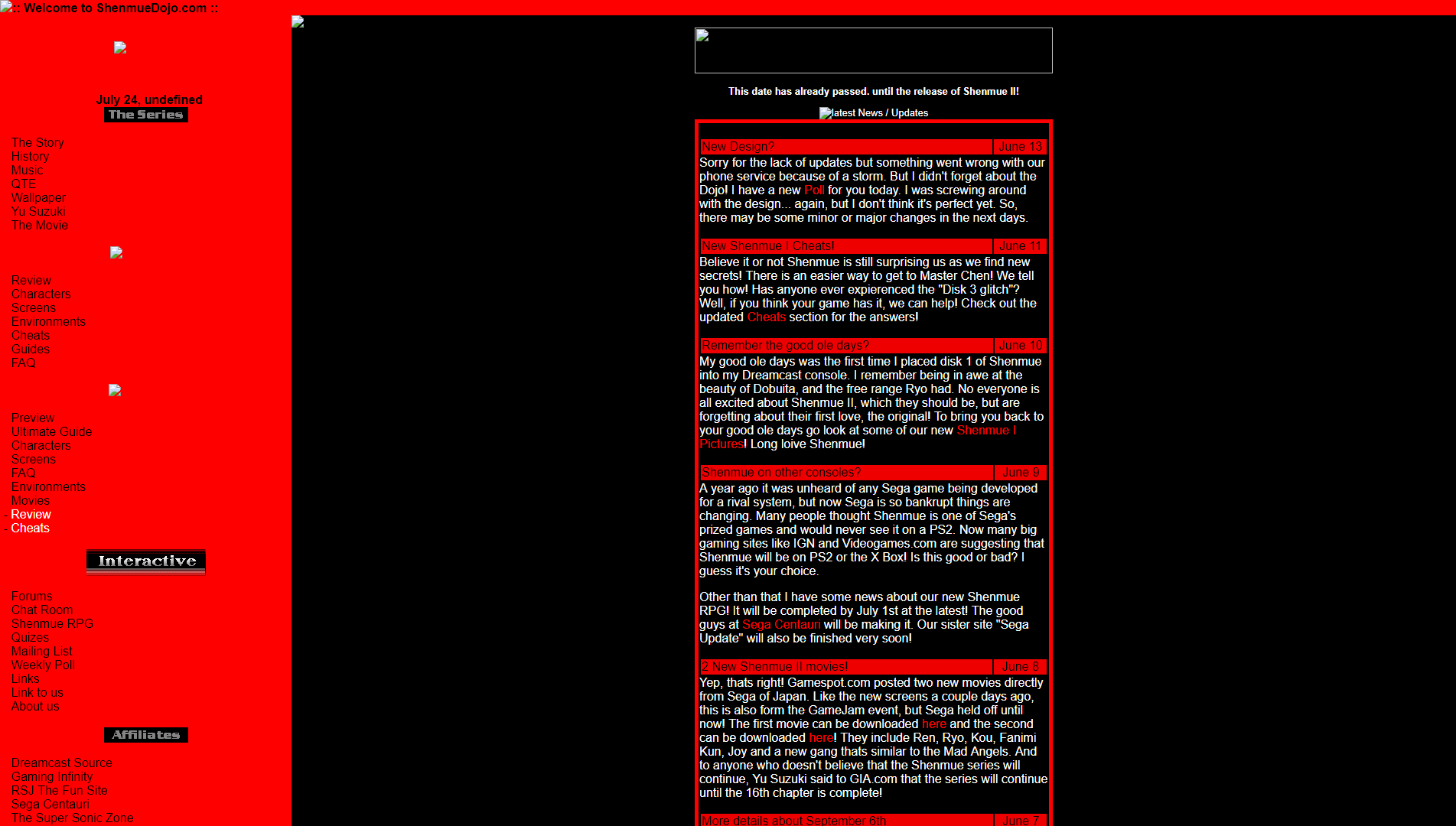 May and June of 2001 served as a testing period of time, with the site focusing as much on itself as on Shenmue news. The newly named Shenmue Dojo was going through a bit of a design change, with Shenmue Dojo v1.5, and v2.0 taking center stage in regards to the sites priorities. With no Shenmue II at E3 2001, more time was dedicated to revamping the site, with new staff members Creative Control and xZiBiT, Andy announced on May 20th 2001, that the team would be taking another giant step in redesigning the site.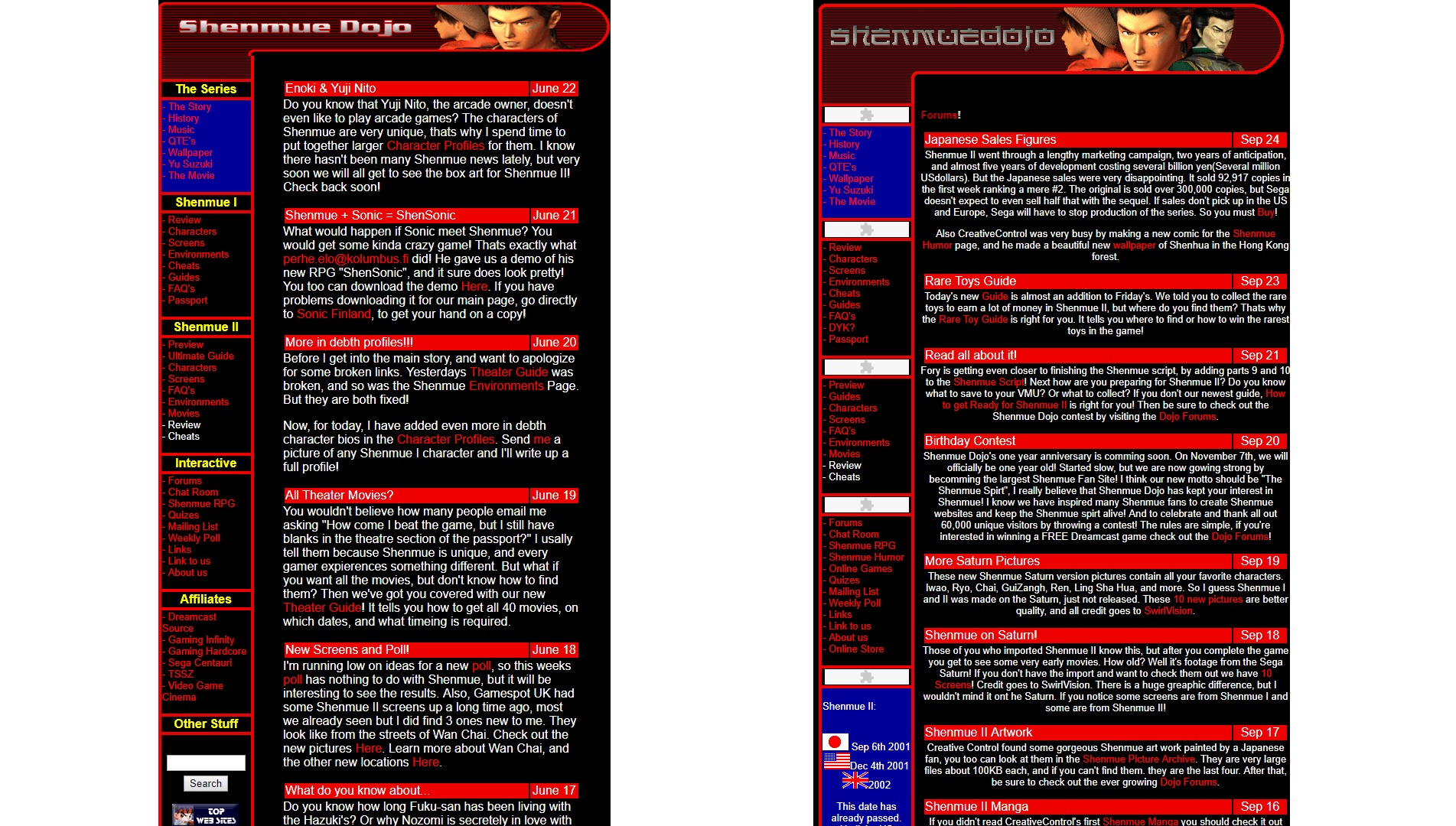 Shenmue Dojo main site v3.0 & Shenmue Dojo main site v3.0 with tweaks
Entitled, "Shenmue Dojo Ver. 3.0", the new site design was revealed on June 14th 2001. It still retained the original Ryo's Place sites red and black colour scheme, but with a new banner and a more user-friendly style. Since the new design was complete, attention then returned to developing the sites content, including the addition of the Shenmue Passport features into its own designated section, cataloguing all new Shenmue II information, and keeping the community interactivity high, with more weekly polls, quizzes, and a new mailing list feature. Greater forum participation was encouraged with continued promotion, as well as the addition of new sub-forums for members to broaden their conversations.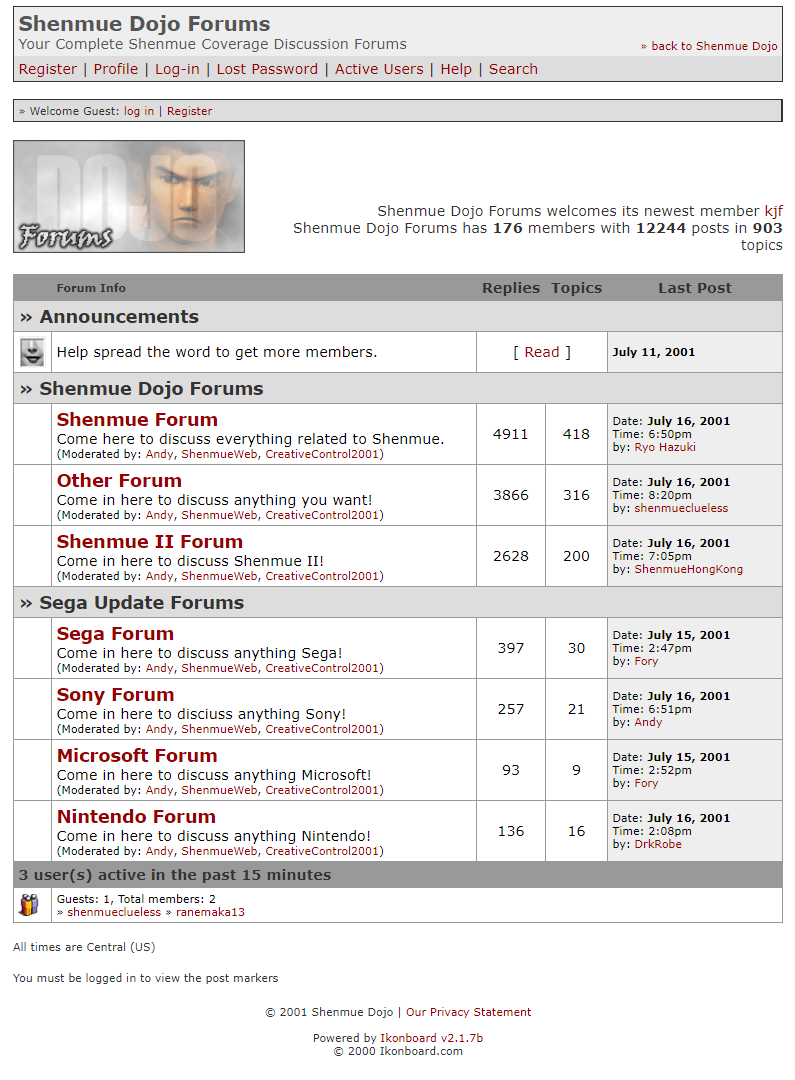 July and August saw a few tweaks here and there to the sites design, including a change in the sites logo font, banner imagery and various sidebar additions to help keep visitors up to date with the latest Shenmue II news. December 4th was the scheduled release date for Shenmue II in the US, and the Shenmue Dojo was the place to go for all the latest news, screenshots and more! Whatever you could think of in relation to Shenmue, Andy and his team had worked hard to pack the site full of all Shenmue content imaginable. The list included: story, history, music, QTE's, wallpapers, Yu Suzuki section, Shenmue the Movie, reviews, characters, screens, environments, cheats, guides, FAQ's, Passport section, previews, movies, forums, chat room, Shenmue RPG (site text based adventure), Shenmue humor, online games, quizzes, mailing list, weekly poll, links and even an online store! (As best this author can tell, it was a link to purchase Shenmue related goods.)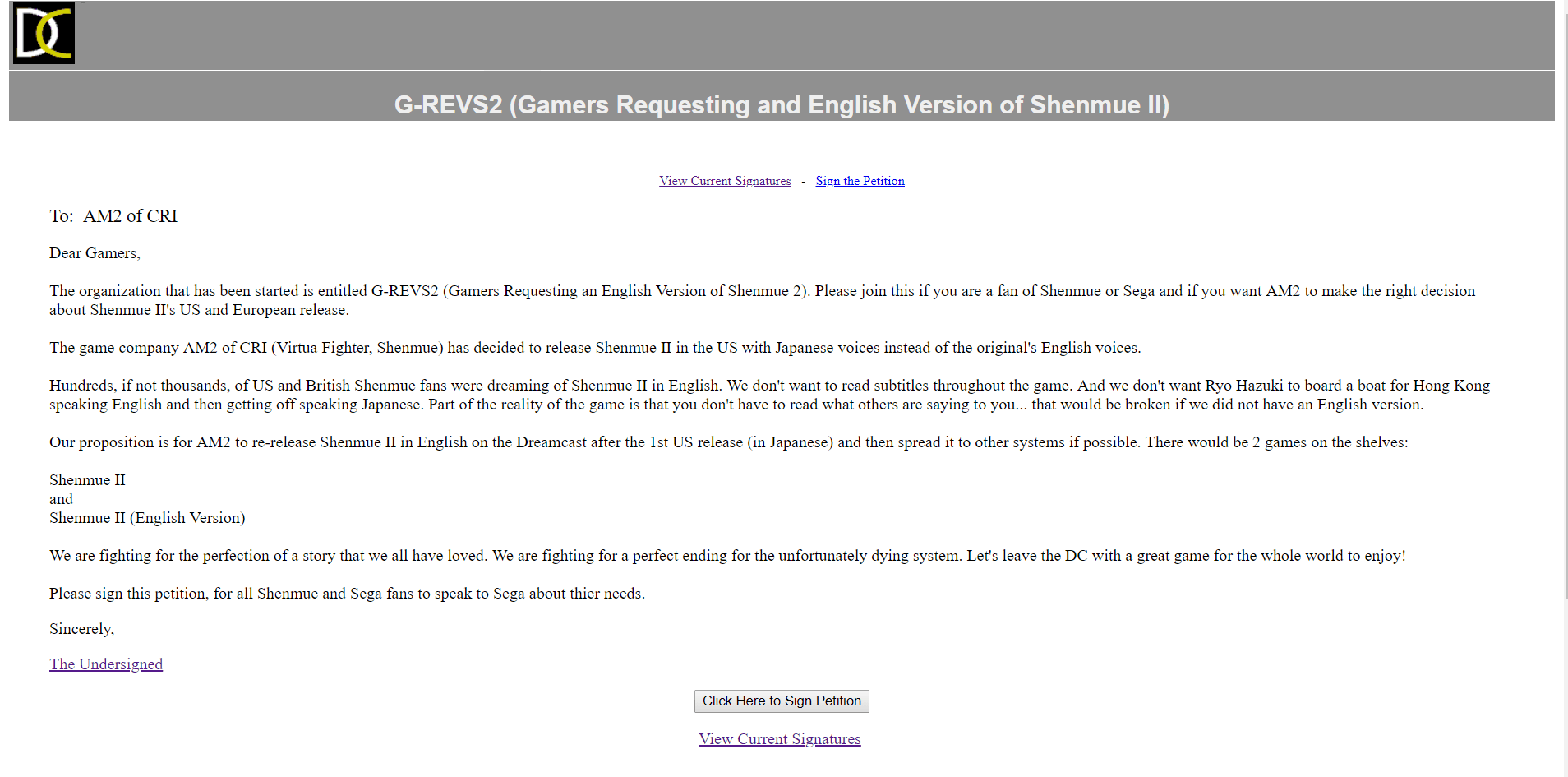 First Shenmue related online petition
Despite all of the great work being conducted on the new Shenmue Dojo site, bad news was beginning to filter from Japan, that the Western Shenmue II Dreamcast release would not have an English voice re-dubbing. The game would be shipped with the in game characters voiced by the original Japanese recording artists, however, it would have English subtitles. This disappointment resulted in the Shenmue Dojo introducing a process to the fans. A process which would take on a greater life in many years to come; a campaign. The petition began on September 2nd 2001, and just four days later, Sega of America confirmed that the western release of Shenmue II for the Sega Dreamcast would be voiced entirely in Japanese with English subtitles. Created by staff member ShenmueWeb, G-REVS2 (Gamers Requesting an English Version of Shenmue II) the first Shenmue orientated online petition raised a total of 1276 signatures before the games European release, and for a site with just over 200 members at that point, it certainly was not a bad turnover of support for that time.
Whilst we all know how that played out in the grand scheme of things, it's important to acknowledge at this early stage of the Shenmue community how awareness to combining voices would have the potential to change the status quo, and correct the course that something is currently on.
With the excitement growing and content raining down like a wet day in Dobuita, XziBiT was made co-webmaster alongside Andy, to help with the site. It was at this time, however, that Shenmue fans were hit with some more bad news; Shenmue II would not be released for the Dreamcast in North America, despite Europe seeing a full release. It would later come to light that Microsoft had purchased the rights for a North America release, as a new title to feature on their Xbox console. The backlash was so severe, the then President and COO of Sega of America, Peter Moore, issued a public apology on November 1st 2001.
Unfortunately, technology and memory at this point fail us all, and no news on the Shenmue Dojo is available until February 2002. If anyone can help fill in this small portion of time with tales or imagery, please contact us via the link at the bottom of the page.
________________________________________________________________________________
"I think my interests were starting to wander into other games and hobbies, but I felt an obligation to keep the site alive because of all the great people who enjoyed it…"
Andy Bandos – Team Yu "Community Spirit", 2016.
2002 had arrived, and a lot of things had changed at the Shenmue Dojo, moving into its v4.0 stage.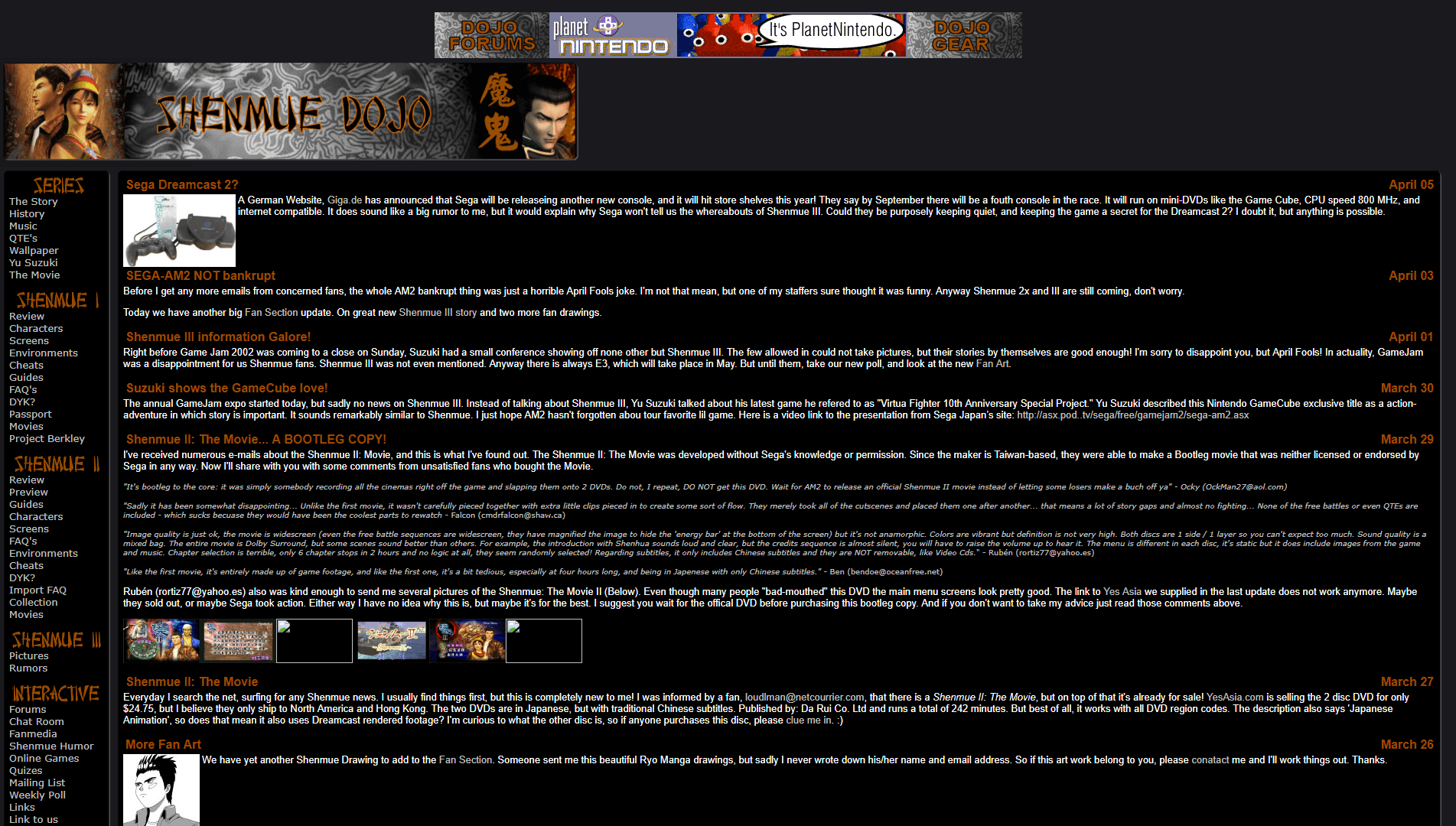 The site had migrated over to the Gamespy servers, under their Planet Xbox network. Offering a wide range of services from FTP support, bandwidth increases, forum support and others, it was a smart move, and allowed the site to reach more people around the world.
A new site design had arrived, and was the first to break away from the original palette of red and black from Ryo's Place. The new site retained the black background of the original site, but replaced the red shade with a more relaxed maroon look. The site also had a change of personnel to go with the newly developed look. Andy was still the owner of the site, along with XziBiT filling the role of co-webmaster. Despite the exit of Creative Control and ShenmueWeb, Andy had found help in the form of new site webmasters, HellRaiser and ex Shenmue – Yokosuka site owner, Iwao Hazuki. It was at this time that it was noticeable how much Andy was less active on the site due to various reasons, and that HellRaiser had taken the mantle of running the site in his absence.
The forum had also received a huge makeover, with its own dedicated banner, as well as a fully in depth layout powered by Forum Planet. The growth of the forums was at its highest point, with over 1100 members by June of 2002. The depth of the forum community had been transformed, from a couple of forums orientated around Shenmue, to a full spread of sub forums to pique anyone's interests. From Shenmue to anime, games consoles to sport, the new forums were a place where a Shenmue fan didn't just have to discuss Shenmue anymore. They could discuss whatever topics they felt they were into and enjoyed.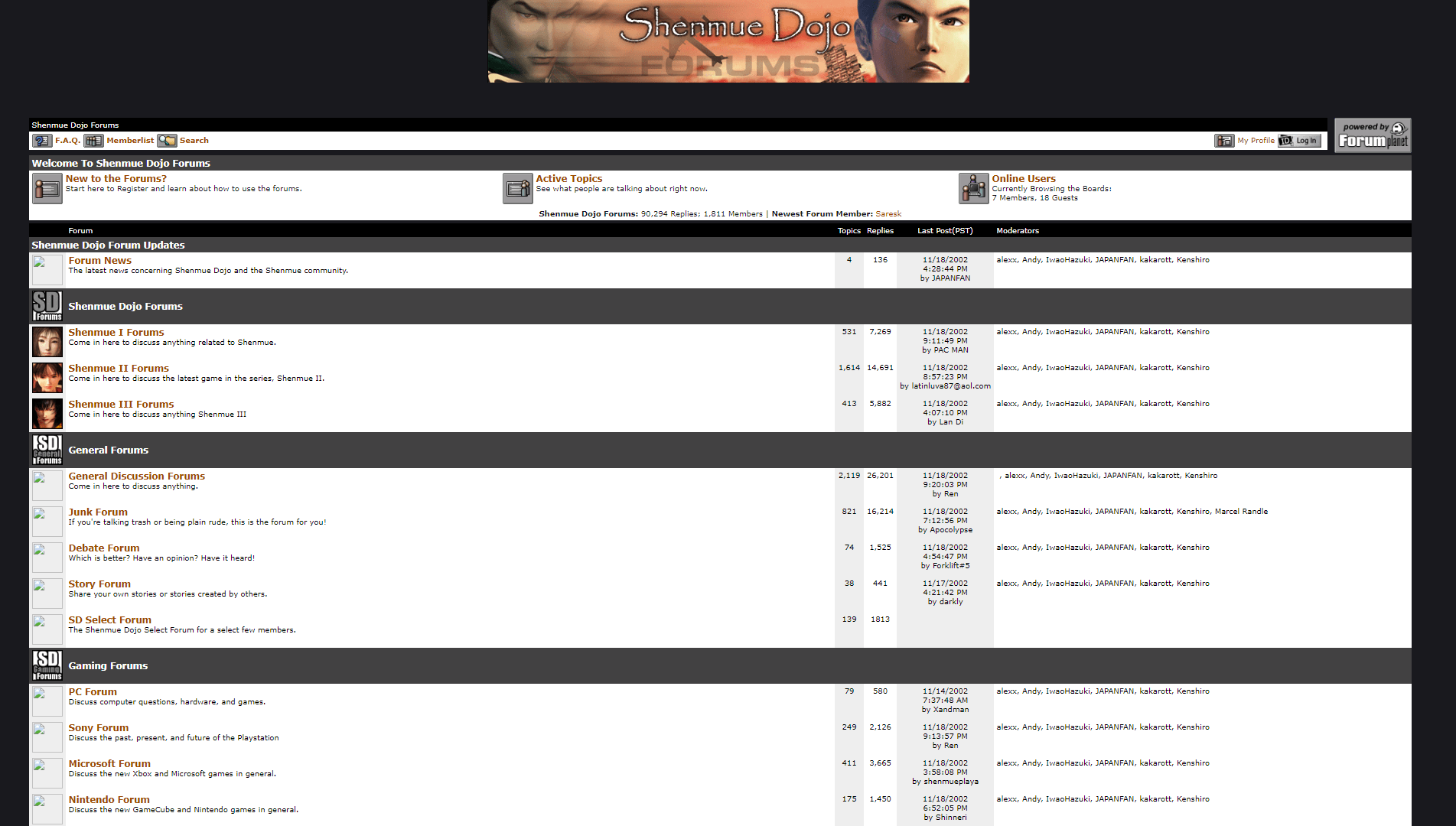 First Gamespy Planet Xbox forums
The main site, however, didn't have that much in the way of Shenmue II (Xbox) news. That didn't stop Andy and HellRaiser adding a consistent level of content to the Shenmue Dojo. Both fan art, and Shenmue media were piled into the site, as everyone waited on more substantial news on Shenmue II for Microsoft's Xbox.
It was at this point, on 16th September of 2002, that things really began to seem like all was not well behind the scenes at the Shenmue Dojo. A notice was posted on the sites main page by Andy, asking for anyone who would like to work for the Shenmue Dojo. The reason for the recruitment of new staff was cited by Andy because, "HellRaiser and I didn't see eye to eye on most things, so he decided to quit". A staff member quitting isn't usually a big deal, but in this case, HellRaiser decided to delete all of the content he had uploaded to the site. On almost every page of the Shenmue Dojo, broken links and imagery were rampant, and Andy just could not manage it all himself. Criteria was put forward, and the hunt for new staff was underway.
Just under a week later, the application process for new staff had ended, and the relevant candidates selected to become part of the Dojo staff, but, this news would take a back seat to an even bigger piece of news that would affect the future of the Shenmue Dojo, and the wider community from this point on. HellRaiser had "returned to the Shenmue Dojo", but in the words of Andy, "he was not just my business partner, but in the end, he is my replacement. I've decided that there is no one on this planet that would do a better job of keeping up the Shenmue Dojo's success and great reputation for quality than HellRaiser. He's probably put in more hours than I have, and I've been doing this for more than double the time he has. Therefore, I have given the site to him".
That was that. After almost 2 years at the helm of the first online Shenmue site and community, Andy Bandos had given the site, his baby, to new webmaster, HellRaiser. Questions still exist to this day as to exactly what were the details surrounding the exchange, from, "was Andy moving on, and less interested in Shenmue?", to, "did HellRaiser blackmail the site from Andy with the media he deleted due to a falling out?". No one seems to really know, and it's not the opinions of this author that matter. What matters was Andy had created something that was loved by many, and his inspiration from his creation would live on, decades after he gave up his site. For that, we will always be thankful.
It was from this point on that all site updates were carried out by HellRaiser. Shenmue II on the Xbox was released in October 2002, and a plethora of content was uploaded to the site, from images, videos, dedicated sections to Project Berkley, What's Shenmue, reviews, polls, fan art, music and more. Throughout the festive period of 2002 and into 2003, content was continually added to the site under the direction of HellRaiser, but it was the first half of 2003 that would see the biggest change to the entire Shenmue dojo brand since its creation.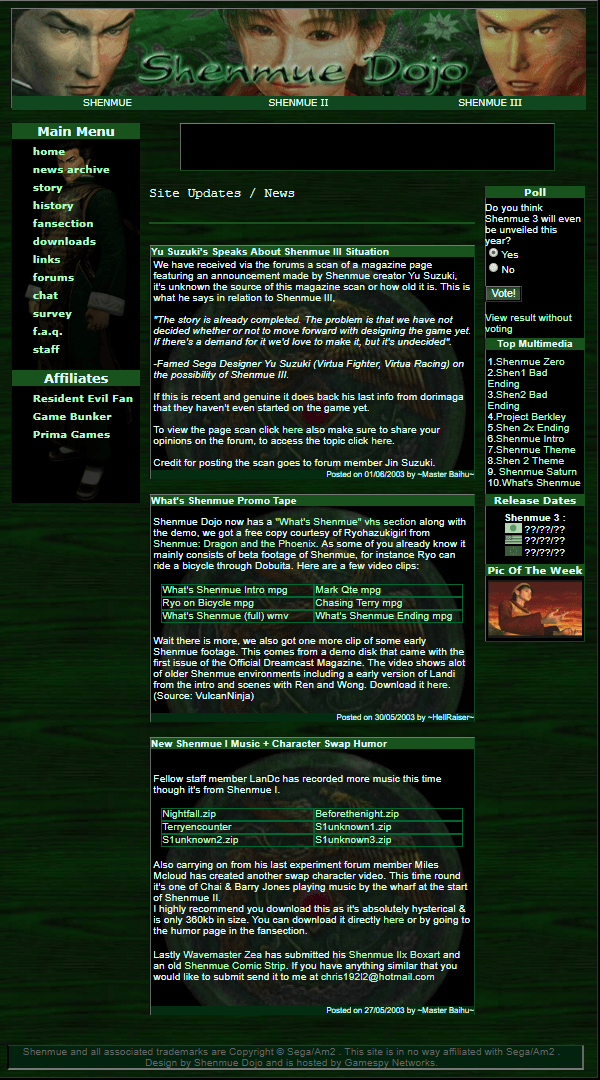 On 22nd April 2003, the main site was taken down and replaced with a placeholder image of Ryo and Shenhua, seen at the end of Shenmue II. Forum members were quick to voice their opinion, and on 30th April 2003 a new iconic look of the Dojo was introduced. Featuring a completely new site design and forums hosted on the dynamic4.gamespy servers, the black background remained, accompanied with a green theme, new banner, layout and font. Forum member count had risen to just under 2500 in April, and would continue to steadily rise with each and every month. It was at this point that the forums were at their largest, and most active thus far in the sites history. With TWENTY sub forums, new posts were made across all of them on a daily bases, and a shift in the sites main outlet could be observed.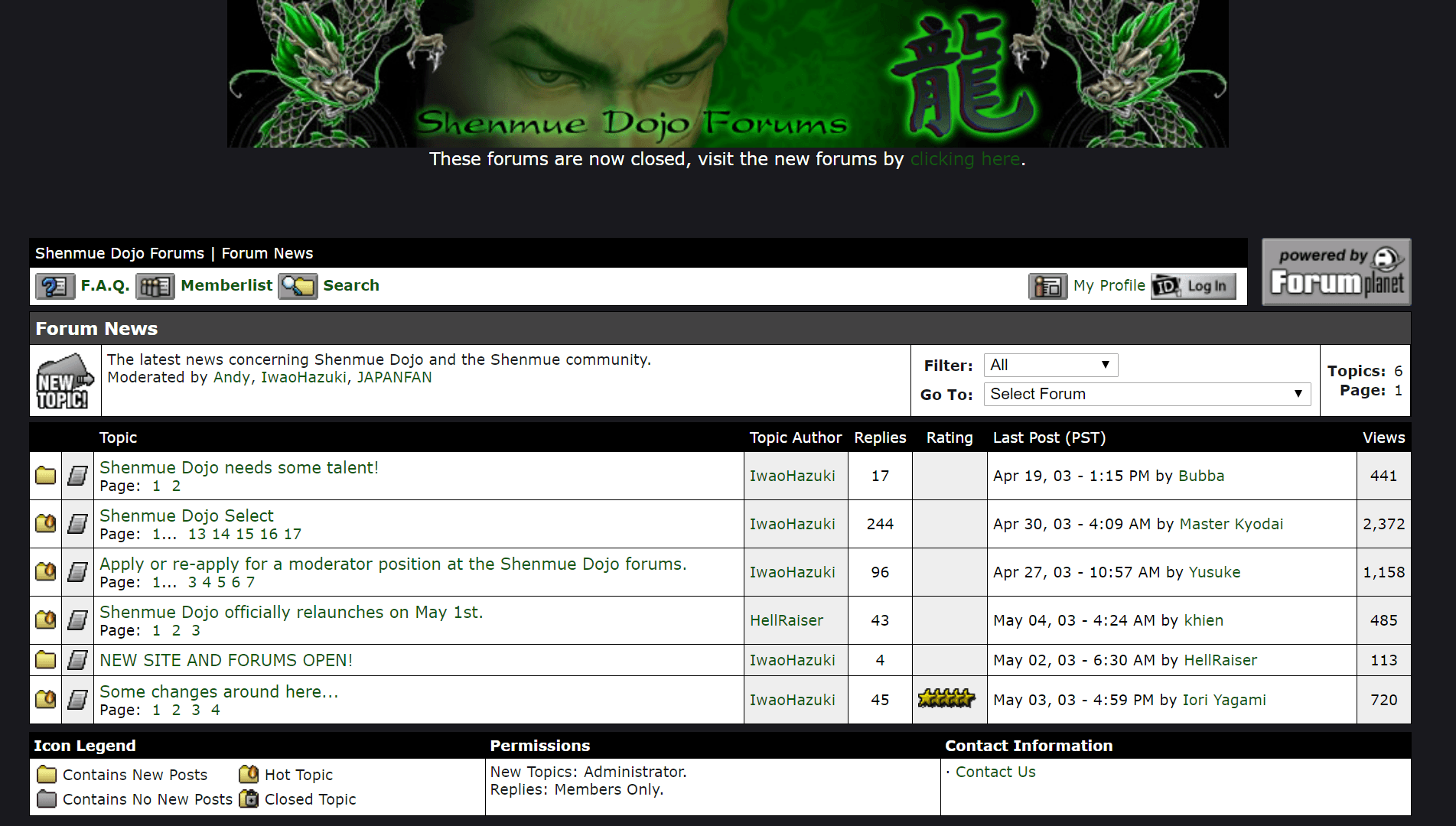 Final days of the "Old Dojo" forums
_______________________________________________________________________________
"Welcome to Shenmue Dojo's grand redesign, months of work has finally paid off with a complete makeover. The makeover is not only for the design but includes the forums as well, members can now choose between two styles, either the Dragon or the Phoenix. All this wouldn't be possible without the help from our new staff member Bysby2k3 and the rest of the dojo crew."
HellRaiser – Main Site News Archive: May 2003
Along with a new site owner and additional staff brought on board, the Shenmue Dojo website began to go in the opposite direction that the Shenmue series was heading in. As the new forums began to take shape in the forms of topic being created by it's members, design tweaks would be continuously worked on by the staff, including HellRaiser, Bysby2k3, LanDC and Master Baihu. They also worked on articles for the main sites news section, documenting any and all Shenmue related news. From a Shenmue related standpoint, this would mark the true beginning of any sort of major news drying up completely, with nothing much to report on outside of the odd mention here and there. Attention turned to Yu Suzuki, and what he was getting up to. With the internet a relatively new thing and more limited in what it is today, gathering new information from around the world would prove a lot more difficult, and harder to figure out just what Yu Suzuki's role was within the gaming industry.
Throughout the year, Bysby2k3 would continue to build upon the new design of the forums, by adding new features including emoticons, search bars, quick reply feature, small mini games, music, custom titles, online status, and varying discussion areas. Whilst starting off on phpBB 1, the forums would quickly be upgraded to version 2.0, which they would remain on for years to come. At this point also, despite a change in hands of the sites ownership, original staff members Andy and IwaoHazuki retained their administrator positions. Any rumblings behind the scenes at this point were not on view for the general public to see, and all of the original members who had joined since the creation of the original site and forums back in 2000, created new accounts and made the jump into the new future of the Shenmue Dojo over the summer of 2003.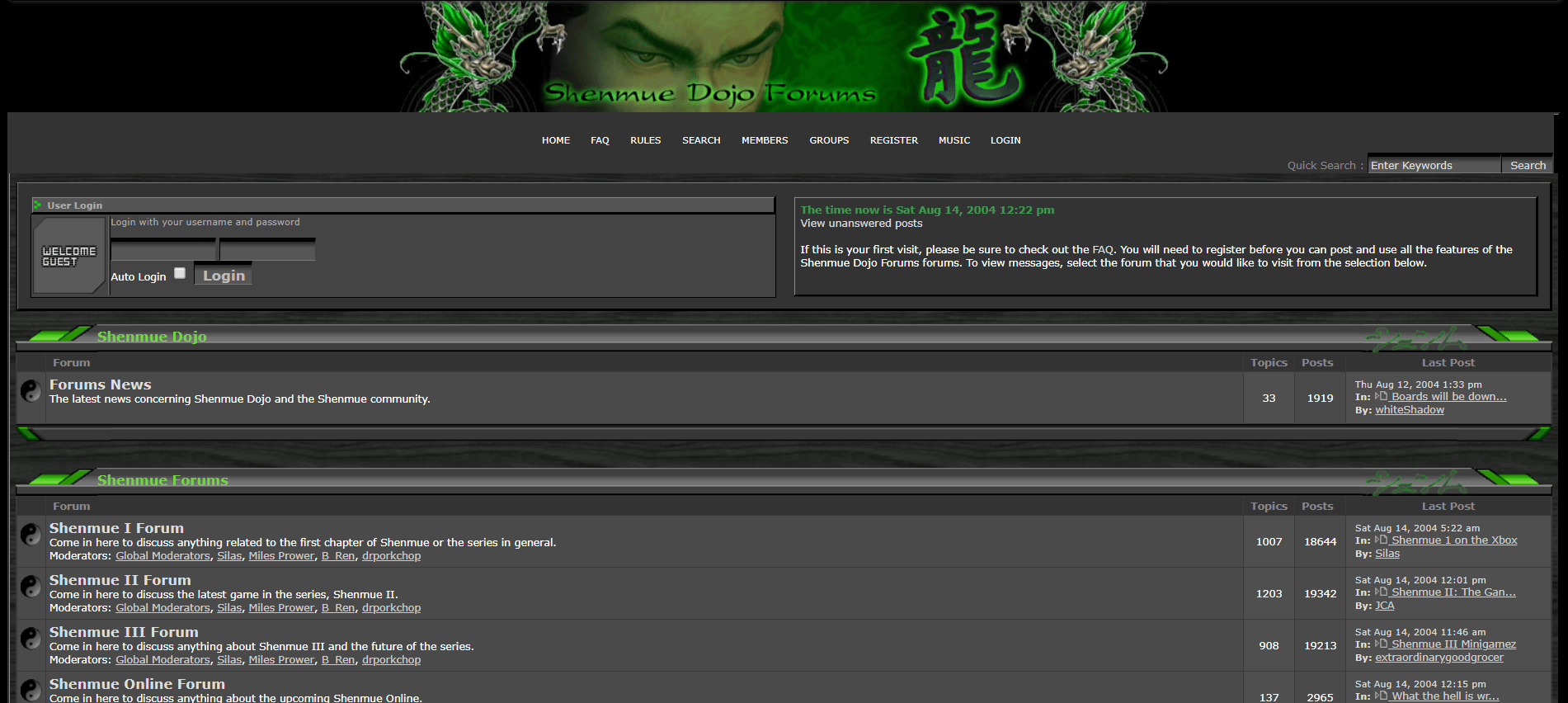 New Shenmue Dojo Forum design by Bysby2k3
Despite things seemly in a good place for the site from a public standpoint, drama and the Dojo have always went hand in hand. If any sort of animosity from the site changing hands from Andy to HellRaiser was put on the backburner at the time, it would soon begin to manifest itself in the worst possible way over the coming months. Despite not exactly knowing the circumstances of how the sites ownership changed hands, tensions were further escalated in June 2003, when some board members began to notice that the domain name (shenmuedojo.com) appeared to have lapsed, and not renewed by Andy. As best can be worked out, the lapse was the result of an unreliable web hosting company Andy used to purchase the domain, and they had let him down through means of communication, as well as seemingly being bought out by another company. In July, HellRaiser (under the guise of an alias account, TheArchfiend) confirmed that the domain did indeed have a new owner, a Mr Gary Lam. A kung-fu teacher based in Hong Kong, the consensus was that he somehow got hold of the domain. This led forum administrator Bysby2k3 to secure a new domain, shenmuedojo.net, as a replacement for losing out on the .com domain.
Also in the summer of 2003, the age old forum trend began to raise its ugly head, of "us versus them". Internet forums will always have staff, and there will always be cries of dictatorship practices, and unfair decisions. With the forums rising in popularity and new members joining by the day, inevitable arguments would take place on a more frequent basis, with some feeling that any warnings or bans handed out by the staff were uncalled for and unnecessary. Forum staff are usually recruited based on the necessary qualities they demonstrate, including a level headed nature, resilience and patience, but with everyone always having a different opinion, any actions taken by the staff in any circumstance will always result in an "us versus them" debate. 2003 was no different with staff already having to bring the excitement down, and an adolescent rebellious streak already being seen in some members, new and old. Topics began to get deleted and warnings given out without any real explanation as to why. As a result, members would take to the General Discussion forums to ask questions as to why, as well as sometimes vent their anger and disagreement. Whilst some animosity was directed towards site moderators, some chose to direct their anger at the higher ups, as well as site owner HellRaiser himself.
In addition to that, in mid August, the sites original creator, Andy, as well as IwaoHazuki both had their staff administration positions stripped, causing uproar on the forums. The drama scale became broken very quickly as news would begin to drip feed out of just what had happened. Was this a decision by HellRaiser? Was it because Andy had lost the .com domain? Who carried out the decision and removed their board status? Alongside this, long term members (considered friends by others) would also be straight up banned, forgoing a "3 warning equals a ban" system that had been put in place by the board administrators. Seen as an abuse of power, this also added fuel onto an ever growing fire that would rise to out of control levels between staff and members, in the weeks to come.
Any sort of happiness or positive energy that the new site had was suffocating fast, as members began to highlight the toxic and depressing atmosphere that had descended over the niche community. As a result of this, members began openly stating that they were leaving, and as one domino fell, it caused a chain reaction for others to fall along with it. As the year progressed and animosity grew, an incident with some members changing their forum signatures to throw some abuse at the site owner led to multiple bannings, as well as a full account deletion. Internet forums usually have unwritten laws, and one of them is regardless of how bad things can get, the complete deletion of an account should never happen. But the deletion of a member who was well liked did happen, and if any sort of uproar had taken place previous to this, it was now about to blow all out of considerable proportion, changing the Shenmue community landscape completely. A concoction of removing the original creator from the staff, banning liked members, and appointing unfair and quick tempered staff meant that hateful attention began to turn fully on site owner, HellRaiser. In addition to this, it also seemed that the new owner was the one making the decisions on forum banning's as well as account deletions, overriding the staff put in position to deal with such issues. Posting under the alias account of "The Archfiend", HellRaiser was quoted as saying, "I own the site… I can do whatever I want", in private messages exchanged at the time. A lot of topics from that time have also been completely deleted from existence, so piecing the history of the site has been a little bit more difficult at this point. In the interests of transparency, there may be a discrepancy or debate in regards to some of the issues, depending on what side you look at it from.
If one or two people were seen leaving in the past, it was nothing compared to November 2003, which seen a mass exodus of members due to the running of the forums. In response to this, Andy created a separate site, ironically called Ryo's Place, for the members who were fed up with how the Shenmue Dojo was being ran. More and more people began to spread the link to Ryo's Place across the Shenmue Dojo forums, however, lines were drawn between people how wanted to leave, and people who wanted to remain loyal to the site and stay. As members came and went between the Shenmue Dojo forums and Ryo's Place, 2003 ended with questions hanging over every aspect of the brand.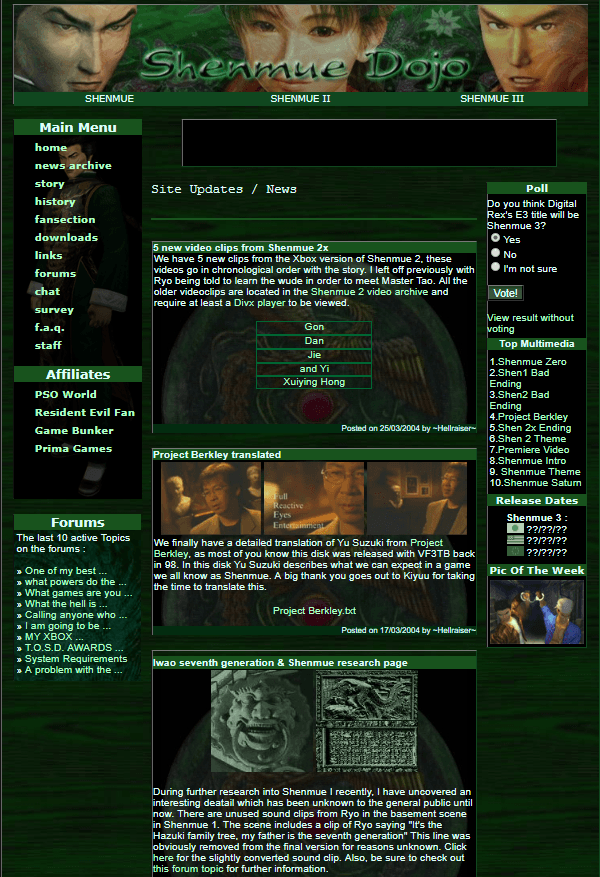 If the forums could be described as a toxic mess at this time, it would be remiss to say that the sites main page and media section were quite the contrary. Despite HellRaiser's forum presence (or lack of), the main site was constantly being updated with new Shenmue content. Not content from an official standpoint as Shenmue had begun to essentially die from a media standpoint around this time, but with fan developed modifications to the Dreamcast games, images, music and video ripping. With help from LanDC, each month seen various additions to the sites Shenmue database, including translating various Shenmue related such as the Project Berkley documentary, Shenmue III theories, beta location discoveries, character swapping, magazine articles and any Shenmue related mentions in the media. These were few and far between, but the Shenmue Dojo was establishing itself as the place to go to for any and all Shenmue related news and media. Apart from Yu Suzuki now heading a new internal studio called DigitalRex, Shenmue news was light on the ground for the first half of the year. On the forums however, things were as active as ever. Since flame wars were prone to beginning at any given moment, extra moderators were brought on to help keep order on the boards. Alongside additions to the staff at ground level, higher up the ranks seen one of the administrators, Master Baihu was let go from his position due to behind the scenes conflicts still rumbling on. Back then, all of us were of a younger age, so the specific reasons could only be chalked up to childish infighting, but the end result was that a new administrator was required, and in typical Dojo fashion, it didn't go smoothly. Troublemakers have always been a part of internet forum culture, and the Shenmue Dojo was no exception.
Due to whatever reason, one known troublemaker was appointed to the vacant administrator position and once again, the fire was well and truly lit to burn incessantly. If the removing of liked staff member Master Baihu wasn't enough to enrage forum members, the appointment of Louis by HellRaiser to a temporary admin position was seen as both an insult to the recently let go admin, as well as a threat on the site itself. Many members questioned why a known troublemaker, who had attacked the boards in the past with obscene images and instance of alleged hacking, was given such a powerful role on the site. They were in complete uproar once again, and it wasn't long before their concerns were validated.
________________________________________________________________________________
"I feel this is the perfect time to re-organize these forums and chose Louis to help me out. Now I know your probably thinking I lost my mind promoting him to Admin but I believe this will be for the better."
HellRaiser – "Changes…" topic: February 2004
Despite only being in the position for a few days, damage was done to the forums. The Junk Forum, a forum where members could have fun and spam away without posts contributing to their post count, was completely deleted. On top of that, there were reports of Louis hacking into the site, disabling all administrators, banning members at will, deleting posts and random topics throughout the boards. After a few days of working behind the scenes, order was restored to the forums, and the Junk Forum reinstated thanks to a backup of the site. In the coming months, long term member WhiteShadow was appointed as a new administrator of the site, soon followed by a democratically voted intake of fresh moderators. Stability seemed to have returned to the forums just in time for August 3rd when out of the blue, Shenmue Online was confirmed by Korean online games company, JC Entertainment.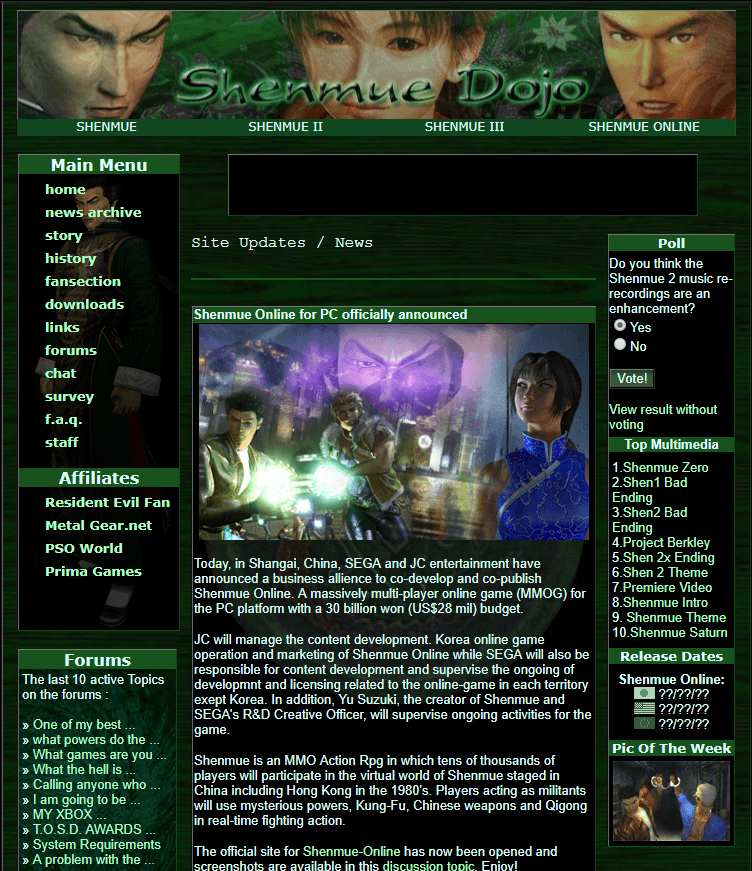 For once the forums went into meltdown again, but this time for the right reasons. A new Shenmue game announced brought new hope to the site, with an influx of visitors bringing the total of registered members past the 2000 mark. Of course Shenmue Online was a great new development in terms of the Shenmue franchise, but as many fans were quick to highlight, it was not Shenmue 3. Also, the game was announced as only having a planned release schedule for Korea and China, meaning any Shenmue fans in the West would not currently have the chance to even play it. The rest of the year was spent trying to translate any articles and public showings of the MMORPG, from various events such as Tokyo Game Show in September, and information published on the Shenmue Online official website.
In terms of the general climate of the forums, things settled down, with attention turning back to Shenmue, taking precedence over petty arguing and flame wars. The main site was updated accordingly with news on Shenmue Online, including the latest images that were released, interviews with Yu Suzuki, as well as still staying on top of music capturing from the original games. In terms of forum administration, grumblings about the management continued throughout the summer, with calls for more moderation in the Junk Forum, as well as the addition of a private "Sanctuary" forum, deeming some members better than others if they were invited to join. A new warning/banning system was also enforced by new admin WhiteShadow, which will draw criticism on any internet forum from its members, and a by-product of that will always be regular criticism of the modding staff, which once again raised its ugly head.
Another criticism which came to be around this time was one that would go on to cause issues for the site for many years to come; site crashes. Over the years the Shenmue Dojo would be a quiet enough forum which would not have been too demanding on its hosting servers. But, when a new Shenmue game is announced and site traffic increases, it can result in the numbers being too much for the sites hosting company to handle. 2004 seen the number of visitors to the site rise sharply, and there were times throughout the rest of the year where the site would go down.
Things could not be at peace on the forums during this time, and for reasons unknown, Louis was unbanned and allowed back onto the forum, despite the havoc and drama caused earlier in the year. This time, even the moderators were not having it, and he was banned within hours of returning, with posting obscene nudity on the forums as well as antagonising both members and staff.
________________________________________________________________________________
"Just let me stress again that Kikizo/Adam Doree are very reliable. Adam has a rather long history in reporting videogame news, and he's definitely not the kind of person to post info unless it's examined thoroughly. So trust us, there's no need to disbelieve what Adam says."
LanDC – "Shenmue III Ready for Next-Gen" topic: August 2005
With Shenmue Online in development, visitors continued to register on the forums, taking the total amount of members past 2500. If people were signing up to keep up to date with any influx of Shenmue Online news, it would be fair if they were to feel a little disappointed. The first half of 2005 brought very little news of the MMORPG, with fans left to speculate what the game would be like, as well as debate if it should be Shenmue III that was in development instead. Main site updates focused more on adding various Shenmue media to the ever growing list of sections the site was building, as well as highlighting various fan projects including theories, music videos and art.
The forums in general were at relative peace also. Despite the usual adolescent spat now and then, there were no major upsets or incidents throughout the year. Both Shenmue and the Dojo seemed to be heading in the right direction for once, and on August 23rd, members got as close as they could to some sort of Shenmue III confirmation as possible.
Kikizo was an influential entertainment and games media outlet, created in 1996 by Adam Doree. Over the course of those 10 years, the brand did indeed have a level of credibility to believe the majority of information they published was indeed genuine and reliable. They had conducted many interviews with prolific gaming figures such as Saturo Iwata, Yuji Naka, almost every major figure at Sega Japan, as well as western developers such as Peter Molyneux, J Allard and Ed Fries. Years prior, site owner HellRaiser and administrator LanDC had kept in touch with Adam, developing a relationship and checking in every now and again to see if he had picked up any relevant Shenmue information during his travels. It was in August that excitement started to build, with rumblings that good news was on the horizon for Shenmue fans, and on August 23rd 2005, the infamous Adam Doree Kikizo Shenmue III article came to be.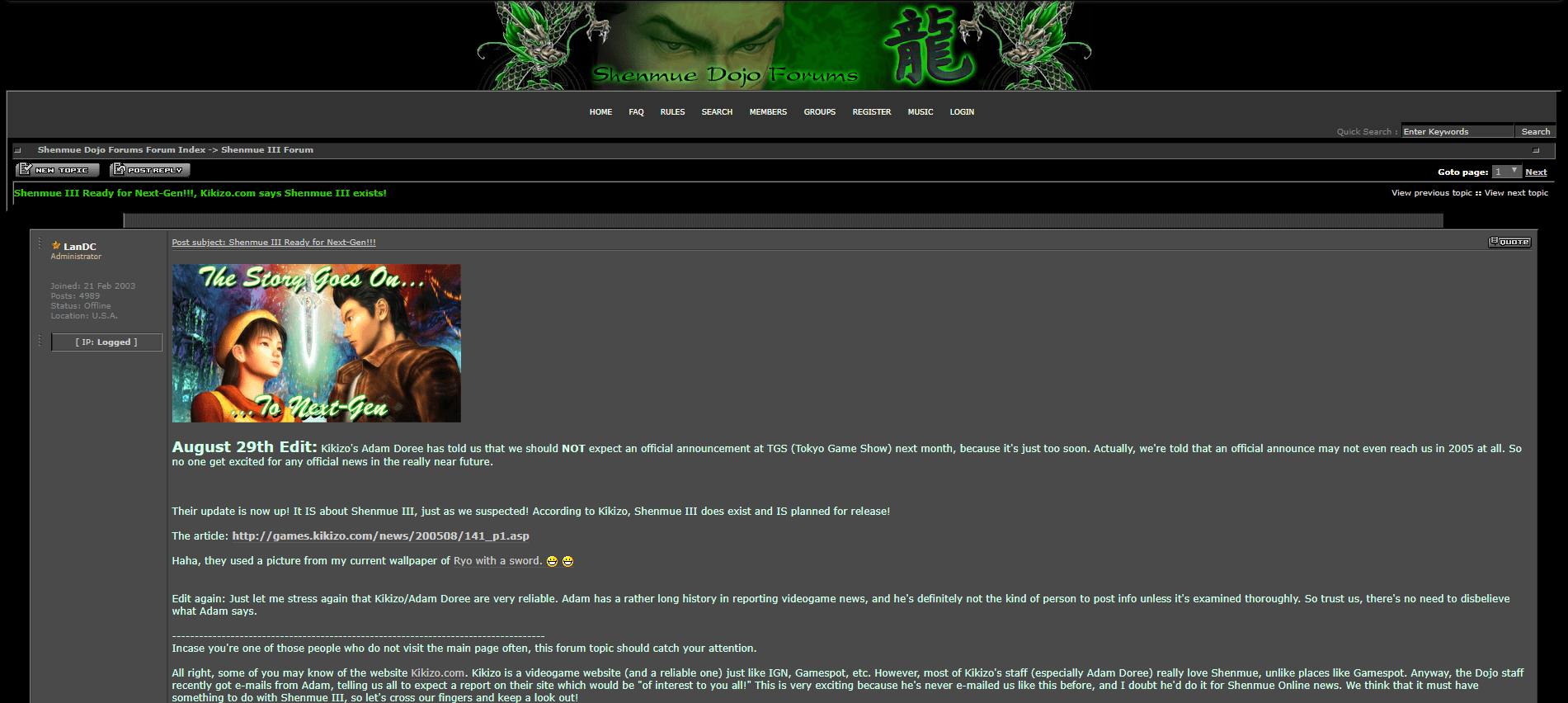 Whilst the article was not any sort of official confirmation of Shenmue III, "Exclusive: Shenmue 3 Ready for Next-Gen" was an article that set fire to the Shenmue community at that point in time. Citing a source that was "authentic and reliable", Adam detailed exactly where Shenmue III stood at that time, what was going on behind the scenes, and what exactly had been completed from a development standpoint. The overall point of the article was that a huge amount of work had already been completed, and that it was just awaiting some sort of manufacturing deal, to know which platform to begin porting it to. The source cited, "360 looks most likely, but we shall see what the future brings".
Naturally the reactions on the Shenmue Dojo forums were as close as you could get to any sort of official Shenmue III announcement from Sega themselves. The topic would go on to be the biggest ever seen in the Shenmue forums, with both old and new members jumping to voice both their elation, and apprehension to the news.
Despite the article specifying no developmental schedule or release date, fans naturally turned their attention to the next major gaming event on the calendar, Tokyo Games Show 2005. When the event brought no Shenmue III news, the tidal wave of positive emotion that was seen as a result of the Kikizo article began to subside, with various interviews with Yu Suzuki confirming his focus was still Shenmue Online, and that there were currently no plans for Shenmue III.
A backlash of sorts began to take shape against Adam and the Kikizo publication, with Adam himself releasing a response, reiterating the information in his article was indeed genuine, as well as the point they had made how Yu Suzuki would not directly be involved in the upcoming Shenmue III project. With his personal fuelled response, as well as essentially refuting what Yu Suzuki himself had said, fans began to feel like Adam had a bit of a chip on his shoulder, with some sarcastically asking if Adam Doree knew more than Yu Suzuki when it comes to Shenmue III. This reaction from forum members was enough for the Kikizo editorial director himself, register on the forums to protest his reliability and professionalism, resulting in a bitter back and forth with some members.
The remainder of the year seen the debate about Kikizos article continue, with no real news or interviews to help tip the scales in any favourable direction. Whilst the member amount for the site kept growing, now surpassing 3000 at this point, it wasn't until February of 2006 when Shenmue fans got another interview with Yu Suzuki, ironically, conducted by Kikizo. If fans were hoping for some in depth clarification on Kikizos previous article regarding how Shenmue III was ready for the next generation of consoles, then they would be sorely disappointed. The interview was a general interview, going over Suzuki-sans career, his current projects, and the state of the gaming industry in general. If anything, the interview just raised more questions about Kikizos original article, and didn't offer any new revelations or carrot on a stick like teases. The only real positive that could be taken from the article was a dispelling of the idea that Shenmue Online was dead. According to Yu Suzuki at the time, the project was still powering onward, with the Shenmue creator stating that he was "working hard on it".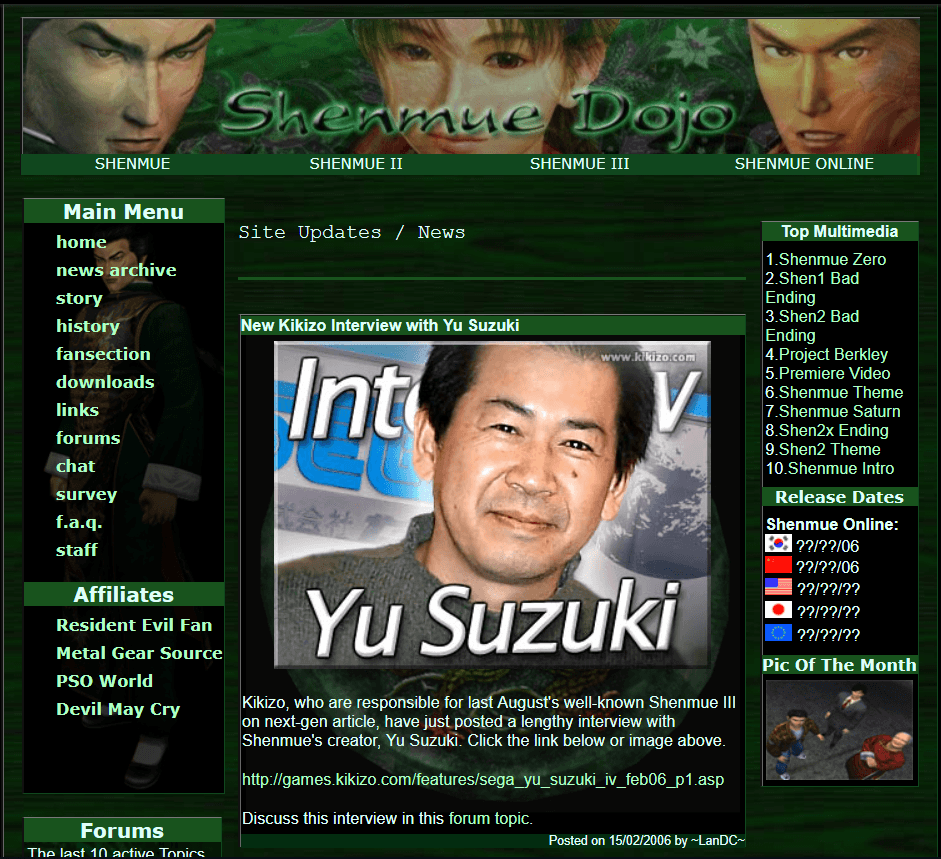 Main News Page – February 2006
It would be around this time when both Shenmue and the Shenmue Dojo would begin to quieten down, and enter into its dark era, where little to no news would come to light. Even any sort of major forum drama would subside. Without any major updates to publish, HellRaiser and LanDC would continue to add to the sites Shenmue media database, with high resolution screenshots, wallpapers, userbars and more.
As with every year, attention was drawn to the annual E3 event, with the ambitious hopes of every Shenmue fan that Shenmue III would be revealed at the event. Like years before, no such announcement was ever made, but in the summer of 2006, Yu Suzuki announced that Shenmue Online would be shown at the China "Joy" Games Snow on July 28th. At the event, a presentation offered up a full explanation of what the game was going to be, a release schedule, a new video revealing the game, multiple images of the game, as well as pictures live from the event. The reaction to the presentation was a mixed bag of excitement, confusion and slight disappointment. On the one hand, it was amazing to see that the Shenmue franchise was still very much alive and kicking (with its father Yu Suzuki still at the helm), but on the other hand, this was not due for release outside of China and Korea. Also… it wasn't Shenmue III. The game looked like a possible Shenmue 3, contained Shenmue story elements and had all of the familiarity of a game that continued the series as originally intended. Every Shenmue fan at this point had some sort of conflicting emotions.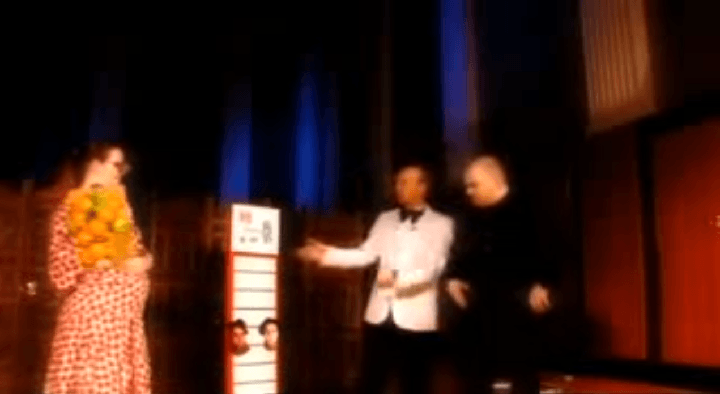 Videogaiden – Episode 2 (2006)
The end of the year also marked the beginning of the Shenmue Campaign by BBC gaming show Videogaiden, encouraging fans to take part by submitting any sort of video testimonials, songs, artwork… anything to generate Shenmue excitement on a massive scale. Through their weekly episodic show, they would provide updates on how the campaign was going, and dedicate a segment on the show to inform fans of just what was going on. Fans got behind the campaign immensely, primarily based on the excitement of a major television corporation getting behind such a movement. In the end though, the results were not exactly as fans had predicted. When the dust settled, it was clear that the reach and intentions of the Videogaiden show were not as anticipated. Any segment dedicated to Shenmue III lasted a mere minute or two, with some nice quotes and references from the Dojo on a TV show, but there was no sign of any official acknowledgement from Sega, and the segment soon died out. 3 months of hard work, and hyped up illusions of grandeur resulted in a small message from Sega, basically saying that they had heard of the campaign, could not make any official statement on it, but that Shenmue III had no chance within the next 3-5 years due to Sega's current business goals. "At least now we know where we stand. Sickened…" was the final response from Rab, one of the presenters who registered on the boards to organise the campaign before the shows aired the following month. Some fans went as far as to say that it was all a joke, and just done to entice more viewers for their sub par show. But in the end, the purpose was to show want and commitment from fans to use as leverage when contacting Sega, and that's exactly what they did, despite getting the same answer from Sega which Shenmue fans had been very much used to at this point; not yet. The overall increase of Shenmue activity seen the boards continue their growth surpass 4000 members, as well as the beginning of the site branching out to various new social media platforms that had begun to grow in prominence. One of the more prolific of these was Youtube, where all Shenmue related video media collated by HellRaiser could be uploaded.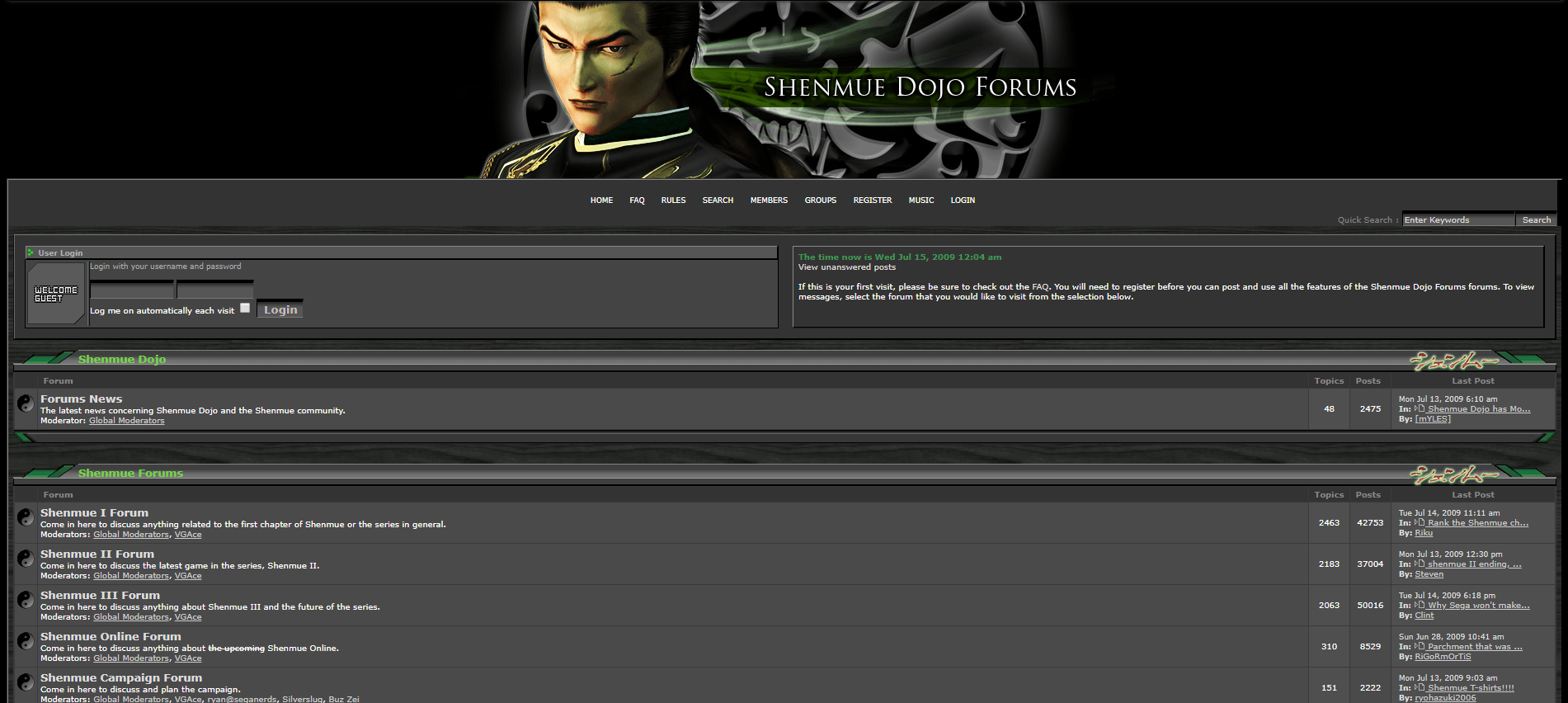 2007, 2008 and 2009 brought with them the quietest years the site will have seen, with extremely little Shenmue or Dojo news. Any Shenmue Online news that did come through painted a dire picture of the project, with Sega's head Hajime Satomi stating that the company was considering a withdrawal from all Chinese online games projects. Anyone looking for any sort of glimmer of hope at all, could read into the announcement that Shenmue II for the original Xbox was being made backwards compatible for the Xbox 360, however it would have been a stretch at best to believe this was the beginning of new Shenmue goings on behind the scenes.
In a rare interview in September 2008, Yu Suzuki delivered what seemed to be the final blow with Shenmue Online; "Due to various reasons, Shenmue Online is pending now".
The forums themselves had become a place where casual, general chat took place about current topics, and the general goings on in members' lives. There was no major drama, upset, or injustice taking place. The years of infighting and arguing seemed to be over, either due to no one really caring anymore, or anyone involved in those arguments had moved on. Visitors at this point had really begun to dwindle, with some forums barely seeing activity, if any at all. At times, no more than 5 visitors were online, alongside 2 or 3 members. The Dojo was on life support, further indicated by the main sites front news page not seeing an update for the majority of a year. It was then, a 10 year old niche video game site, based on what was now regarded as a dead franchise. It was lucky enough to have had the run it did have. Things were that bad that the current members were discussing to change the overall theme and direction of the site away from Shenmue altogether, suggesting to make it a general gaming forum, or arts/creative forum. Luckily that did not happen, but it was at this point that there was a clear choice to be made; let the site die, or do something. Fortunately, decision makers at the top chose the latter.
________________________________________________________________________________
"The last day of this forum and site will be August 31, 2009. IGN/Gamespy Hosting plans to cease it's hosting services after that date. As Ryudo already mentioned we are getting new forums. I don't know when it will be ready as I'm not setting it up. Likely before Sept 1st."
Ziming – "I heard Gamespy is ceasing web hosting soon…" topic: June 2009
In the summer of 2009, a member had read some news that Gamespy, the Dojo's hosting platform of 7 years, would be shutting down. IGN, who owned the Gamespy brand, stated that free hosting for gaming sites would cease due to "compatibility" issues, and that customers had until August 31st to make any necessary backups and alternative hosting arrangements. HellRaiser, now going by the username of Ziming, made a post letting everyone know of the situation, however little information was given in terms of how the site would move forward. It was addressed by the current forum administrator, Ryudo, in this topic that long term member, Yama, would be somewhat involved in the new hosting arrangements. Something was going on behind the scenes of the Shenmue Dojo.
On July 11th it was announced that the required move to a new hosting platform had taken place, and that the site was now located on the "Hostgator" servers. Nothing much had changed at all from an aesthetics point of view, and business seemed to carry on as usual, until September of that year when a huge tease was announced that Ryo from the Shenmue series could possibly be making an appearance in the newly announced Sonic and Sega All Star Racing game from Sumo Digital.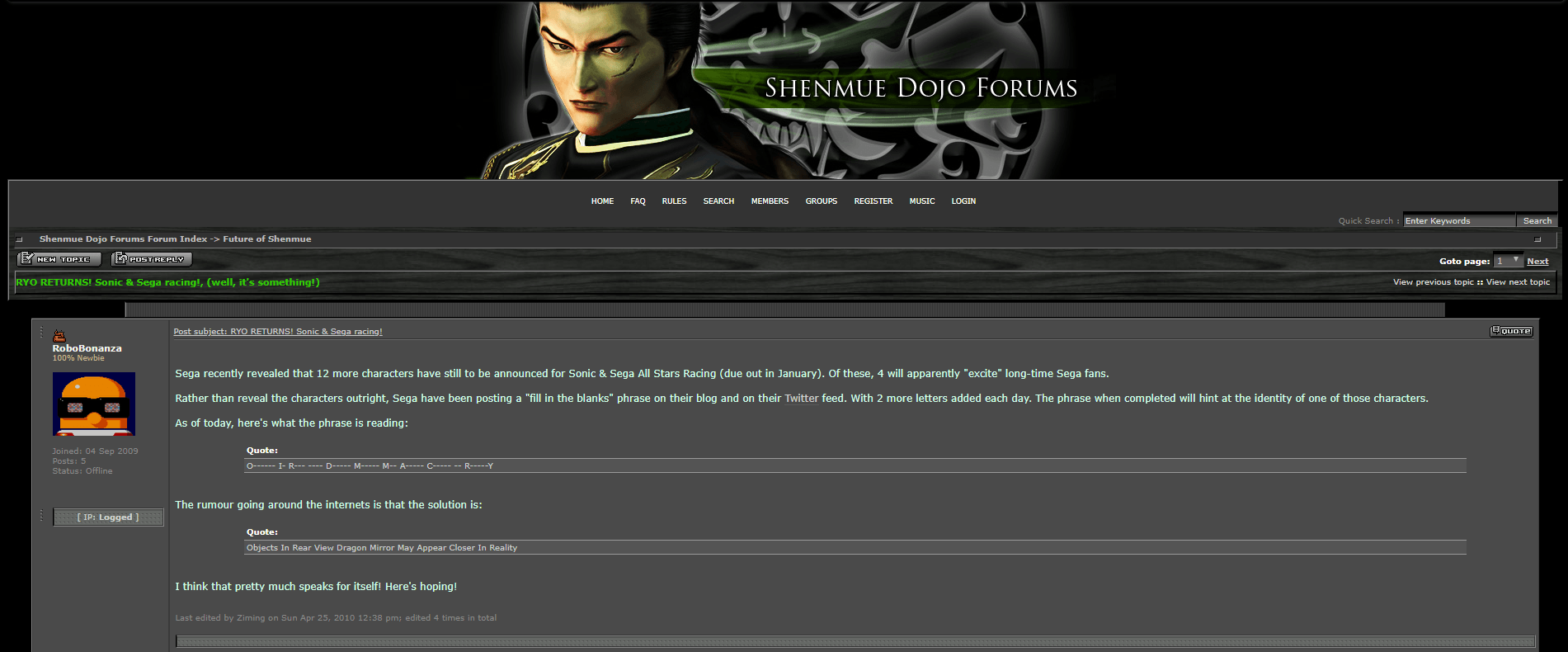 "RYO RETURNS!" topic – September 2009
The topic posted was a very good marketing campaign on their part. Fans were given a cryptic clue to solve, involving a large sentence with missing letters. Over time, letters were added to help fans work out the clue, but from the very beginning fans had suggested that the sentence could be, "Objects In Rear View Dragon Mirror May Appear Closer In Reality". There was some initial excitement on the forums, but as letters were revealed to suggest that Shenmue fans were right all along, the excitement grew, seeing a long awaited rise in visitors, new members registering, and old members returning. Despite not being Shenmue III, the image of seeing Ryo in a modern game due for release since Shenmue II was enough to get fans excited once again, and believe that Shenmue still had a future.
Whilst the site seemed to be sentenced to the deserted wasteland section of the world wide web, 2009 brought with it the slightest glimmer of hope that at any given moment, things could turn around for both the Shenmue series and the website as a whole. As the year drew to a close, a public discussion on possible site redesigns took place. New user Dotsona stated that he was working with Ziming on a fresh new design for the site. Reactions were mixed, and despite the project seeming to go dead after a few weeks, 2010 would see huge changes to the entire Dojo website.

________________________________________________________________________________
"I'm thrilled to share this exciting time with everyone and am honored to lead such a project. I'm faithful this is one step closer to bringing the Shenmue community together in hopes of bigger and better things within the franchise."
Yama – "The New Shenmue Dojo" topic: July 2010
With Ryo now a confirmed character in the upcoming Sonic And Sega All Star Racing game from Sega, it's developer Sumo Digital went one step further by openly stating that given the opportunity, they would love to develop a Shenmue III. Despite the positivity that came with the news, the Shenmue forums still remained fixated on Shenmue III, using Ryo's inclusion in Sega upcoming title as proof, that there was a demand for future standalone Shenmue games. Sega's direct Shenmue comments to the Japanese gaming publication Famitsu, also helped stoke the flames of fire, saying that whilst they were currently hesitant to return to the franchise, they would love to do it if there was an opportunity to return to the franchise.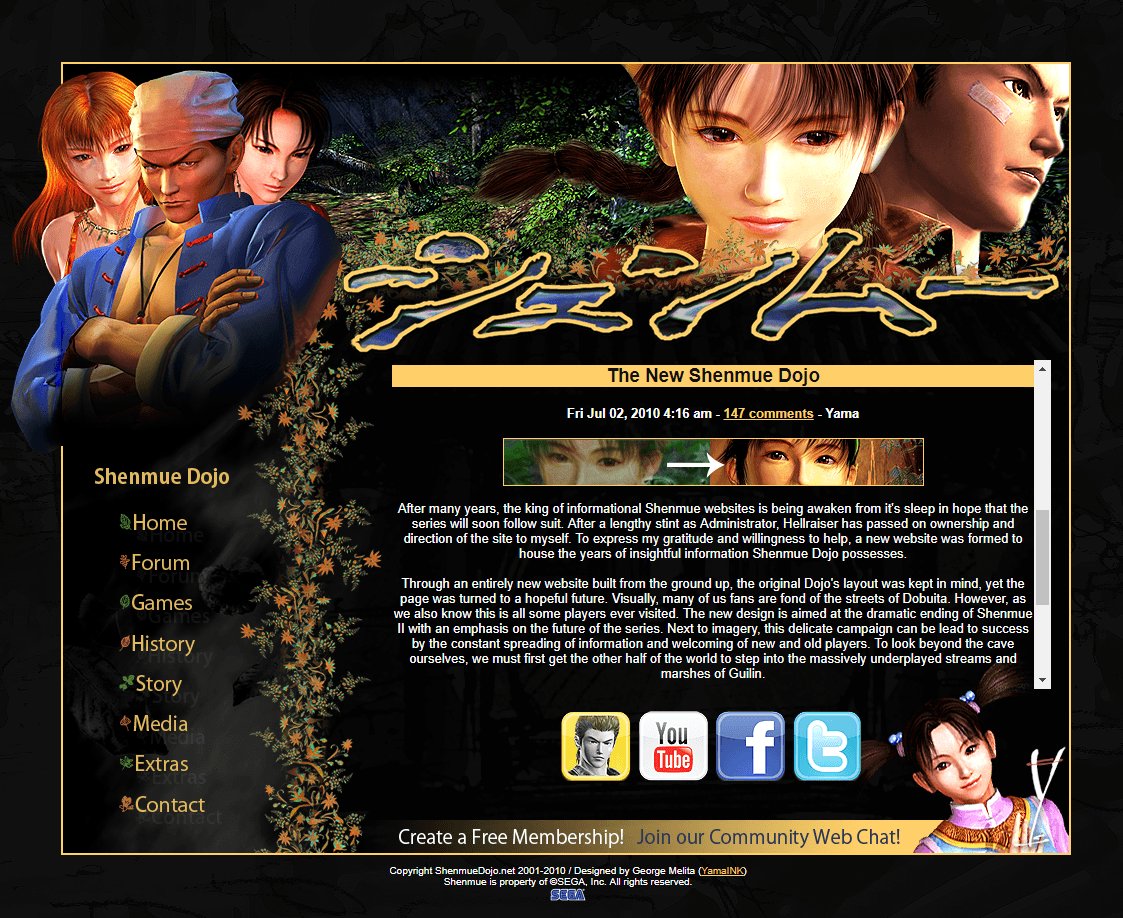 New Shenmue Dojo Site – July 2010
Combined with the news of Ryo appearing in a modern day game published by Sega, it was on July 2nd that it was announced that the current owner of the site, HellRaiser/Ziming, had passed ownership onto long term member Yama. With the help from new staff members Mr Rod and Master Kyodai, the entire front page was redesigned, with the forums receiving a redesign as well as an upgrade to phpBB 3.0. The new design still retained the old look and feel of the original site, but updated, with extra features added to the forums, as well as carrying over all of the old topics since the last relaunch back in 2003. The sites hosting provider was also moved to Bluehost, considered one of the best providers for website hosting.
Staff was overhauled with Yama as the principal owner and designer, Master Kyodai and MrRod as coders, LanDC and Ziming kept on as veteran contributors, Sean and Shendream as contributors, Ryudo as a veteran administrator, Axm and OL as forum moderators. New rules were also posted with a slightly more relaxed position. Little was changed in terms of the structure of the forums, with 22 sub forums dedicated to various Shenmue games, general topics and gaming topics. News of a new owner spread, encouraging over 100 visitors and members to be active the boards over the coming days. New members joined, as well as old faces returned to usher in a new era for the site, with most enjoying the new features of a removal of post count display, giving no one a reputation of hierarchy, and a thanks system, where users could give thanks to a members post if they found it helpful. Once again the forums were relatively active, with Shenmue beginning to appear more and more in the gaming media, including Gamespot, a special article in Retro Gamer magazine, and Gametrailers. It all culminated in October when a new Shenmue game was announced to help encourage the positivity further.
Shenmue Gai (or Shenmue City to gamers in the West) was announced by Andriasang, a Japanese gaming news website, followed up with an official website and premiere hosted by Yu Suzuki in November. The game was originally intended for both PC and smartphone, but ended up only having a short release on smartphones, seeing players explore, attempt quests, and grow strong under the guidance of Ryo Hazuki. Upon its announcement, the arguments and debates were there from the beginning at the Shenmue Dojo, with the divide falling between people who believed that the game was something, versus people who considered this low budget "Mafia Wars" type of game was spelling the true end of the series. With a release in Japan only, time would tell if Shenmue Gai/City had any chance of success. Of course, the site attempted to get, and publish any news they could get their hands on.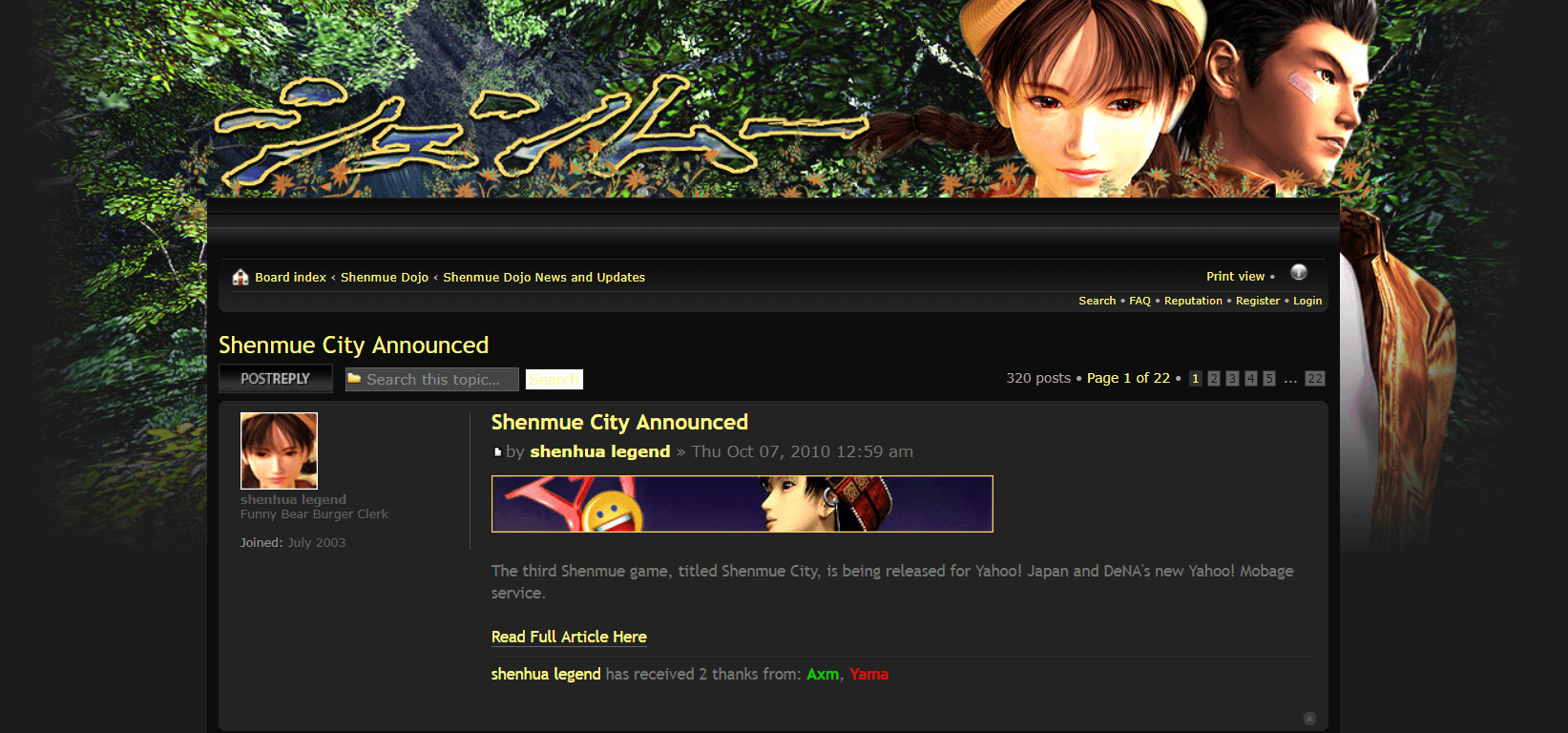 Shenmue Gai announcement topic – October 2010
With the rise of social media at this time, the Shenmue Dojo Facebook was created by previous owner Ziming, adopting a new role of managing all social media outlets. Alongside updating the Shenmue Dojo Youtube channel, he would also publish articles and news on the Dojos new outlet, trying to bring the Shenmue Dojo brand up to speed with the current online trends.
By the end of 2010, more Shenmue Gai/City news would be on the way, with a Premiere to be held on November 15th. Yu Suzuki would be joined by the voice of Iwao Hazuki, Hiroshi Fujioka, and revealed may aspects of the game, including functionality, gameplay, characters, activities, story and event details. Despite a new Shenmue game in development in Japan, it wasn't deemed as exciting in the West. Forum activity did not see a huge increase, but the forum numbers continued to rise, surpassing 5000 members.
Despite 2010 ending with a new things looking bright for the franchise and the site, 2011 seen little to no Shenmue Gai/City news. The Shenmue forums returned to general topics including Shenmue III theories, E3 hope, and various other general discussion topics.
Yama and his staff continued to work on the forums, giving users more features, and a better overall experience. In March, forum restructuring began, compressing a lot of the non-Shenmue forums into just 4; General Discussion, General Gaming, Entertainment and Computers/Technology. The site stalwart, The Junk Forum would also be kept for now, however access restrictions were beginning to be put in place due to the content members were allowed to post. Along with a forum restructure, new Terms Of Service (TOS) were introduced by the staff to make sure everyone would have a clear idea of what conduct on the boards was, and was not accepted.
Other site additions came from long term member, Peter, introducing an external Shenmue Dojo chatroom (hosted on Tinychat), as well as bringing Shenmue voice actors onto the forums, to answer questions from fans. First to arrive was Lisle Wilkerson, voice talent behind Joy, Xiuying and Yuan (Shenmue II). Corey Marshall (Ryo – Shenmue & Shenmue II) and Deb Rabbai (Shenhua – Shenmue) would soon follow. Due to his passion for the franchise and dedication to the site, Peter was added to the staff at the beginning of May 2011.

Corey Marshall visits the Shenmue Dojo – May 2011
A new donation process was implemented, for members of the site to contribute to its running costs. For anyone who did donate, various perks were offered by the staff, including custom user titles, access to an exclusive forum, attachment uploading and coloured username tiers.
Being a staff member on any internet forum can sometimes be stressing, and around this time, administrator Ryudo began acknowledging a cycle that would occur more frequently, of outburst, followed by apology for said outburst. Ryudo, previously Bluecast, had worked on the forums for a decade, and was mostly highly regarded by members for his years of service. He would constantly be online on a daily basis, and any absence would quickly noted by members. It was also noted due to the admission of his own health issues, both mentally and physically, with frequent hospital visits for various issues such as depression, anxiety, and physical issues. Internet forums, for all of their faults, have always been a place where people can indeed make friends, and a connection with others due to sharing an interest which the forums and site people come together, are based on.
The flip side to that could simply be described as cabin fever, and taking things too seriously. Be it criticism, interpretation of the general rules, or all out abuse of power due to bordem, some incidents began to take place over this time period. From messing with members accounts, avatar/signature edits or deletions, chatroom abuse, and alter ego creations, the forum lead administrator was involved in all of them. Some members were banned for offering criticisms of his decisions, as well as long standing members threatening to leave. Apologies were offered, and for now, things settled down.
On the Shenmue front, 2011 continued with little news on Shenmue Gai/City, or Shenmue in general. It was in November that an appearance at the 2011 Toulouse Game Show by Yu Suzuki, would go on to shape a lot of things to happen many years later. For now though, fans got information of his appearance at the event via forum updates from fans who were both in attendance, and who also had the privileged opportunity to interview him at the event. ShenmueMaster, good friends with the Shenmue Dojo site conducted one of these interviews, and began a relationship with the acclaimed games creator that would also be influential in years to come. It would be one of the first references of Shibuya International CEO, Mr Cedric Biscay helping fans out with interviews at the event, indicating that he had a relationship with Yu Suzuki at this point. One of the biggest takeaways from the interviews conducted at the event, was how fans were being encouraged to speak up, and make their voices heard in regards to that there was a love for this series, as well as a demand for a third game. It would be this sound byte, that would go on to continue future events that would shape things to come.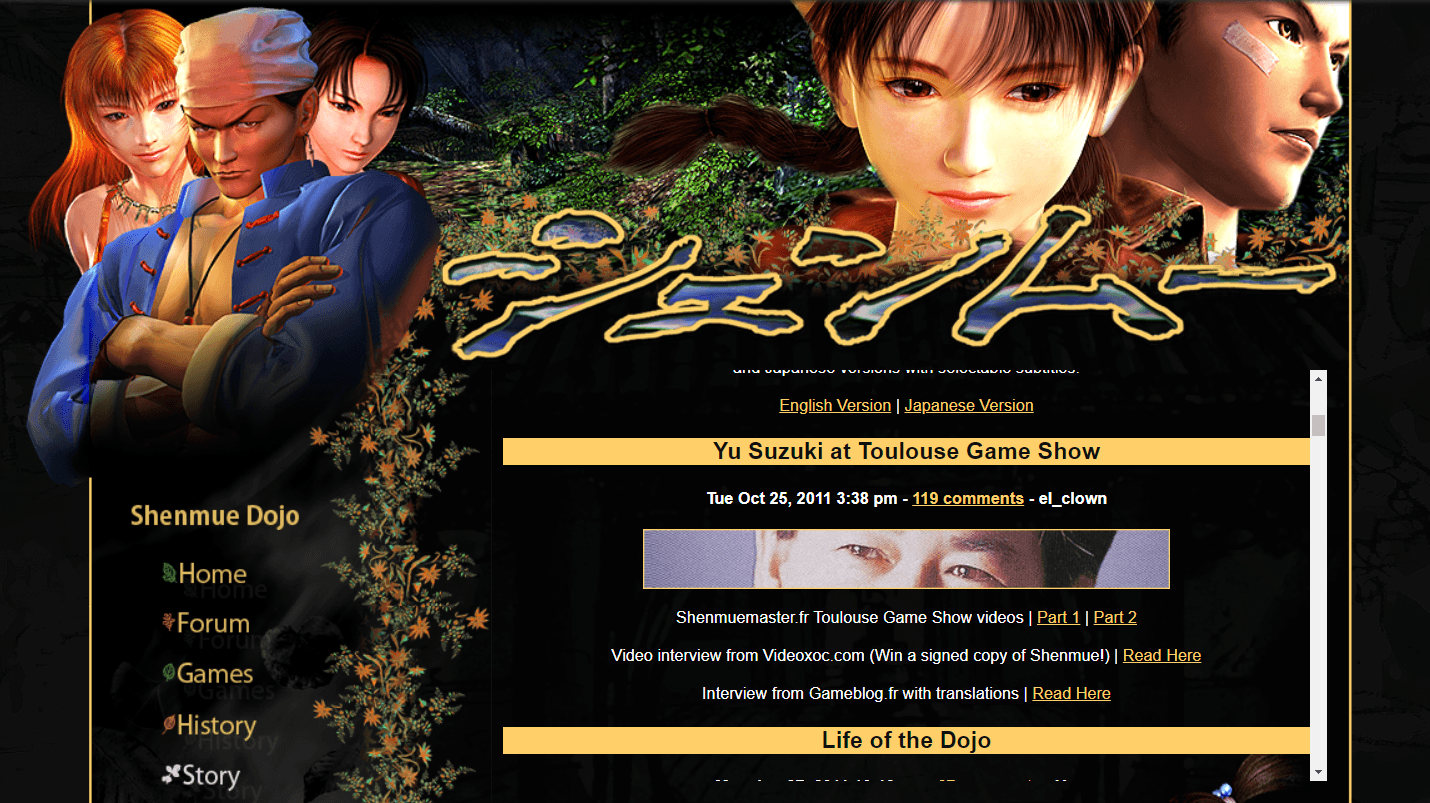 Shenmue Dojo Main Site – January 2012
Despite some inspiring words coming from fans at the Toulouse Game Show, 2011 would end with familiar bad news which Shenmue fans were more than used to by now. Long term Japanese member of the forums, Kiyuu, announced that Japanese players of Shenmue Gai/City were notified that the service would end on December 26th. Despite comments from Yu Suzuki that he would like to pursue developing the game for smart phones, Shenmue Gai/City seemed to be effectively cancelled from that date.
________________________________________________________________________________
"The Tweetathon holds Sega to account in front of the lucrative mainstream, and also gets the casual fans involved with minimum effort on their part… As long as the hashtag is out there, that's enough for now. If we get it trending each month, or even if we don't (it's already getting media coverage), the right people will know soon enough."
Let's Get Sweaty – "Team Yu Needs You…" topic: September 2012
With the lack of Shenmue news, and the sentiments expressed from Yu Suzuki's appearance at the Toulouse Game Show, 2012 witnessed the birth of Team Yu, and started the Shenmue Tweetathon campaign. The premise was extremely simple; use the social media platform, Twitter, to send out a tweet tagging Sega (and anyone else users felt relevant) and using the hashtag GiveYuTheShenmueLicense. The idea was to build, and build the support in order to do exactly what the hashtag said, and give Yu Suzuki the right of way to develop a Shenmue III if he so desired, since Sega had not really followed through with a serious commitment to a Shenmue game since Shenmue II.
A dedicated topic was created on the forums and met mostly with prise and support. Some deemed it useless and spam, as well as the Dojo's official platforms reluctant to jump on board. Eventually the Dojo began to take part via their official outlets, and throughout 2012, each months Shenmue Tweetathon drew more and more support.
It was also around this time when the first rumblings of a new crowdfunding platform began to be related to the Shenmue franchise. Kickstarter had just helped Double Fine Productions to get the funds necessary to develop their latest title, and since money was always the main stumbling block for getting Shenmue III made, it made logical sense to suggest that a Kickstarter campaign would be the best chance for the game to come into existence. The topic gained a lot of interest on the forums, causing similar topics to regularly appear on the forums over the coming years. Shenmue fans always had a reputation of being passionate, and coming together to vote for Shenmue in any poll it was included. Whilst it could have been a risk, it also made sense for these fans to throw their money not just at Shenmue III, but also Yu Suzuki, giving him both the financial support and their trust to deliver a game that they had been waiting for, for 15 years now.
As these discussions took place within the Shenmue forums, the general mood of the forums had begun to shift. With no Shenmue news at all to keep a Shenmue site active (despite the forums now having over 6000 members), cabin fever had really set in. The general conversation turned into general chat, sometimes on an immature level, and ideas to help keep the forums active. Talk of unbanning members was a hot topic, due to the consensus that the current administrator, Ryudo, had banned people for unwarranted reasons, such as a simple disagreement or difference of opinion. Snap decisions and instances of questionable abuse of power would see a continuation of the action – apology routine seen in the past, but this time, it was announced that other staff members would keep him in check.
Many began to look for other reasons as to why the head administrator of the forums would act this way, and the general feeling was that since he spent so much time on the forums, that it was his way to gain attention. Topics would be made of Ryudo announcing he would retire and leave the boards, but after a week, would return. He would also have his name changed back to Bluecast, along with creating multiple topics on a daily basis with little to no substance. Confrontations with regular members who disagreed with him also extended to staff members, who would receive private messages if they disagreed with him publically. Staff had discussed his recent behaviour in depth and agreed that the time was almost upon them, to approach owner Yama about the issue. When they did, he was already well aware of what was going on.
The problem is that when you spend a lot of time on a forum you do develop a bond, so chastising someone isn't always a good thing, or an easy choice to make. With Bluecasts health also in question, it was considered a delicate subject to handle. Despite all of the moving parts in the staff tug of war, it all came to a head in August when the administrator decided to create his own forums and advertise them on the Shenmue Dojo forums. In terms of internet forums, this would be regarded as one of those unwritten laws that you just didn't do, primarily based on the fact that poaching members from one forum to another would see activity on the latter forum diminish. Despite this, out of initial respect, the topic was allowed to run. However it was created in the General Discussion of the site, when there was a separate forum on the boards for creative and website topics. When staff member Peter relocated the topic to the creative forum, Bluecast began a back and forth moving of the topic back to General Discussion, whilst arguing about it publically. With other members also taking part in the overall discussion, it quickly turned into a period of drama which the Shenmue Dojo was unfortunately known for from its past.
The main areas of contention with this one specific incident were the fact that once again the administrator was seen as abusing his role, allowing himself privileges, when not too long ago, he himself had moved a members topic to the creative forum. Another, was his implications that by simply moving his topic to the correct forum, Peter was messing with his health and his life, which was somehow dependent on this newly created forum. As it all imploded in a quick fashion, Bluecast changed his user title to imply he was banned, which a moderator cannot do, as well as demote Peter from his position.
As all of the drama was coming to a head in that topic, Bluecast created another topic, saying his goodbyes to everyone. Of course, that would just serve as an overflow of the drama, and a second platform of discussion which was taking place in the initial topic. The response was a mixture of banter ignoring the goodbye, and arguing against the reasons Bluecast had cited for his exit. The curious thing about this topic was that a new member began posting goodbye messages which seemed slightly odd, and within a few hours, it had been figured out that Bluecast had created the account, and was posting messages from it in the topic he had just created a few hours earlier. Whilst the topic was at the centre of all of the drama, it brought to the forefront all of the past issues the majority of members had with Bluecast, such as his imposing presence on the site, and his acts as a senior staff member causing members to leave, become banned, warned, posts moved, deleted and other misgivings. It had all come to a head, and site owner Yama knew things had to change.
In the following days, Yama and the staff began to unban lots of members who many had perceived that their bans were unjust. Unfortunately, a few of the old troublemakers found their way back in, but the intentions were to give everyone a fair shake once again. The forum was a decade old, and the thought process behind the ban lifting was that perhaps some of the younger, immature members who had been banned in the past will have grown up a little bit.
Also overhauled and streamlined was the forum staff. A simplistic team of Yama (owner), Henry Spencer (moderator), Mr Kyodai (moderator) and OL (moderator), would be rejoined by Peter (moderator) who had been deemed unjustifiably removed from his position by the outgoing administrator. In depth discussions had also taken place behind the scenes for the handling of Bluecast, with the end result being that we would be allowed to remain on the forums as a member, but have a close eye kept on him for any more attention seeking outbursts or promotion of his alternative forum. It didn't take long for that to happen, and at this stage, there was no support on the forums for the previous administrator or his site. As people chose to just ignore any future posts, the frequency of them became less and less. The time had come for everyone to move on.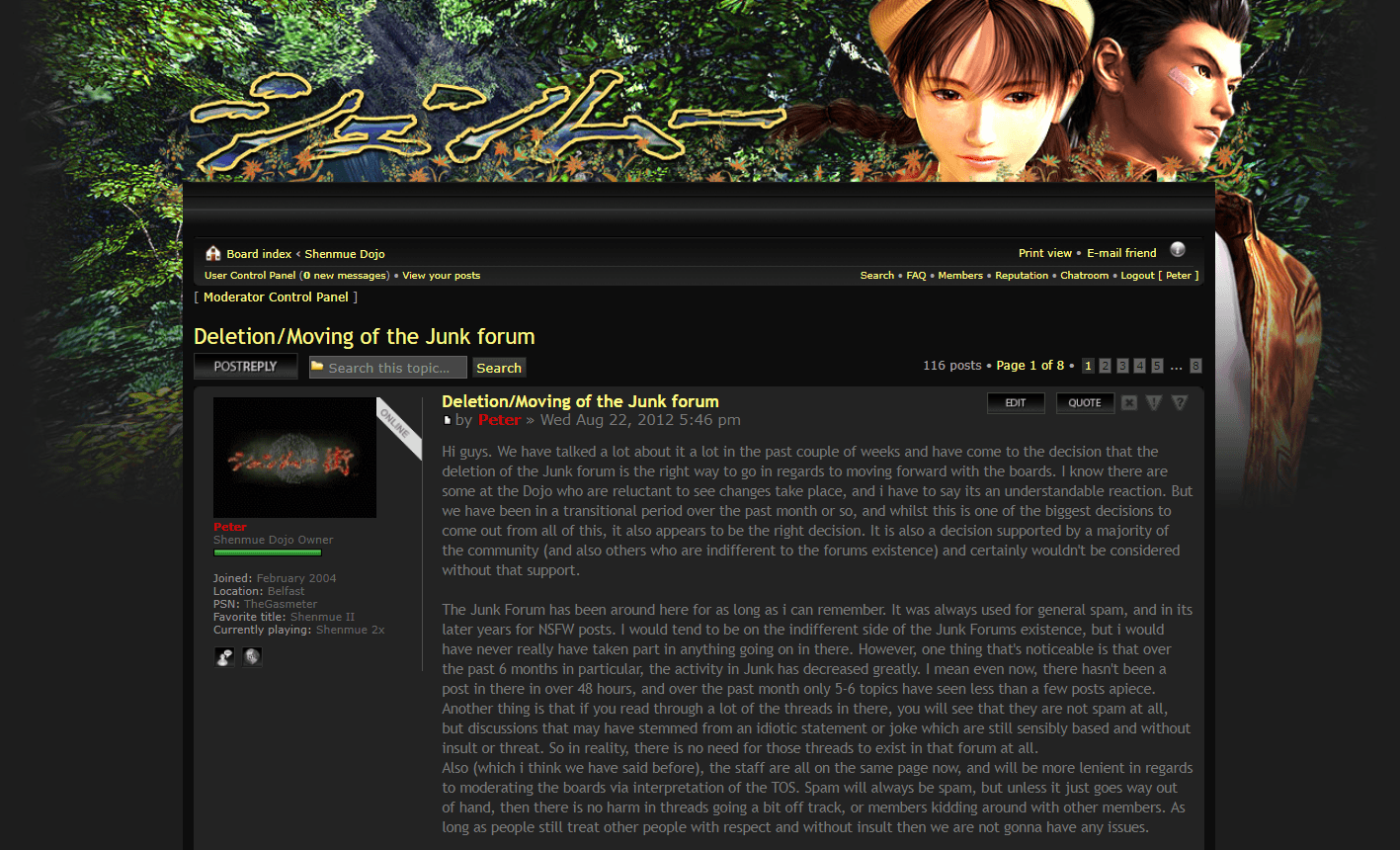 Deleting/Moving of the Junk Forum topic – August 2012
Another topic of discussion which was taking place at the time between staff, was the removal of the long standing junk forum. A part of the site since it's early days, the junk forum was a no hold barred forum, with little rules or moderation. Posts in that section did not count towards a members post count, but allowed more relaxed discussion to take place without fear of spamming up the rest of the forum. However, as 2012 drew to a close, the Junk Forum had seen a serious drop in activity, and concluded that its presence on the site was no longer necessary. Any substantial topics would be moved into General Discussion, but the rest of the junk would be deleted at the beginning of September 2012, marking a new milestone in the history of the site.
With all of the drama from the previous year put to bed, it was time for the Shenmue Dojo to enter into a period of stability and peace. Year after year had brought with it numerous spats and issues, but it was safe to say from this point on, peace has been bestowed upon Dojo Island. Chats across the board were kept relatively civil, with no drama or unrest. Some new features were implemented by Yama and Mr.Rod, including private message features, as well as additions to the staff. However, some issues began to creep onto the site, mainly due to the instability of the forum software, pbpBB. Bot attacks, slow loading times, login issues and general SQL issues would begin to become more frequent, and combined with the limited time of the Dojo coder, Mr.Rod, the issues began to disturb users experience with the site. Whilst fixes were installed as fast as they could, it would become a common occurrence as time went on.

Forum Error screen seen frequently seen by users
Despite the wider site issues, focus and activity within the Shenmue forums began to see a switch in atmosphere. Something was beginning to happen at this time, be it a change in atmosphere, or a small increase in optimism for things to come. Thanks to the continuing Tweetathon held by Team Yu, a movement was growing, and Shenmue fans voices were beginning to be heard. The Dojo was now on board too, via its Twitter account, joining in with the effort to get awareness of Shenmue increased, and 2013 can be looked back upon with a sense this this was the year that the ball really began to get rolling.
It was in March that Yu Suzuki began to appear more in the public eye, first appearing at the Monaco Amine Game Show (MAGS). Being part of a Q&A sessions, as well as conducting interviews with some gaming press and fansite ShenmueMaster, Yu Suzuki continued to speak fondly of the franchise but reiterated that he was not aware of any plans for future Shenmue games. It would not be long after that before Suzuki-san would be pictured at the 2013 Game Developers Conference, alongside PS4 lead architect, Mark Cerny. Despite being debunked at the time, the photo was captioned that they were "discussing a strategy for Shenmue III". Despite no major news coming out of either event, it was good to see the creator of Shenmue making appearances again, contributing to the feeling that something was possibly happening.
The forums in general throughout 2013 were quite stable, with little to no incidents of drama happening, and small tweaks were continued to be made to the boards, such as merging the Entertainment Fourm into General Discussion to keep thins a little more streamlined.
As the year drew to a close, all focus would be back on Shenmue once again, with more and more things of little significance coming together, to continue the impression that things were a little different. That despite the hard pessimism Shenmue fans had justifiably built up over the years, signs were there in hindsight, that things were about to change.
With the rise of Youtube and social media, the significance of broadcasters who had begun to amass lots of viewers highlighted how their own reach could help keep the Shenmue awareness growing. Adam Koralik was one such Youtube user with over 15,000 subscribers, who also shared our passion with Shenmue and began pushing reasons as to why the future of Shenmue would only make Shenmue on Sony's Playsation console, the PS4. Despite valid points being made by Adam, in typical Dojo fashion, the responses were mostly cynical, and indicative of many a hardened fan who had given up on the franchise, rather than attempt a light at the end of the tunnel at the time. Despite a lot of cynicism at the Dojo, the general consensus was that Sony was the most formidable platform for a future Shenmue instalment, and the growing interest in Sony's "#buildingthelist" also brought Shenmue along for the ride.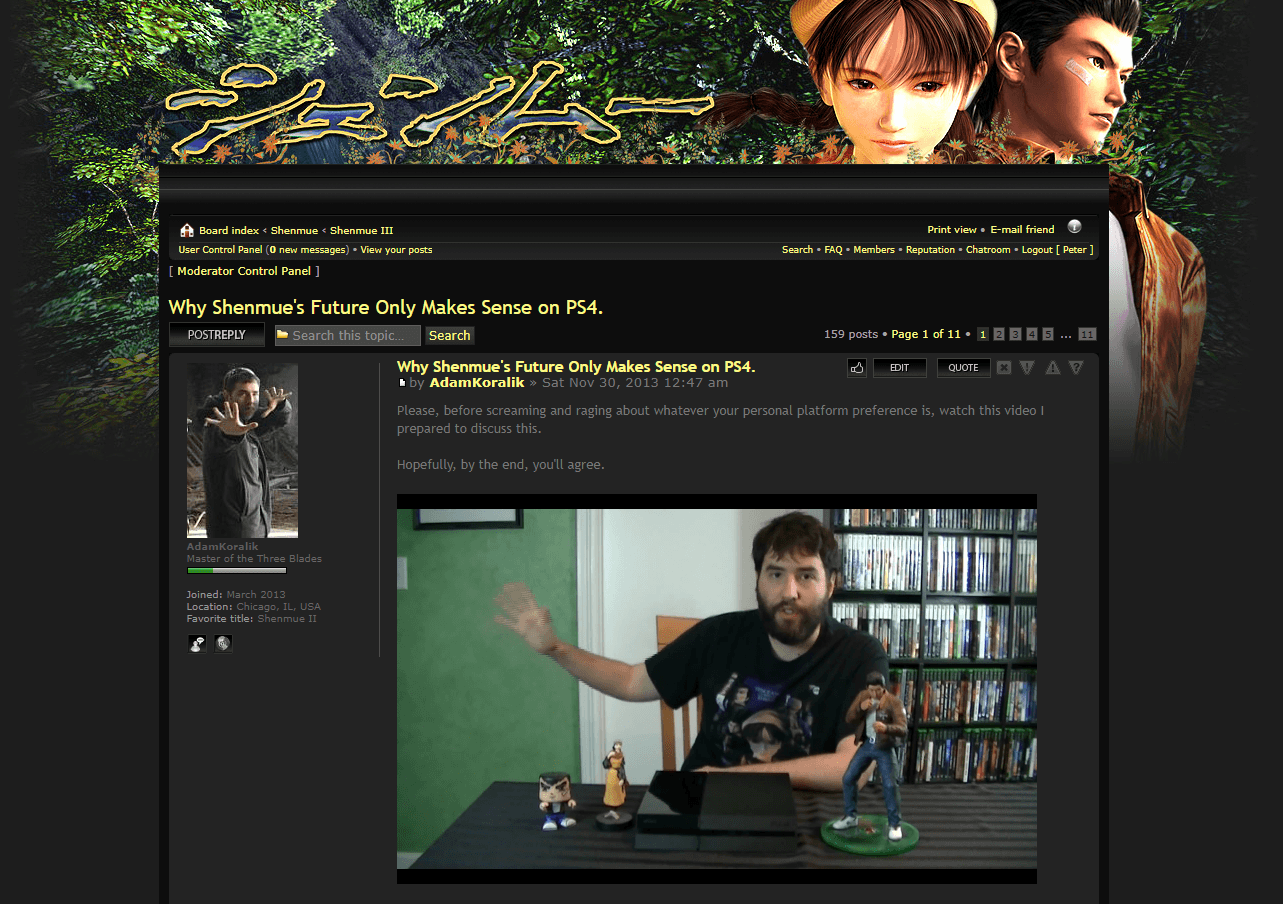 Why Shenmue only makes sense on PS4 topic – November 2013
The simple premise of the idea was for Sony to ask fans what games they wanted to see on the Playstation console, and set the goal of bringing as many of these games as possible to the platform. Whilst a lot of games were put forward by fans, the combined effort of Shenmue fans, as well as the desire to being more Japanese games to the west served as a reason for Shenmue believers to keep an eye on the process, and continue voicing their desire for a Shenmue III to finally come to be.
The news of Sony's list did nothing but encourage the social media movement of Shenmue fans trying to highlight the fact that there was still a firm desire for future Shenmue games, and as 2013 came to a close, Team Yu tweaked their campaign by changing the familiar hashtag of #giveyutheshenmuelicense, to, #SaveShenmue. On top of that, more Shenmue related news rolled in to see out the year, with the announcement that Yu Suzuki would be attending the 2014 Game Developer Conference to give a classic game post-mortem on Shenmue, with Mark Cerny on hand to translate. Sony and Shenmue hype had reached peak levels as the year drew to a close, and all eyes began to look to 2014 for that long awaited Shenmue III announcement.
After so many years of arguments, drama and infighting, 2014 continued the relative peace across the forums, with balanced discussions and debates taking place on a much more mature level. The balance of general discussion and Shenmue discussion soon levelled out, as the year brought forward more and more Shenmue tidbits of news.
From a media standpoint, Shenmue's name began to creep up more and more, with references from Videogamer, Gamespot, Official Playstation Magazine, Eurogamer and even Phil Spencer openly declaring Shenmue as the game that's requested as the most to bring back. In March of 2014, Yu Suzuki appeared at the 2014 Game Developer Conference, to give a Shenmue Postmortem presentation. Along with having a new dedicated conference to Shenmue, the news came that Yu Suzuki was indeed looking into the crowdfunding platform, Kickstarter, as a possibility to raise the finances needed to finally begin development on the long awaited third instalment. The event itself was enough to set a new record for the most number of users visiting the forums, with 892 users online at the same time on March 19th.
The idea of bringing a Shenmue III campaign to Kickstarter grew in momentum as the year went on, with Yu Suzuki travelling to the Gamelab Barcelona event in June. At the event, Yu Suzuki met with various individuals who had experienced success in funding their gaming projects via Kickstarter, Tim Schafer and Keiji Inafune. Throughout the rest of 2014, numerous small pieces of Shenmue related news kept the theoretical Shenmue hype train rolling, including fan made videos of a possible Shenmue HD remake from Korean fan, "NoconKid", Insert Coin Clothing releasing an officially licensed range of Shenmue apparel, and the announcement of a new Shenmue Documentary going into production from Canadian filmmaker and Shenmue Fan, Adam Sipione.
________________________________________________________________________________
"The Dojo and community has changed forever"
Peter – "SHENMUE 3 ANNOUNCED FOR PS4 KICKSTARTER" topic: June 2015
Throughout the first half of 2015, all eyes were on one event; E3. With the year on year increase in Shenmue activity and interest, genuine hope and optimism had returned to the Shenmue Dojo, not seen since a decade ago with the publication of the Kikizo article. As E3 season came, one of the prominent gaming outlets, Gametrailers, began a weekly playthrough of Shenmue II, led by their enigmatic Shenmue fan Michael P Huber. With his positivity and hype, the weeks leading to E3 began to see optimism rise, with various Shenmue references in gaming publications, Yu Suzuki coming back to Twitter, elaborate Shenmue III hoaxes, and more Shenmue merchandise in the form of a Data Discs LP released, of the Shenmue soundtrack. Thanks to the culmination of general Shenmue news beginning to flow in on a regular basis now, users to the Shenmue Dojo forums averaged 100 a day at least, and as June rolled around, there was definitely something in the air.
On June 11th, Yu Suzuki began tweeting out images, with fans working out that indeed he was in the States. Speculation began to grow even stronger that he may be at least attending the 2015 E3 event, maybe even as a visitor, if nothing else. Fans had been at this point before, so despite the optimism being high, a cautious feeling would never be too far behind. Shenmue fans had been burned far too many times down through the years, and even a picture of a forklift being tweeted out by Yu Suzuki they day before the Sony E3 2015 presentation was met with equal levels of both excitement and cautious worries of innocent trolling by the creator of Shenmue.
The Shenmue Dojo forums has always had a tradition of having an "E3 Discussion Thread", and on Sunday June 14th, the discussion thread for E3 2015 will go down as one of the most hyped threads ever in the sites history. Hour by hour, even hardened veterans began to be won over, as small tidbits of strangely positive news began to creep out, including the discovery that one of the main organisers behind Sony's #buildingthelist campaign, Gio Corsi, had begun following Yu Suzuki on Twitter. The last time he had followed a high profile gaming personality was Yoshinori Ono from Capcom, right before Street Fighter V was announced. The topic would carry on throughout the days presentations, with Microsoft's Xbox conference taking place before Sony's, and before we knew it, finally… finally the Shenmue Dojo got what it had been waiting for, for 15 years.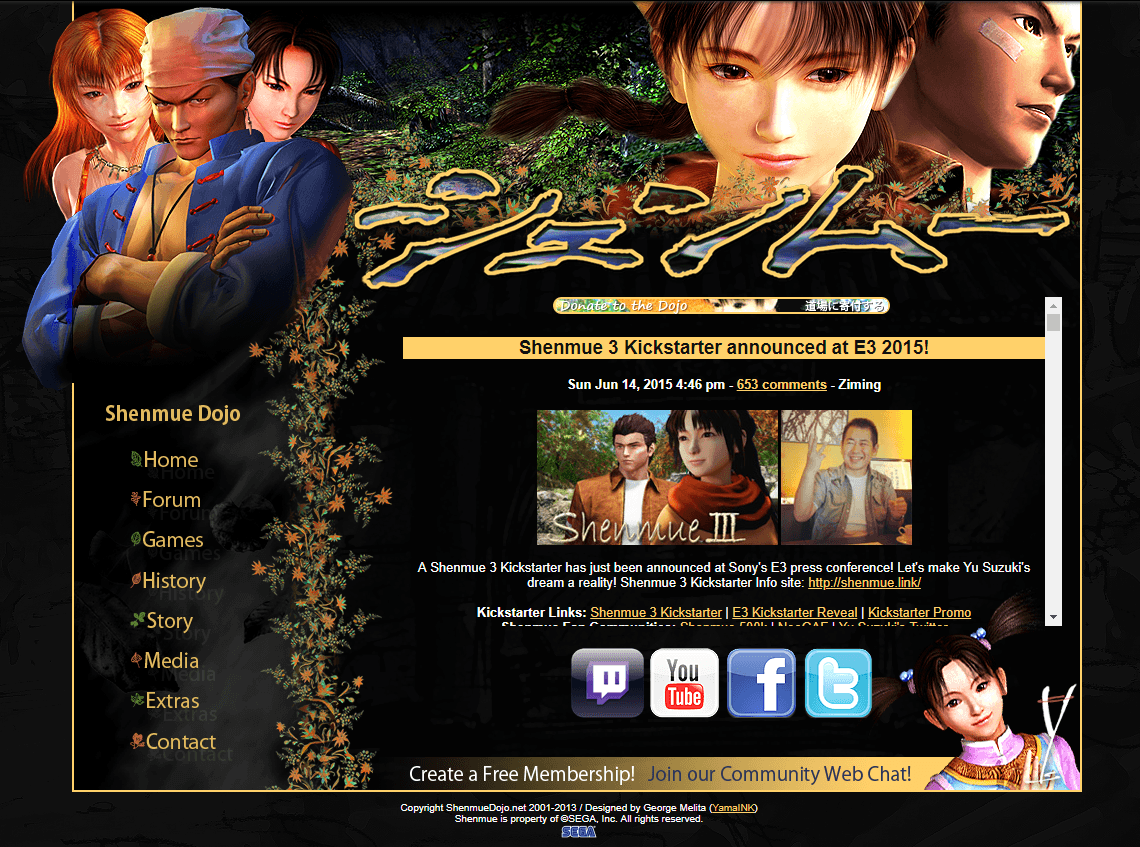 With Adam Boyes from Sony's 3rd Party Productions team, and one of the organisers of the #buildingthelist campaign onstage, Shenmue III was revealed to the world. A Kickstarter campaign would begin with both Adam and a present Yu Suzuki on Sony's stage, counting down to it going live. Within minutes, the entire Shenmue Dojo site (as well as Kickstarter's!) began to buckle on the extreme spike in traffic. Members and guests, old and new, flocked to the site to express their disbelief, shock, and overwhelming sense of relief that finally after all of these years, Shenmue III had officially been announced. Fans would begin to bring the Shenmue Dojo forums back to life, with the announcement encouraging board activity not seen ever in its existence. The number of users online at the same time on the Shenmue Dojo forums peaked at 1834 on July 17th, reaffirming that whatever the news, the Shenmue Dojo was the place to visit when any Shenmue news was revealed. Any and all relevant Shenmue information would be reported on, and discussed vigorously, including YSNET partnering with Shibuya Productions to develop the game, Corey Marshall and Masaya Matsukaze returning to reprise their roles of Ryo Hazuki in both the English and Japanese dubbing of Shenmue III respectively, and all of the subsequent Kickstarter Updates which soon followed.
Topic after topic was created in the newly renamed "Shenmue III" forum which owner Yama had wanted to do for a very long time. The site was also humbled to be included on the main splash page of Shenmue III, recognised as an official site within the Shenmue Community. As the year progressed, members began joining the forums by the day, with over 800 new members joining within the last 6 months of 2015, to see the Shenmue III Kickstarter bring in over $6 million, woth added donations coming in via a Paypal "Slacker Backer"campaign set up in September. Not only did new members join up for the forums, but older members from the past 15 years popped in to express their shock and excitement that finally, Shenmue III was finally a real thing.
From this point on, the momentum of the boards activity had shifted back to the franchise the site was named after; Shenmue. The Shenmue III forum would see most of all the forums' activity, with General Discussion, once a staple which had kept the site alive for many years, taking a back seat. As 2015 drew to a close, the Shenmue III forums would constantly be active with various Kickstarter Updates, Yu Suzuki interviews and appearances, fan thoughts, Shenmue III theories and general media coverage. The Shenmue Dojo's social media coverage escalated, with the inclusion of Instagram images being added, as well as the beginning of the site streaming on the increasingly popular Twitch platform.
Despite the love of its passionate fans never being brought into question, it's the same love that can cause comments to escalate into wild arguments and debates. Such is the way of the Shenmue Dojo, and despite Shenmue III finally being real, any sort of concern was voiced loud and proud by some, thoughout the entire process. From questionable interviewing techniques by Awesome Japan's Joel Tess on a Twitch stream with Yu Suzuki, to the initial character model concepts of Ryo, the Shenmue Dojo offered a platform where everyone could voice their opinion… within reason. Unfortunately some could not understand that daily bashing a game that was 4 years away from seeing the light of day was both a waste of time, and a moot point. Whilst the site has always tried to let people voice their opinions as freely as they can, the passion of some fans would cause their own downfall on the boards, and contribute to the sites modus-operandi of being a Shenmue fan site.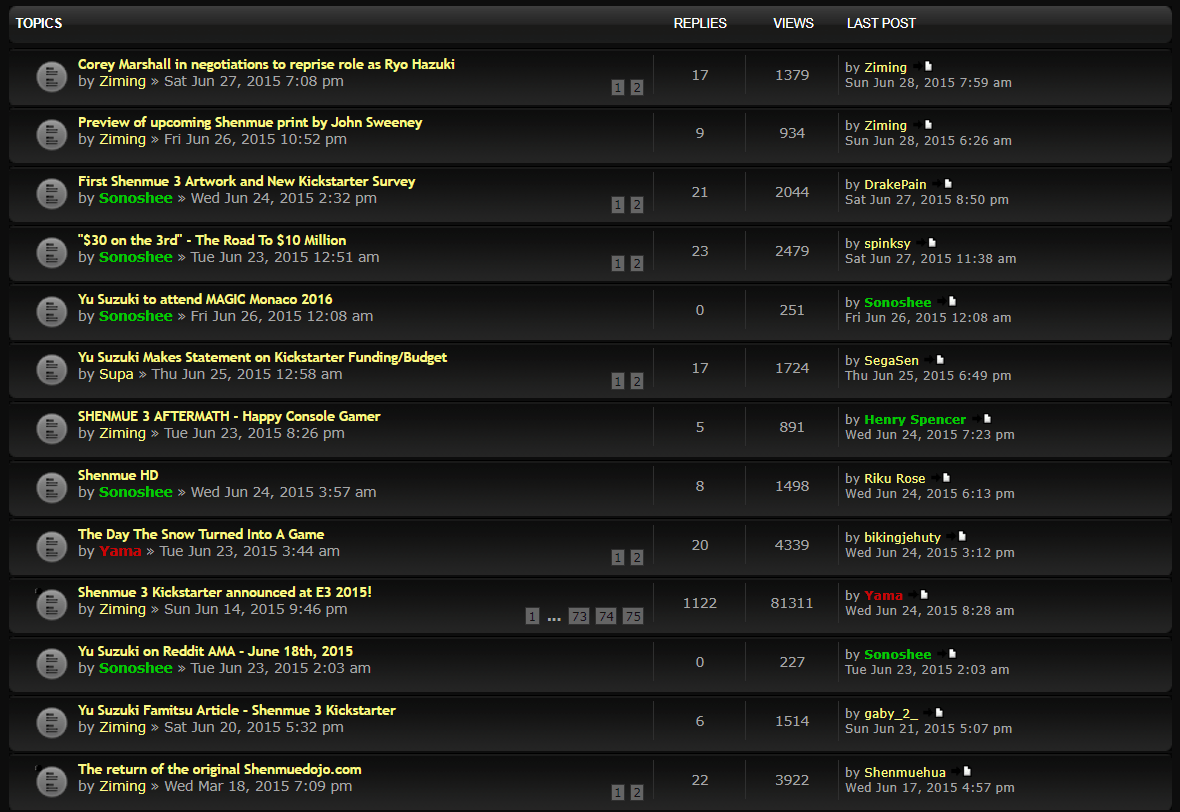 News & Updates Forum – June 2015
Despite Shenmue III finally being saved at E3, the job was not done yet. In August, Team Yu, creators of the #saveshenmue campaign, began to focus their attention to Sega, and with a rebranding of the campaign to #SaveShenmueHD, the gauntlet was laid down again, with the goal to pressure Sega to step up and develop a re-release of the original Shenmue games for modern day platforms. Despite Shenmue games being available on the Sega Dreamcast and Microsoft Xbox consoles, it wasn't the most ideal, or accessible for general gamers who had an urge to play the original games. With immediate effect, the 3rd of every month would be dedicated to campaigning Sega to put a Shenmue re-release into production, and galvanising the efforts of the community to make it happen.
At the beginning of 2016, attention had begun to turn to the upcoming Monaco Anime Game International Conference (MAGIC). The event was ran by Shenmue III executive producer, Cedric Biscay, and his company, Shibuya Productions. It would be at this event where fans would get to see the progress of Shenmue III, as well any subsequent interviews that would be conducted at the event.
Despite the Shenmue Dojo existing for over 15 years at this point, it had never once formally met the creator of the franchise, Yu Suzuki. As a fan site, all of its news was linked to linked existing articles, and it was felt that it was time for the site to expand, and begin to do some reporting of its own. In February, the staff from ShenmueMaster, who had experience with interviewing Yu Suzuki, contacted both the Shenmue Dojo and Team Yu staff, offering the chance to interview the Shenmue creator for the very first time at the MAGIC event. It was an opportunity the site couldn't pass up, and staff member Peter joined staff from Team Yu to prepare and conduct their first ever interview with Yu Suzuki at the event.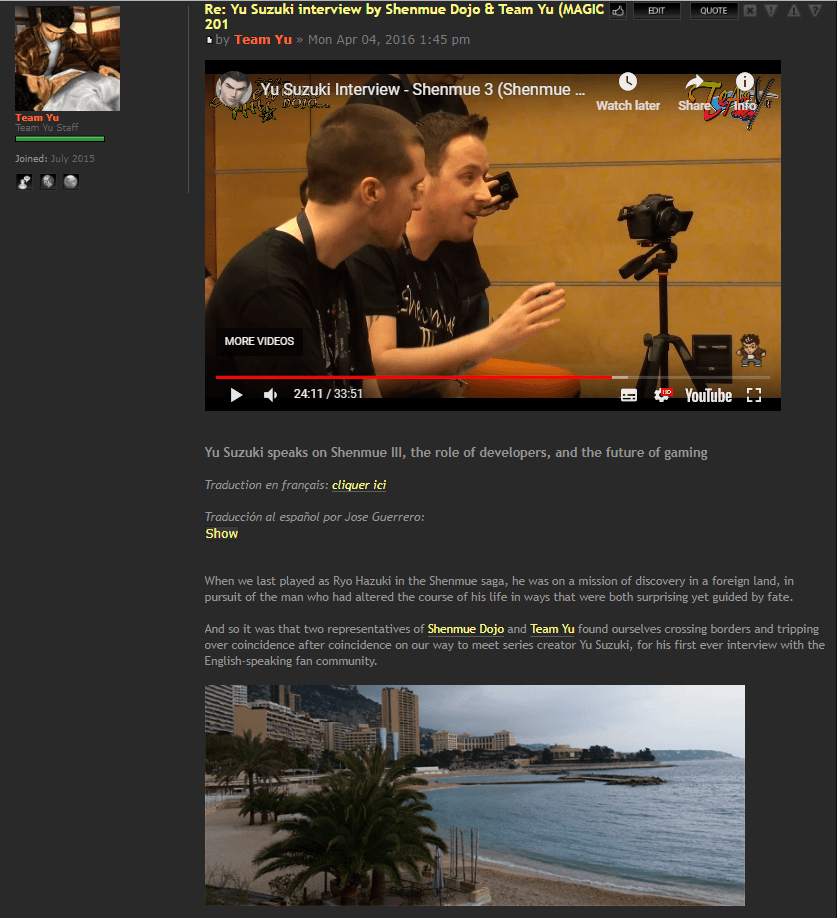 Team Yu & Shenmue Dojo interview with Yu Suzuki topic – April 2016
An interview with one of the most legendary games creators of all time, and the magnitude of the occasion was certainly felt. Peter, working with James from Team Yu, spent days agonising over what questions to ask, what story to tell, and how to pay respect to the life and career of Yu Suzuki. Before long, Saturday 27th February had arrived, and it was time for it all to begin.
The event itself was also a landmark occasion, since it would make it the first time ever, that the wider Shenmue community would meet up together in the same location. Shenmue Dojo, ShenmueMaster, Team Yu and 500k all met together for the first time at the Grimaldi Forum that morning before the conference, and after speaking together in an online capacity for years before, it was finally a moment to be realised.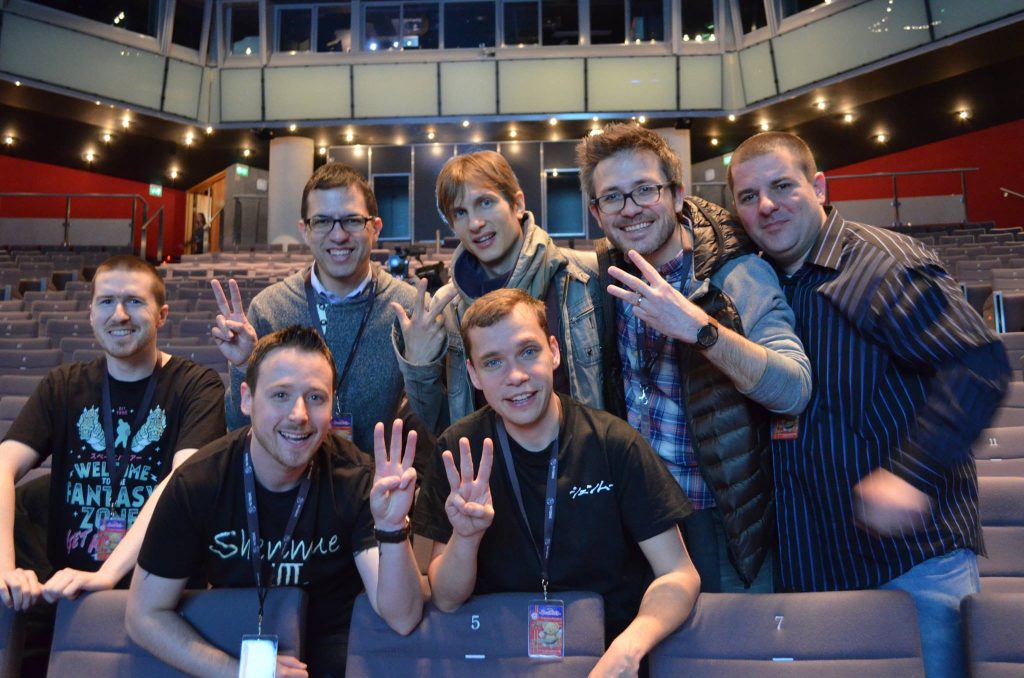 Shenmue Community – MAGIC 2016
MAGIC 2016 would continue the Shenmue anticipation on the forums, and on 27th February, Yu Suzuki took to the stage to bring fans the latest updates on Shenmue III. In typical Shenmue Dojo tradition, there would be a real time reaction topic on the forums, but with a staff member live on site, updates would come in thick and fast via reports from Peter, as well as direct social media posts.
This would begin the ups and downs the site would experience in the coming years, with activity on the boards increasing whenever huge news dropped, and decreasing when things on the developmental side became a little quiet. The Dojo would always be open 24/7, and there for anyone whenever they needed it. That's the way it always had been, and the way it would continue to be.
Now the initial months of Shenmue III being successfully kickstarted had passed, it was time for the team at YSNET to get to work. With that, began a long period of time where public Shenmue III material would begin to slow slightly. Despite a slower pace of news, forum discussion was still always alive, including topics such as ShenmueMaster interviews with Cedric Biscay, Kickstarter Backer Updates, the monthly #SaveShenmueHD tweetathon, newly licensed Shenmue merchandise, and general media publications dedicated to Shenmue.
In September, staff member Peter was set to travel to Japan to meet with Yu Suzuki, and other Kickstarter backers of the high end reward tier, for a day trip and dinner event. Not only was Peter one of the backers, but long standing Dojo contributor and member, LanDC had also backed the tier, and after 15 years of chatting on the Dojo forums, the two would finally meet. Also attending the event, were 2 brothers, George and Joe Kitchen, who contributed a lot of money to the Kickstarter to help raise awareness for their school, in Guilin, China.
As part of the reward, backers were allowed to bring a guest, and to help establish contacts and friendships within the wider Shenmue community, Peter reached out to the creator and director of the newly announced Shenmue Documentary movie, Adam Sipione, to invite him along for the ride. Adam would graciously accept, and the trip helped him carry out some recon work for the project, including scouting locations, meeting with Yu Suzuki, and also other Shenmue people of interest, including Shenmue voice actor Eric Kelso, and ex Sega employee Ryoichi Hasegawa.
Despite only streaming once on the Dojo's Twitch account, plans were put into place for a weekly Shenmue dedicated stream from the Shenmue Dojo. With hype increasing for Sony's PSX event, staff member Peter began hosting a weekly Lets Play of Shenmue on the 3rd December, and would go on to broadcast live every Thursday night, playing through each of the Shenmue games. Unfortunately, the 2016 PSX event brought nothing with it, but there was an end of year Kickstarter update that gave fans 3 new images of Shenmue III, rounding out the first full year of development on Shenmue III.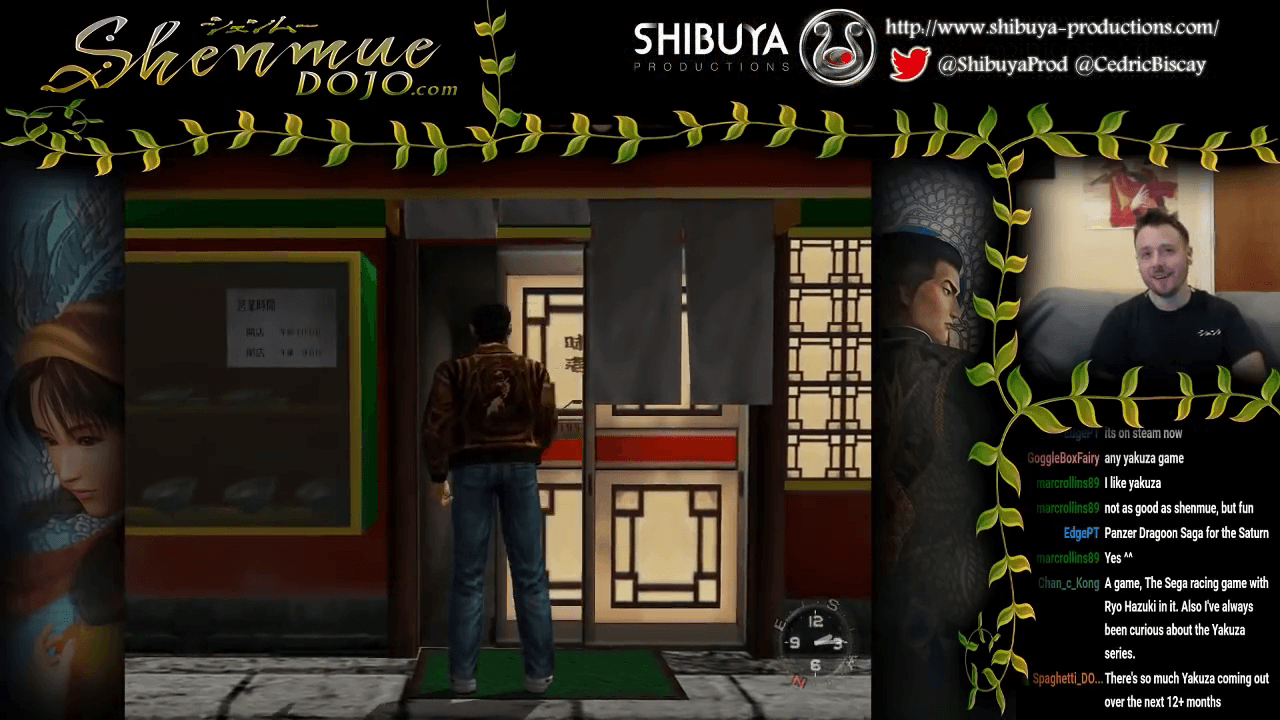 Relaunch of Shenmue Dojo Twitch
2017 would be the last full year of the Shenmue Dojo in its current form. Despite Shenmue III being in development, the wheel would never stop turning for the small, niche fan site. The structure at the time had the formation of the owner Yama, overseeing the current regime of staff keep the forums up to date, including Peter covering the forums and social media, Ziming running all of the social media as well as helping Sonoshee keep the news section up to date. Other staff would either call in where they can, or some had been absent for a while. This would go on to be an issue later in the year, with Shenmue III finally existing, it was clear many hands would constantly need to be on deck to make sure the Shenmue Dojo adhered to its reputation of bringing quick time news and updates whenever the happened.
With development continuing on, it was clear that YSNET were in the thick of it, with Kickstarter updates slowing down, as well as not attending any major gaming shows such as MAGIC or E3. Bad, but unexpected news came on 8th June from Yu Suzuki himself, stating that Shenmue III would not be ready for its original planned release date of December 2017, and that the game would be delayed until sometime in 2018. Fans were supportive of the delay, but also began to grow frustrated at the lack of updates and game footage that had been shown to backers. Some interviews and minor news articles would come to light, but any hard info was lacking on the ground.
It was around June of 2017 when cracks began to appear behind the scenes, with Peter beginning to become disgruntled with some site issues, including being dropped from the Twitch streams as well as owner Yama's lack of presence and leadership. Due to the lack of being around, Ziming (who had now become the social media manager of the site) had a say in the majority, if not all site decisions. Shenmue III had became a reality, yet the site still felt like it was stuck in 2005, with no real push to promote, no updates, design changes, and the same person right at the heart of it all pulling the strings. After finishing up his last stream, covering E3, Yama and Peter began discussing the future of the forums, and with Yama showing off concept work for a new Shenmue Dojo design, Peter would stay on for an indefinite period of time to see how things went.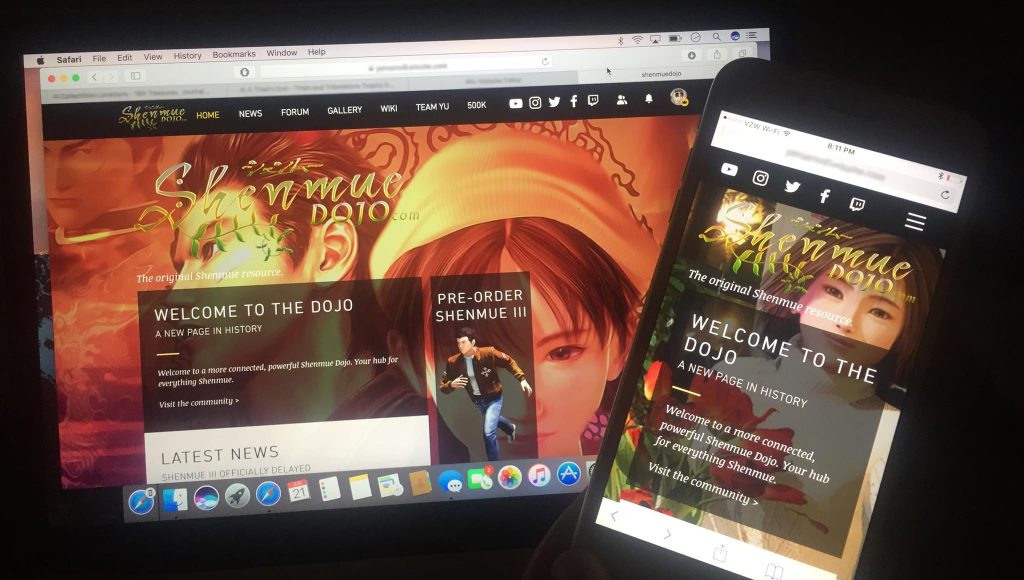 New site design concept by Yama
Things began to look up in July, when news came to light that Yu Suzuki would be in attendance at the German event Gamescom, to conduct interviews and show off the latest work to journalists. It was also announced at this time, that YSNET had now partnered with Deep Silver, who would become the official publisher of Shenmue III. With information being announced through Kickstarter updates, fans assumed they could met Yu Suzuki at the event, resulting in a clamour to buy tickets and make travel arrangement. Despite Deep Silver establishing that Yu Suzuki would be attending the press/media area only (requiring special access, booked in advance), the damage was done, and arrangements put in place for a signing session in the public exhibition hall.
Plans for the trip came along as the end of August came ever closer, with another Shenmue Dojo interview scheduled with Yu Suzuki, along with the other community outlets each having their own interview. However behind the scenes, disputes were still taking place between Ziming, Yama and Peter over how things should be done. Despite a successful interview, and trip to Gamescom, Peter left the staffing team, and dropped down to a contributor per his request to Yama. Various issues all just came to head including what moderators were active (the majority of them weren't) messaging Peter to voice their concerns, yet nothing being done about them, the forums still being stagnant, and the Twitch stream issues that had arisen a couple of months prior. Yama knew there was no further road to continue on, and followed through with his request.
Also revealed at Gamescom was a new Shenmue III trailer which, in typical Shenmue fashion, brought with it equal amounts of positivity and negativity. Whilst the game was coming along nicely, lots of fans couldn't understand that this was very much a work in progress, and the common complaints of character models, facial animations and general feel of the game was not Shenmue worthy. Despite being shown in a decent enough state for the stage it was at in development, YSNET admitted that they actually didn't want to show any footage at the event, and knew that fans were unhappy with what they were shown. From this point on, they would learn from that, and for a long time to come, Shenmue III development would go dark, however Shenmue news would still come through as 2017 drew to a close. From the release of a Shenmue themed map for Dobuita, to the announcement of India based art studio, Lakysha Digital coming on board to help with the development. Some new characters were revealed, as we moved into what would be a defining year for Shenmue, and the Shenmue Dojo.
Yu Suzuki would be in attendance at the MAGIC once again, early in 2018, with Shenmue fans setting their sights on the event for the latest updates on Shenmue III. Despite some new images being shown at the event, there was no Shenmue Dojo interview due to Peter leaving 8 months prior, and now running his own Shenmue themed Twitch channel. The event only showing off a few images felt like a step backwards, and the news that Shenmue III would not be at E3 in the coming summer continued to test Shenmue fans' patience.
________________________________________________________________________________
"I believe Shenmue Dojo deserves more time than I'm able to dedicate. It's with a heavy heart I'm doing this, but the passion Peter has shown for the project filled it with joy and excitement…"
Yama – "New Shenmue Dojo" topic: March 2018
Not long after returning from Monaco, current owner Yama contacted ex staff member Peter, to discuss taking over the internet's longest running Shenmue fan site. In the following weeks, discussions took place regarding all of the options going forward, and after having private discussions with several community figures, the news was announced that Yama would be passing on the site, on 15th March 2018. Yama decided to pass the site on mostly due to the success he was having with a brand new business venture offline, as well as trying to run other brands, but would be kept on as an administrator going forward. Helping Peter in the transition of ownership would also be something that needed to be done, but there would be major decisions to be decided upon in the coming weeks and months, which his experience would prove invaluable.
As all of this was going on, out of the blue, a lot of Shenmue rumours came flooding online about a possible announcement from Sega, at their upcoming FES event in Akihabara, Tokyo. A "special announcement" brought with it hope that finally Sega, would release Shenmue I & II for modern day console. Fans were not disappointed, as on April 15th, Sega chief Haruki Satomi was joined on stage by John Clark, Executive Vice President of Publishing at Sega Europe, to reveal that Shenmue I & II re-releases would be hitting consoles later in the year. Developed by an English based developer d3t, the Shenmue re-releases would have full resolution, classic or modern controls, dual audio, and see a release on PS4, Xbox One and PC. After years of campaigning led by Team Yu, both Shenmue III and Shenmue re-releases would be coming, and finally #ShenmueSaved could be truly said.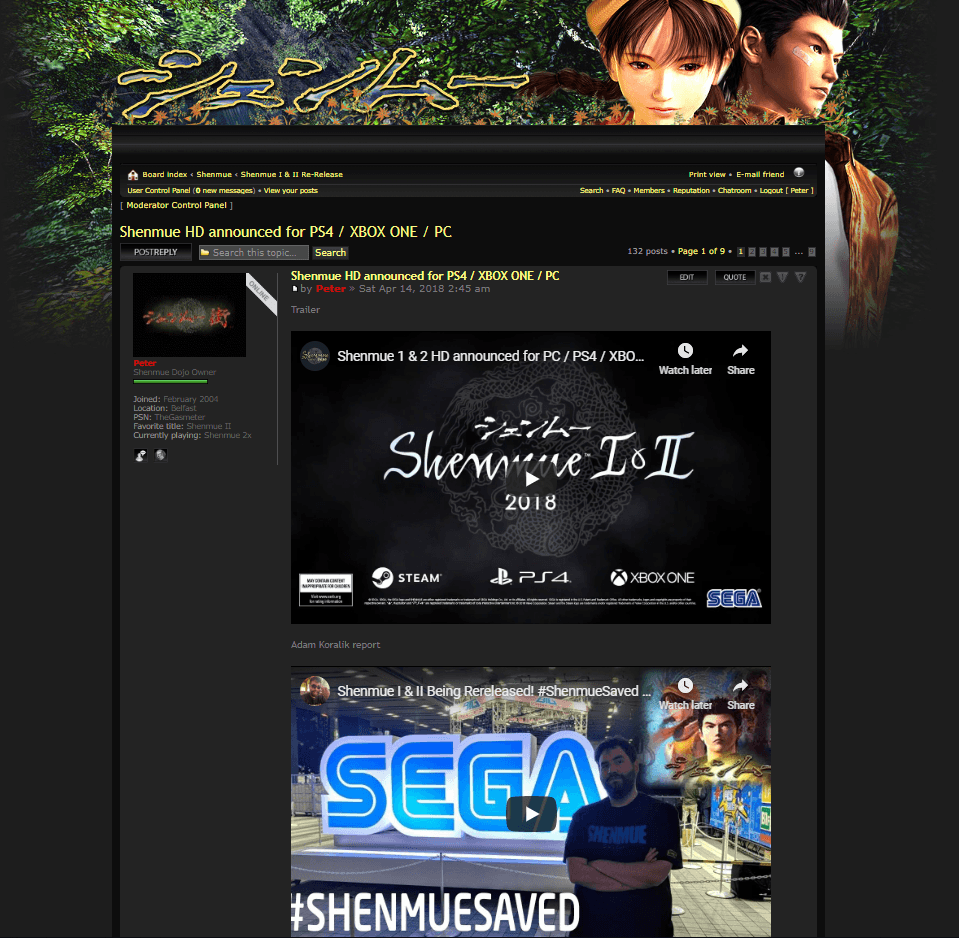 Shenmue Re-Release announcement topic – April 2018
As the boards began to calm down after the Shenmue Re-Release announcement, work began to take shape behind the scenes under the new owner. One of the more controversial decisions was to part ways with Ziming. Over the years, people assumed that the Shenmue Dojo Youtube channel was owned by whoever owned the brand. That it was part of the site. Unfortunately this was not the case, and was only called Shenmue Dojo in name. Ziming had always held full control over that, which could be argued, was the right thing to do. With his chequered history going back over 15 years, even to issue with the original owner Andy, it was felt that the time was right to completely part ways once and for all. Initially banned from the forums due to uploading a cam trailer of Shenmue III from MAGIC 2018 after both Deep Silver and Shibuya Productions instructed the trailer not to be recorded was felt as enough justification, but it was just a small issue of many that both Peter and Yama felt that it was the right move. Ziming had his Youtube channel to work on and make is own contributions to Shenmue, and the Dojo could go off and focus on itself. Access to all social media was removed and once both parties went their own ways, it was time to begin the full Dojo rebuild.
Peter's main task was to bring the site back to what he felt it should be; a Shenmue fan site first and foremost. Due to the lack of Shenmue news for so many years, conversation has swayed more towards the General Discussion of life and games over Shenmue. It was Peter's goal to tilt the balance, and bring it back to Shenmue discussion, which wasn't too hard a goal due to both Shenmue III and Shenmue Re-Releases on the way. Ideas were swapped one by one between Yama and Peter, and despite Yama having a new WIX site partially designed, Peter wanted to start from scratch, not using WIX, and going with the ever growing WordPress software.
Since design work can be a slow process, more immediate issues such as staffing and direction could be addressed immediately. The main issue with staffing at the Dojo had always been to find people with the right characteristics, including being a fan of Shenmue, passionate about not only Shenmue but the Dojo website also, calm and collected in tumultuous situations, and a high level of availability on a daily bases. A moderator needs to be present as much as they can, and by this stage, the Dojo had a lot of moderators who were just not around enough or had dropped completely off the radar. So, with a lot of absent names being dropped, new staff were appointed, such as long time Dojo user James Brown, as well as forum members Jibby and Spaghetti being brought on to form the new moderation team with Bluemue, ShenSun, Henry Specner, OL and Sonoshee.
Despite Yama already having done some preparations on a potential new site using the WiX platform, Peter decided that a complete rebuild would be better suited to the brand. With a new era of Shenmue beginning, it seemed only fitting that a new era for the Dojo should go along with it. This would mean everything, from a new logo, new theme, new website, an increase in social media presence, and the hardest decision of them, to keep the current forums or start anew.
By this stage the software which the Shenmue Dojo forums had been running on, phpBB, was not functioning properly. Board crashes would happen at random times, as well as other annoying issues such as white screen reloading and other design flaws. The main site also was detached, constricted, unclear, and just not fit for purpose in world where both Shenmue re-releases and Shenmue III were a reality. Whilst Peter made some small design tweaks to the forums in relation to usergroups, these were all small temporary changes, as the decision had been made to close the current Shenmue Dojo forums in their current form, and open new forums to start all over once again. Forums and message boards are sometimes seen as an old pastime when it comes to modern day technology, with various other types of platforms out there which effectively serve the same purpose, but on a much more refined and tuned scale. The forum existence of the Dojo, however, is something that's been engrained into the DNA of the site, and it wasn't a hard decision to make that they would remain. But it's hard for people to accept change, and starting with a 0 post count, or a new "joined" date on a forum can be a very personal thing, and something which people may not take well. But with the rebirth of Shenmue as a series, it seemed only fitting for the Dojo to follow suit, and see a rebirth of its own. A compromise which was agreed early on, would be that the soon to be "old" forums would remain online to view, but closed to any and all user participation.

Shenmue Dojo Logo concepts
With a lot of design and technical work to come, the logical decision to search for someone skilled in that area was apparent, and Peter began reaching out to anyone who would be familiar in the key areas of site building and design. Despite talking with a few people who were kind enough to get in contact, there was always a missing chemistry or shared vision, and just when things began to look like they would go nowhere, Norwegian based designer and coder Mattis Bodtker showed up. With a post on the forums, Mattis would offer to help with the new rebuild project, and within minutes that missing connection Peter had with other consulting designers and coders was present and well established. Not only was Mattis a passionate Shenmue fan, but he had been a member of the forums since 2008, and was involved in a few Shenmue fan projects including writing a publication on the series, interviewing Corey Marshall, and organising a fan led gift sending to Corey and hew newly wedded wife.
The next 2 weeks comprised of various discussions not just between Mattis and Peter, but also other members of the wider Shenmue community, to gather ideas of what the site should be in the years to come as opposed to the years gone by, the message the site sends, the look, feel, tone and implementation of all of these ideas. The WordPress software had really taken off at this point, and seen as a more open platform for website building, so the decision to have the site built on the WordPress platform was there from almost the very beginning. With a complete rebuild, it was also decided that a new for the brand would be needed, a task that would prove a greater feat than anticipated. After a full week of various design ideas from various people both within and outside of the Dojo, once again all seemed lost, with no design really capturing the feel of a logo which the site deserved.
The only idea which prevailed from the very beginning was that the colour and theme of the new site should move away from the old dojo theme of a black and green basic colour palette. Gold was always there from the start, but from font style to overall look, nothing was hitting home, until Mattis delivered what would become the new Dojo logo. With the gold Shenmue Dojo logo emblazoned on the dragon and phoenix Shenmue stencil and navy blue background, the colour theme and feel was now set in place, and would reverberate throughout the entire site.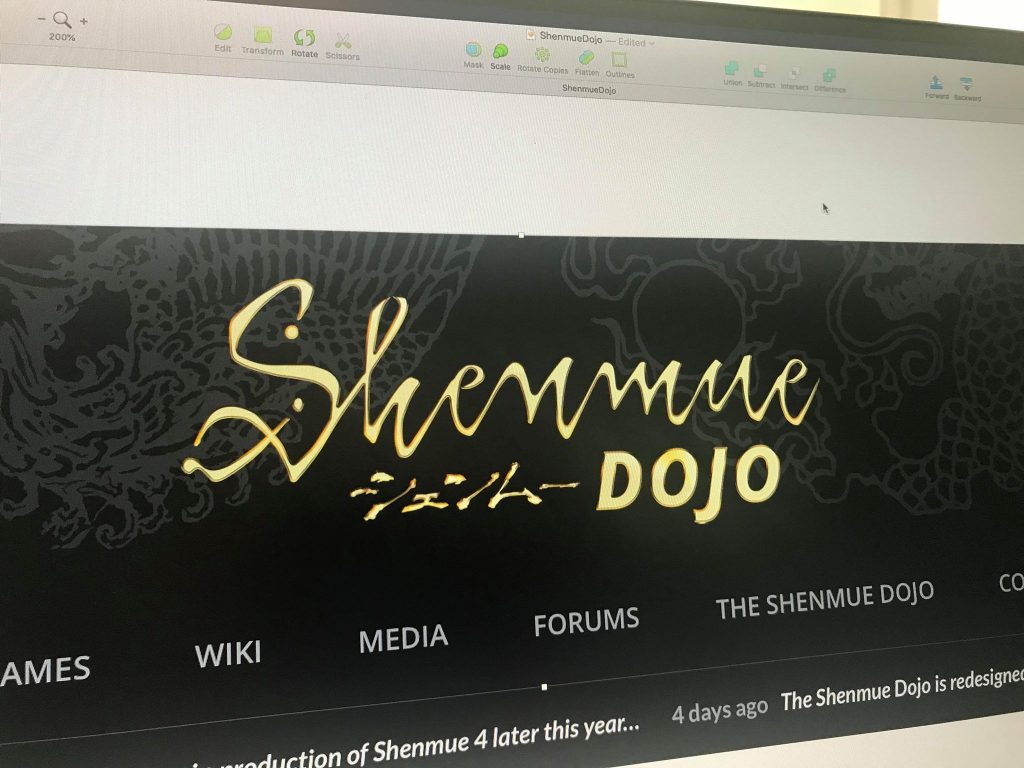 Working on the new masthead for the site – May – 2018
With the new logo decided upon, the design of a new website began, starting out with design concepts and input with Peter and Mattis, as well as rearch into the various mechanics that can be used with WordPress to implement the ideas and features they wanted the site to have. Layouts, sections, content and visuals were all discussed and tested in the coming months, as well as plans for collating and importing any and all assets that existed on the current site. With those plans in place and work beginning, attention then turned to researching various sorts of forum software that was available, as a return to phpBB was ruled out. This was due to such reasons as keeping in theme with wanting to start afresh with a new look, as well as the fact that phpBB was regarded as outdated, and difficult to work with. Solution was quickly found in the Xenforo software, which, like WordPress, was beginning to take off with mainstream popularity due to its ease of use and modern design on both the front and back ends.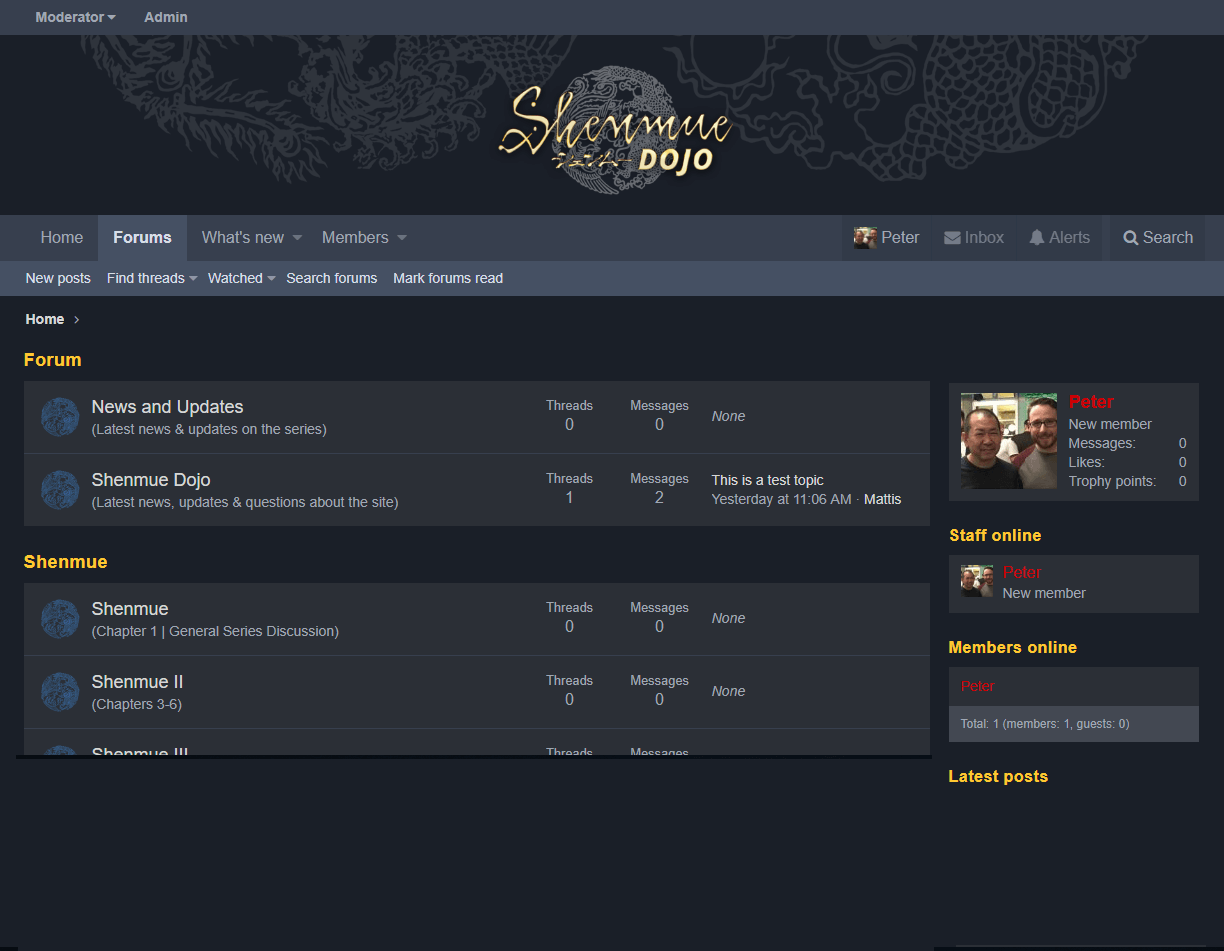 Working on the new forums _ June 2018
With a full roadmap in place, construction began on the new Shenmue Dojo behind the scenes, lasting for around 3 months. From creating and tweaking the logo, main site design, content management, backend coding, hosting compatibility, and testing, time flew by in the blink of an eye. With the creation of a new site, it also gave the opportunity for the site to move from a .net domain to a .com domain and as the relaunch date, July 27th 2018, drew ever closer, a splash page was put up on the .com address and current forum users advised to start preparing for the move. The time had come to say goodbye to the past, and hello to the new future of the Shenmue Dojo.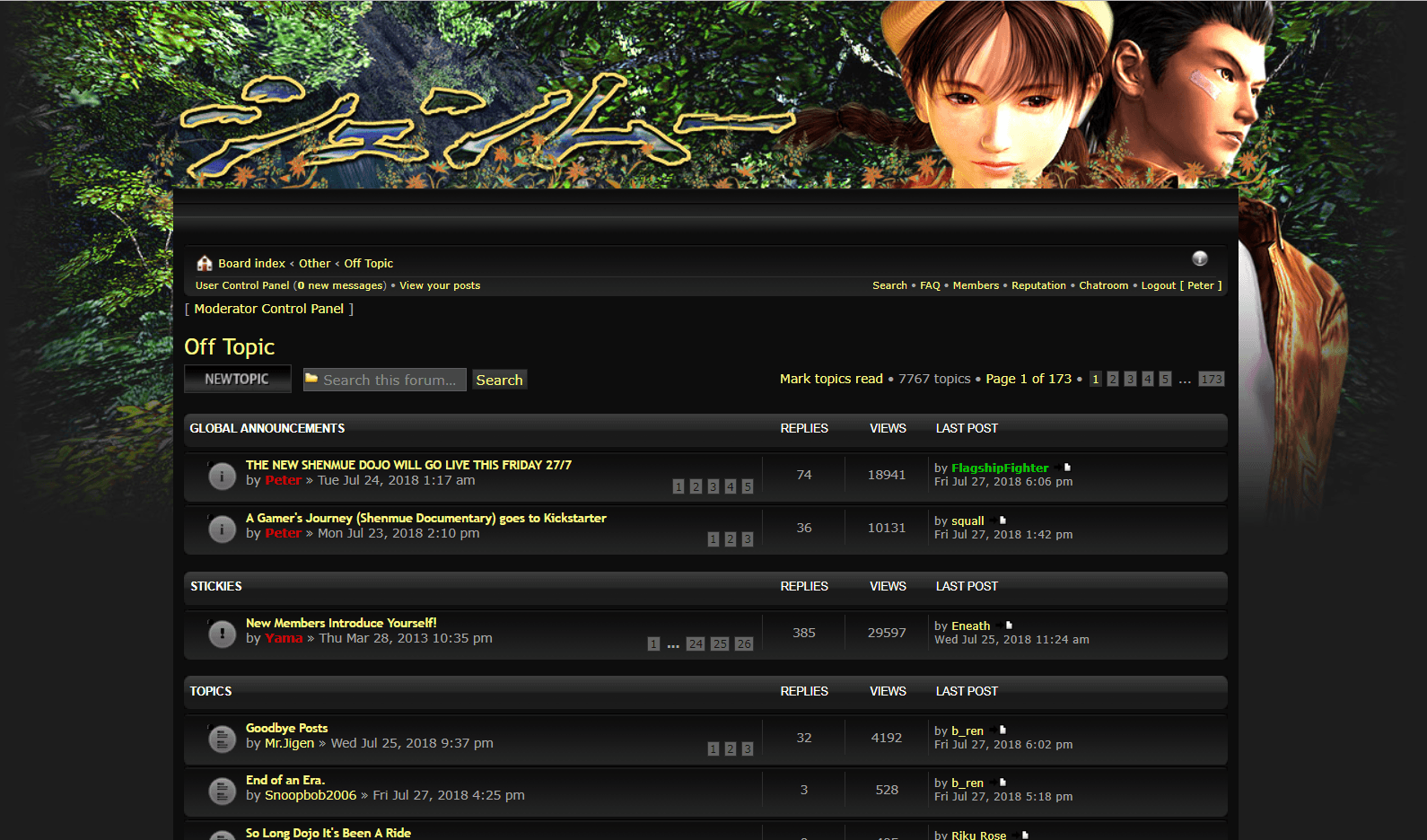 Last days of the old forums – July 2018
On July 24th, Peter announced that everything had been completed, and the new site would go live on Friday July 27th. In the coming days various goodbye topics would be made, as members new and old began to say farewell to a website which for 18 years, had one thing at its core; love and support for Shenmue. Despite the site and forums only having an overhaul, it was still hard for some to say goodbye, especially with the old forums closing, and new forums being created. Just as Shenmue was reborn with the announcement of Shenmue III, it was time for the Dojo to be reborn, and just 3 days later, the new Dojo opened its doors and people began to settle into their new Shenmue home.
The new site revealed the new logo on the masthead, with 6 dedicated sections; A news page, which would also serve as the main homepage, accompanied with the Dojo's Facebook, Instagram and Twitter widgets that can be interacted with on the main page. A games section, detailing each of the Shenmue games released, a media section containing as much of the old Shenmue Dojo media, as well as redone images to bring them up to date, a community section focusing on each of the other Shenmue brands within the community, as well as detailed summaries and links. There was also a forum link, and a history section, which unfortunately would not be fully complete at launch.
The new Xenforo forums also brought a lot of new changes to the overall forum aspect of the site, including mobile and desktop compatibility, a social login function, in depth notifications as well as mentioning features, a trophy system, easier attachment uploading, post draft features, user cards, full emoji support and a triple speed increase when compared to phpBB. The Shenmue Dojo had finally made the jump, and it truly was time to leave the past behind, and focus on the future.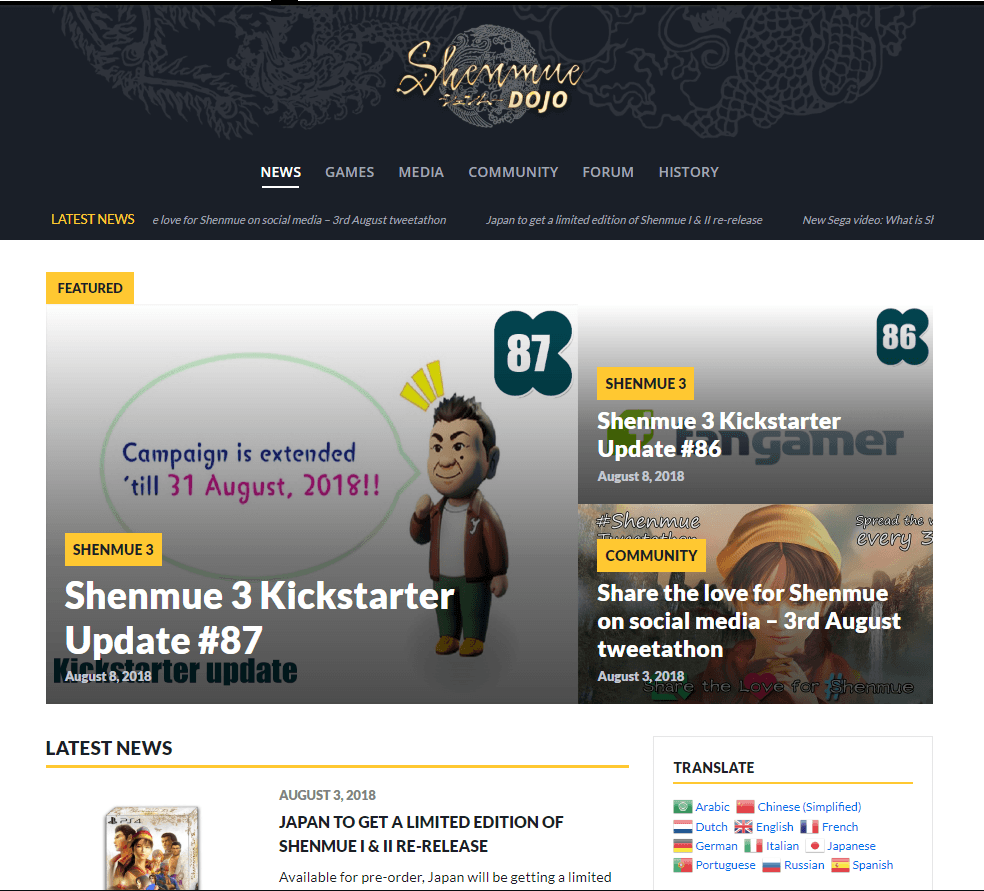 Shenmue Dojo main site – August 2018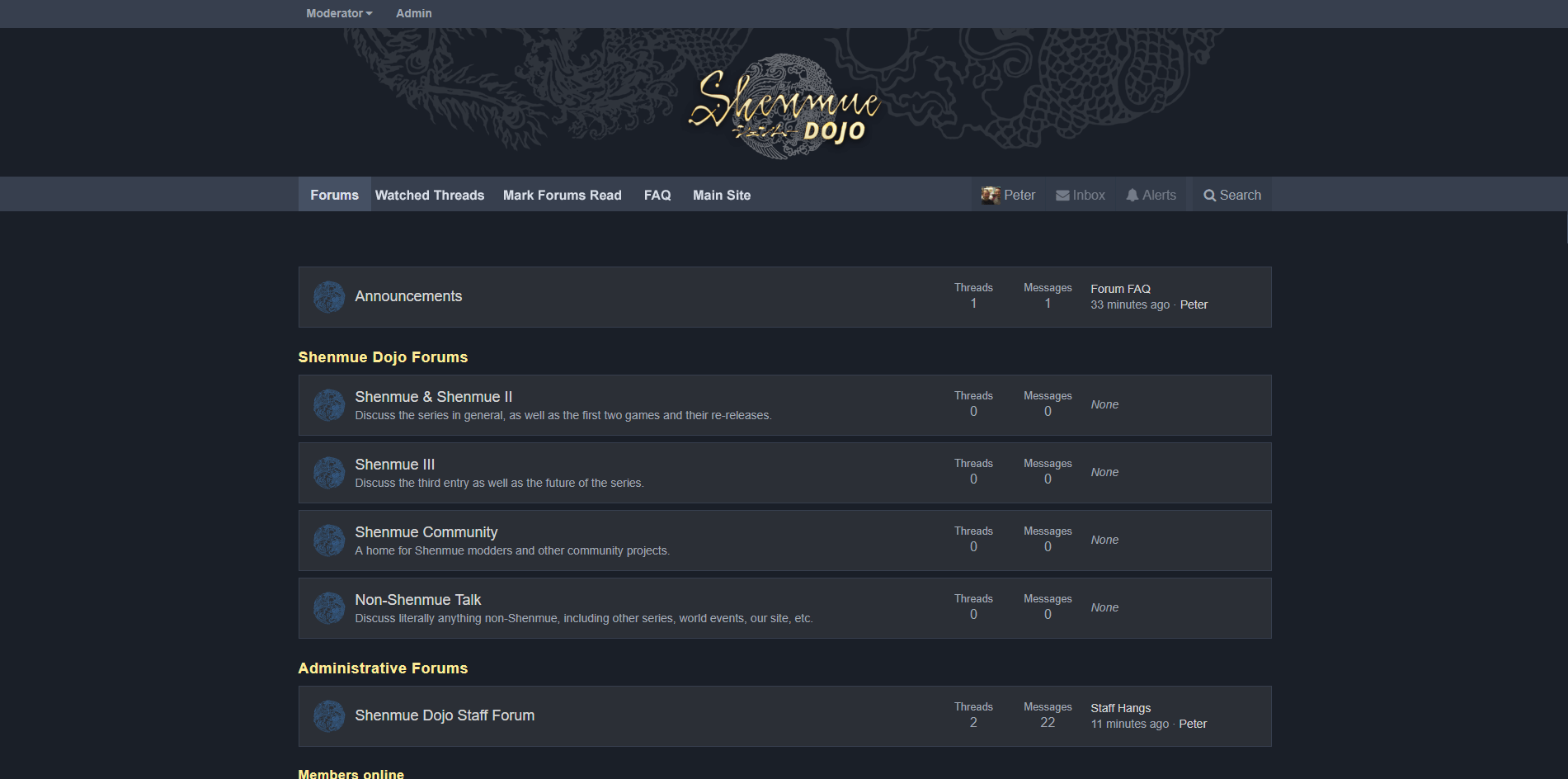 New Shenmue Dojo Forums – July 2018
*Whilst the new look Shenmue Dojo is fast approaching its first years anniversary, it feels right for now, that this is a natural stopping point for the history section. It will be added to as the years go on, since just like Shenmue, the site is still going strong with a bright and promising future on the horizon for both the Shenmue series, as well as the Shenmue Dojo. All that's left to say at this point is a huge thank you to each and every person who has been part of the Shenmue Dojo website.