On Friday 13th October (yes Friday 13th) we had the privilege of attending EGX on a press pass and also meeting up with a number of the Shenmue community who were also there on the day. Explore with us what we got up to on what was a brilliant day for all.
Arrival
Making my way to EGX was relatively straightforward. Having driven into London from home it was then a couple of changes on the Tube, including the new Elizabeth line, to Custom House with directions to the EXCEL Arena clearly labelled for all attendees. Not only that staff were on hand to help should anyone become lost or have any questions.
Collection of the pass was really straightforward. Simply approach the correct desk – have your QR code and ID ready and they hand over the pass. It was relatively quiet upon my arrival (10.20am) so this only took a matter of a couple of minutes before heading straight into the venue itself.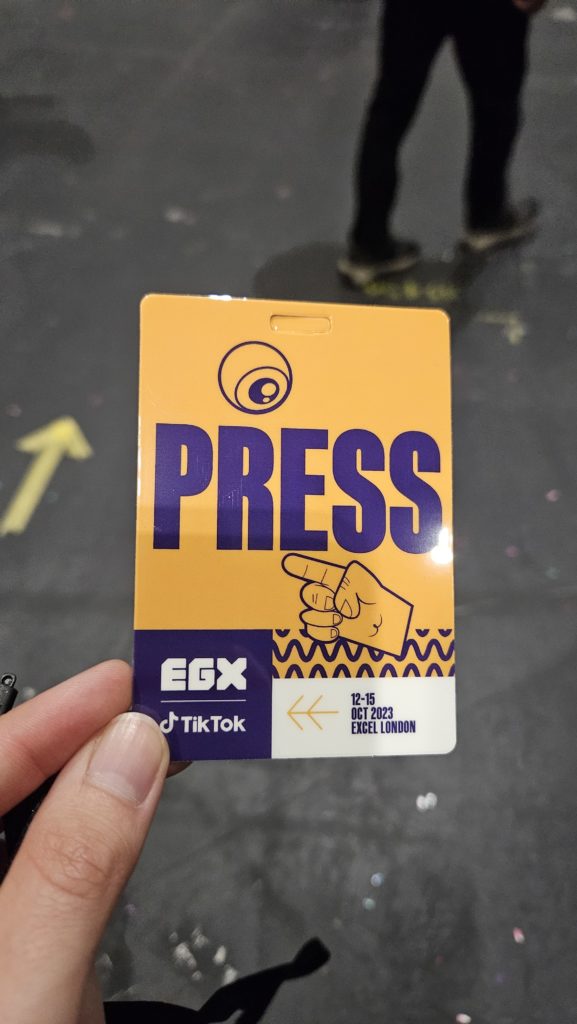 One thing that struck me was the amount of space that they had on offer. Whether this was a deliberate post-covid thing (my last EGX was 2016 and it was much tighter) or just the way they organised it who knows. There were indie games galore, more established franchises (COD and Forza) and a merch section that needed to be explored. Upon walking in there were two booths that really stood out for me. Nintendo's Super Mario Bros Wonder booth, which was massive, full of colour and life and, of course, the SEGA booth. If you think back to E3's gone by you would see a massive SEGA banner hanging from the ceiling. Here they had the SEGA Logo prominently displayed to the left of the main walkway. Of course this would be my first destination. As a Shenmue and SEGA fan it would have been rude not to.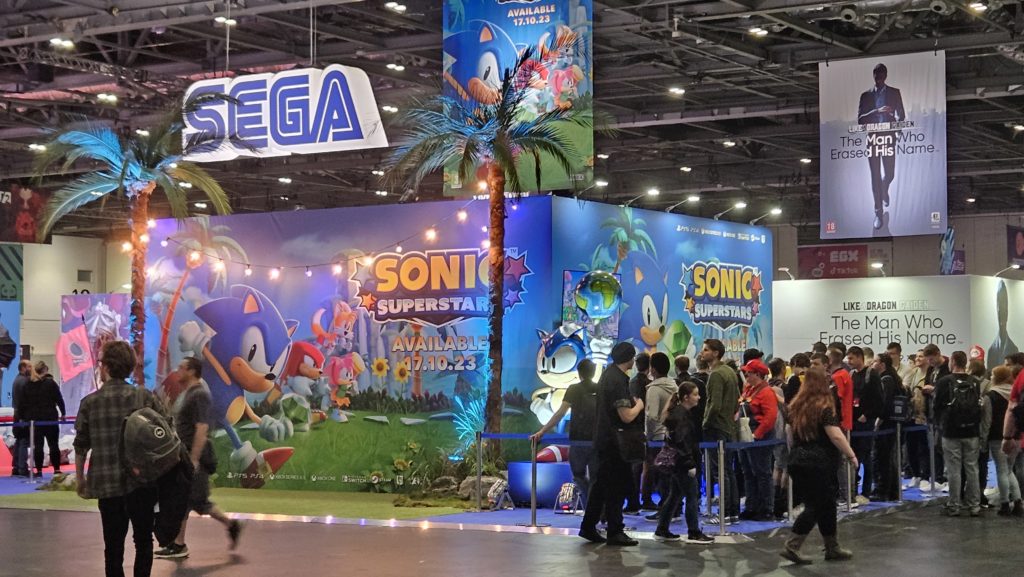 Pictured: SEGA Booth from Sonic Superstars Side
Upon moving towards the SEGA booth what it became apparent this wasn't just a 'booth' but more a SEGA area, showing off their upcoming releases. Each having their own booth, identity, merch and more. It truly felt like the SEGA Team had given real thought to each of the games being displayed and how to showcase them. SEGA had the following games on show:
Persona 3
Persona 5 Tactica
Sonic Superstars
Like a Dragon Gaiden
Like a Dragon Infinite Wealth
The first area I came across was the anime-esque Persona booth, which was already fairly busy. From talking to the SEGA reps manning this area they were all consistent in that Persona had finally hit a more mainline audience and this was show in the reception and queues that were already forming. While this isn't my sort of game I am pleased to see Persona get the attention it clearly deserves and it is an example of a niche IP becoming successful (cough cough do that with Shenmue SEGA).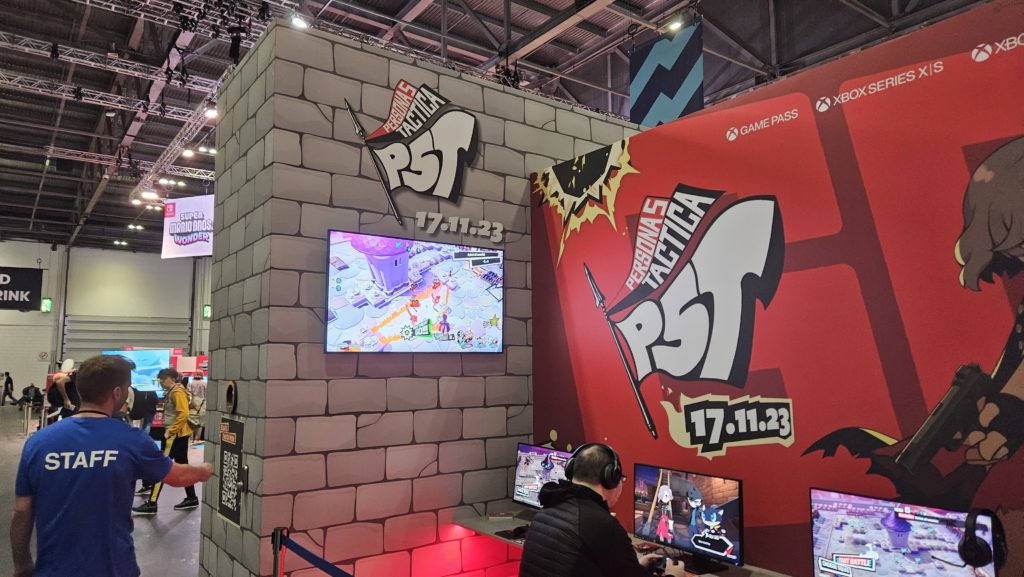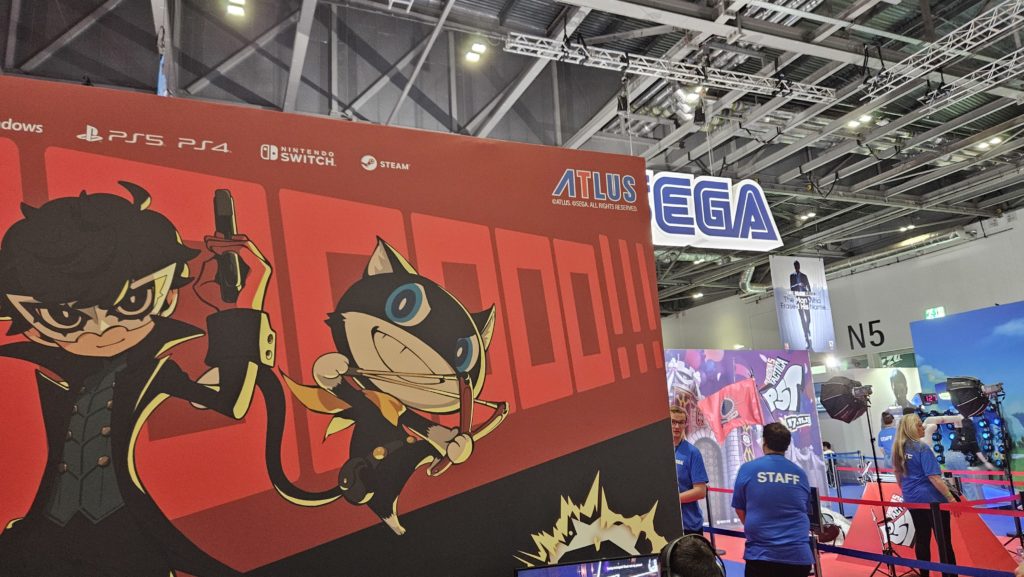 Pictured: Personal 5 Tactica Booth
Shifting away from Persona I was on a beeline for two games that I wanted to try before things got busier. Sonic Superstars and Like a Dragon: Gaiden. Previews for these and the other games I tried are here. It is safe to say both titles were impressive and only confirmed my excitement for them.
Approaching the Sonic Superstars booth I was struck by the theming of it, which is reminiscent of the first level of the game, but also arguably the star of the show…. THE SEGA WORLD LONDON SONIC STATUE!
Cast your minds back to the summer where Danny Russell (SEGA America Community Manager and preservationist extraordinaire) tweeted that they had found this statue and were going to restore it to its former glory for Gamescom. The photos do not do justice to just how much work went into bringing this iconic statue back to life and seeing it in person only rammed that home.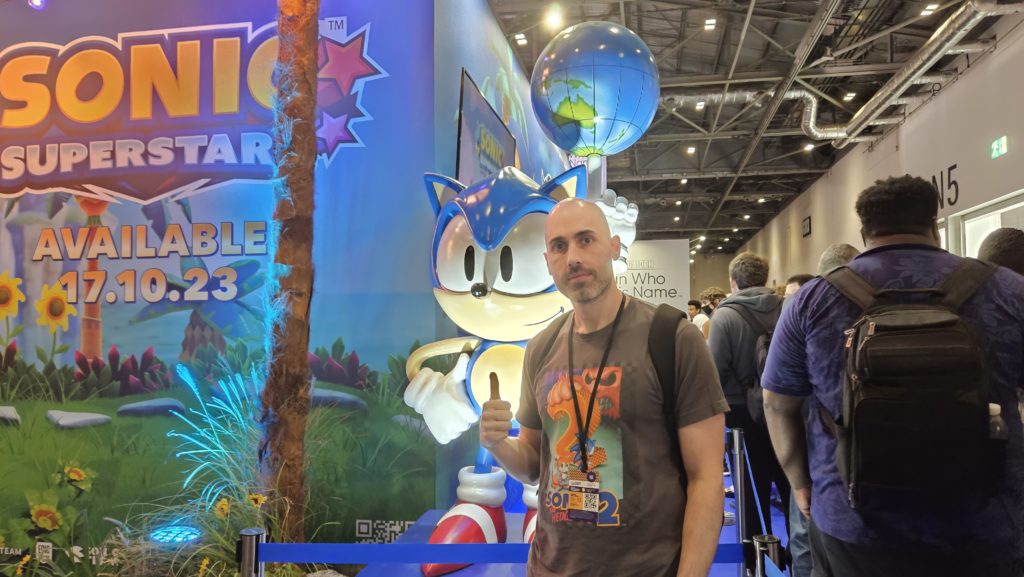 Pictured: Matt with the SEGA World Sonic Statue
The Superstars booth itself was smaller than I anticipated it might be but was well organised and had around 12-14 demo's set-up ready to go. What was palpable from waiting to play this demo was the sense of anticipation from Sonic fans to try this game (which will probably be out by the time you read this) and that sense of excitement is certainly well placed and talking to other fans in the queue that was the overriding view on the show-floor. Again, the SEGA staff were happy to answer questions and queries (a running theme across the day). Following trying out the demo you received a Sonic Superstars Pin Badge for your time.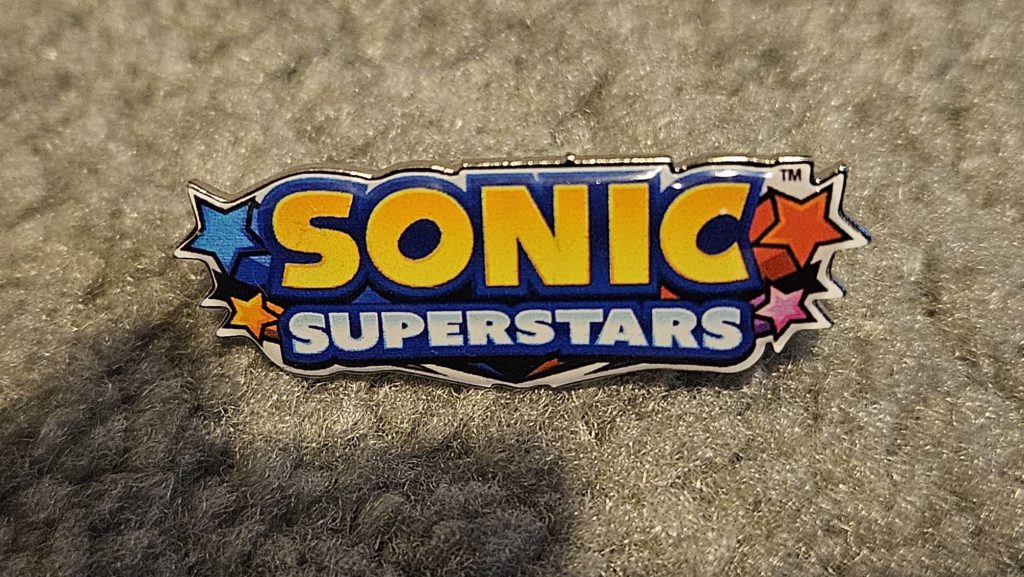 Pictured: Sonic Superstars Pin Badge
Within a few yards of the Sonic booth was the Like a Dragon Area, showing off Gaiden and Infinite Wealth. What struck me (and really shouldn't be a shock) was the more sombre nature of these booths which is very much in keeping with both games from the trailers they were showing. Chatting to a few in the queue it was interesting that there seemed to be a good mix of old and new fans wanting to try both titles as well as a splattering of Shenmue fans. SEGA staff were good natured in handling my request for Shenmue 4 – the response I got was 'hey we'd love it to happen but it's not our call' from the guys on the floor. So SEGA listen to your staff and help get Shenmue 4 made, #LetsGetShenmue4!
After playing each of LAD titles you get a nice tote bag and RGG Pin for your time.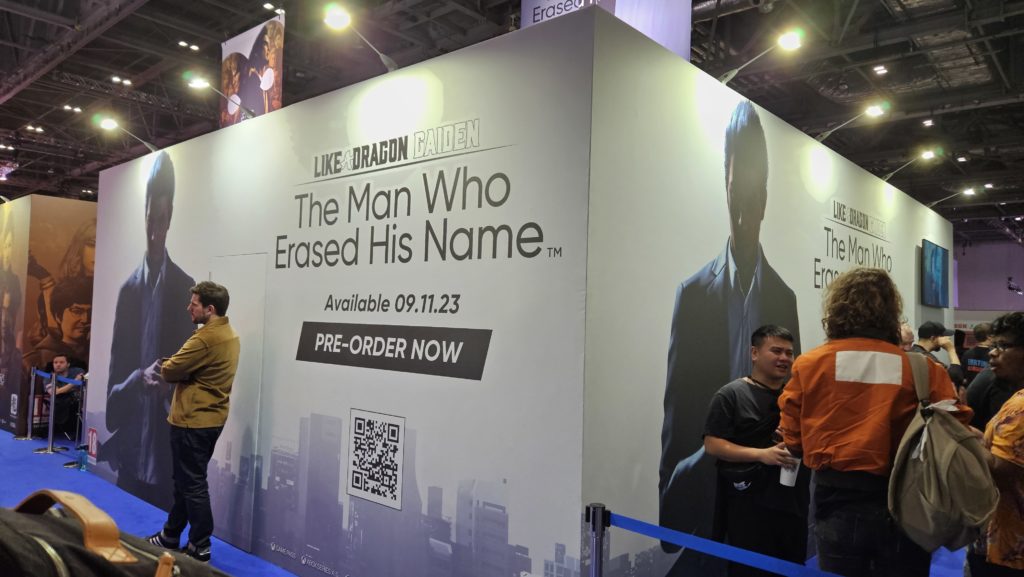 Pictured: Like a Dragon Gaiden SEGA Booth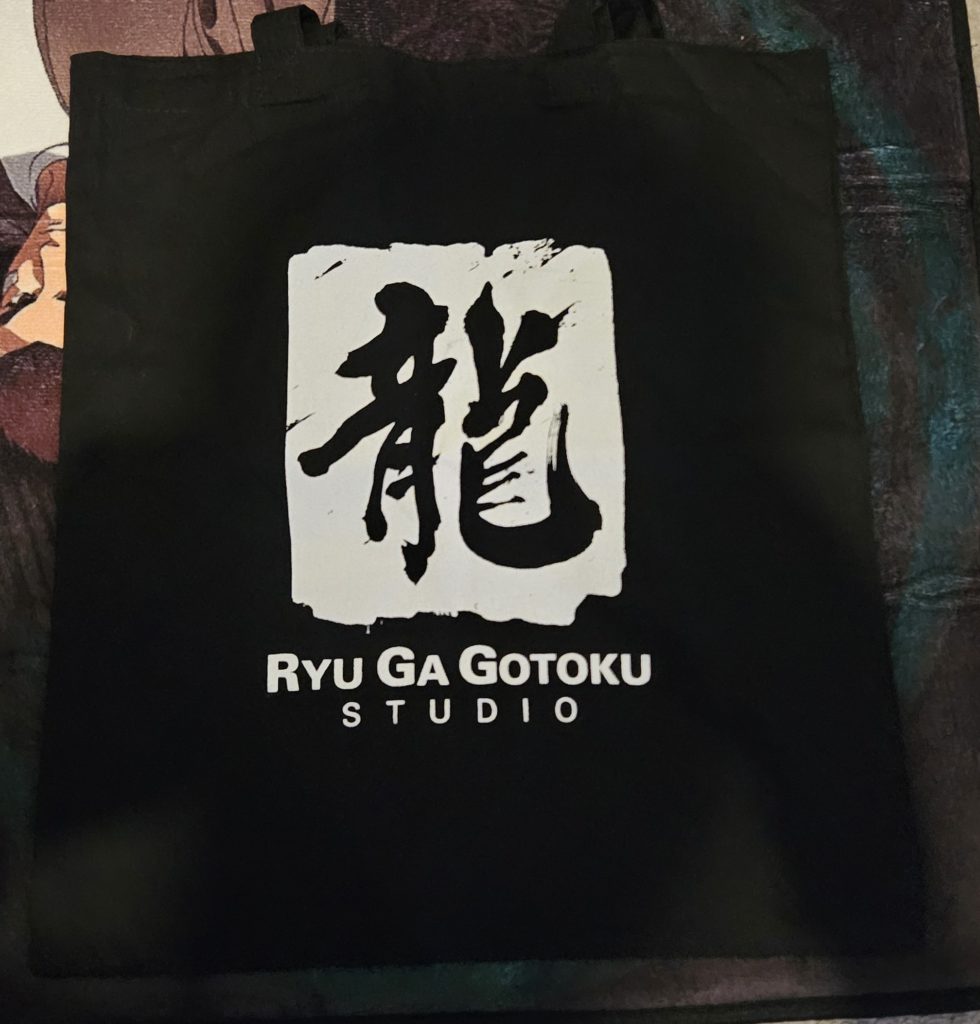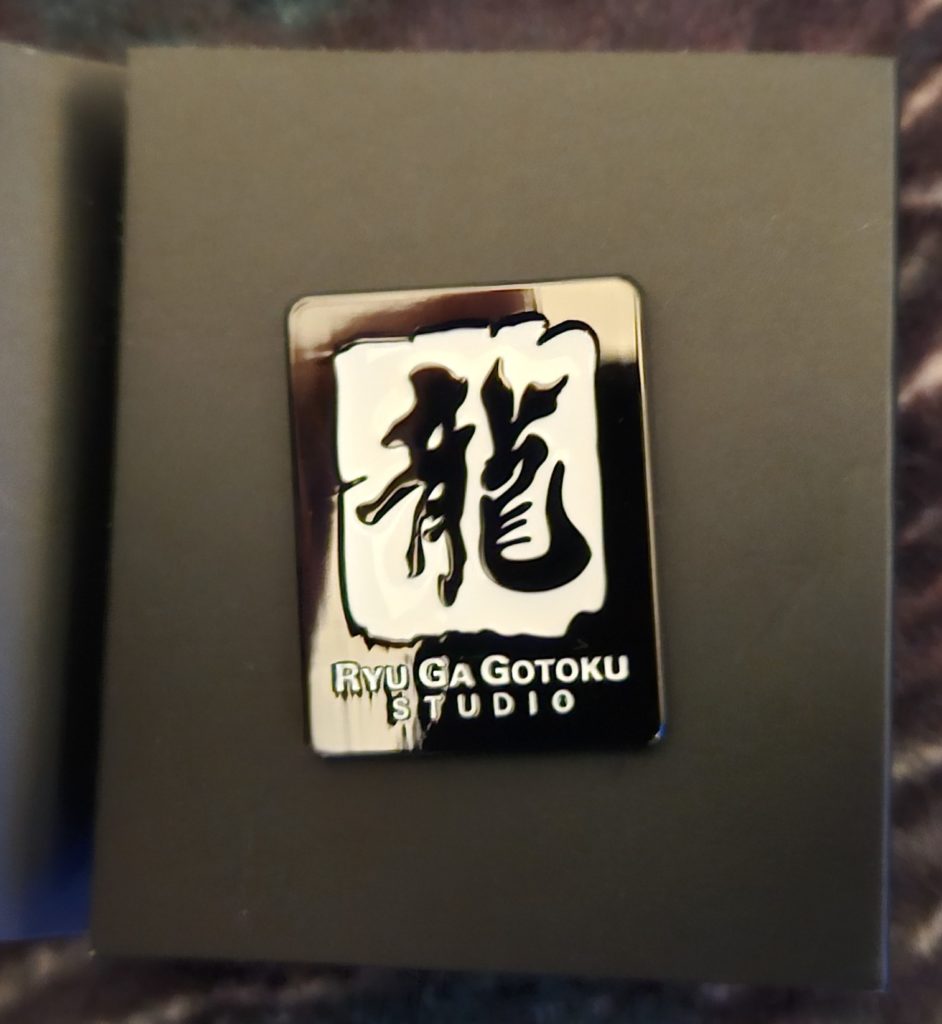 Pictured left to right: Tote Bag and Pin
The Shenmue Meet-Up
Naturally, after running around trying out some games, it was time to meet the Shenmue Community members who were also at EGX.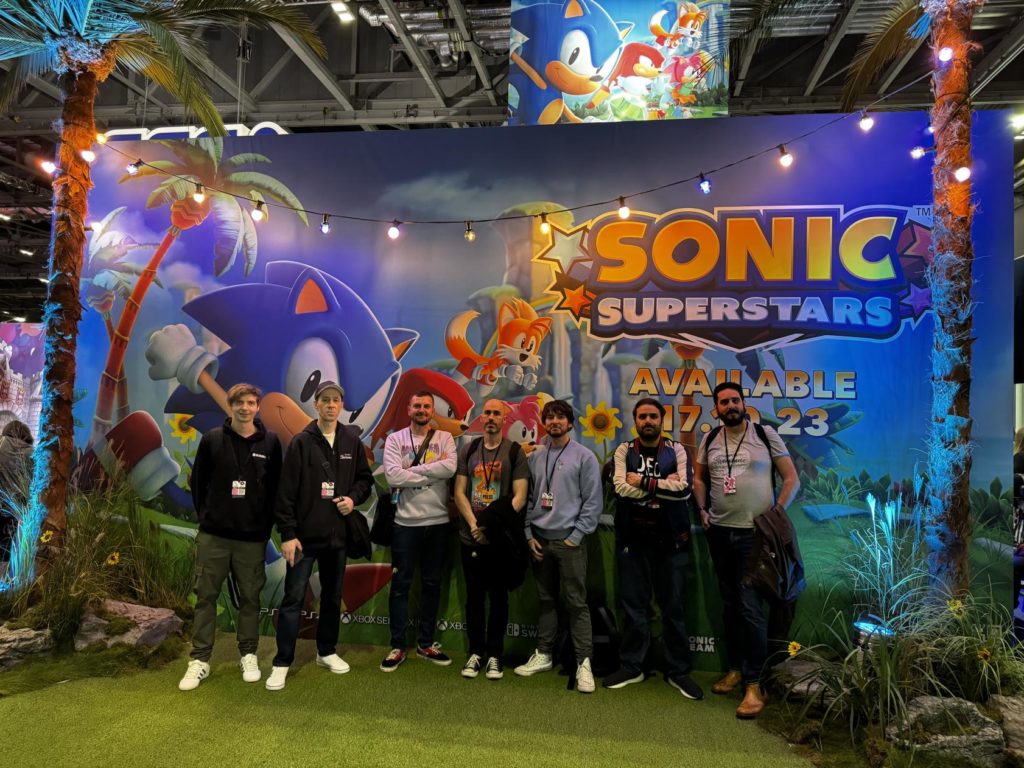 Pictured Left to Right: Sheephead, RetroGodFather, James, Matt, PaddyJ, Flagship, Miles Prower
The Shenmue Community never ceases to amaze in that whenever you meet old friends from years gone by, people who you have known by username for years or even new fans, is just how friendly and inclusive the Shenmue Community is. Very quickly we moved into conversation around Shenmue 3, Anime, what our hopes and dreams are for Shenmue 4, fan projects and Shenmue lore alike (watch those Shenmue Master interviews guys). The vibe towards a Shenmue 4 happening was steadfast in the belief that it can and will happen but we were also all in agreement in how Shenmue 4 needs to capture the audience from the offset & nail the story.
We also went into conspiracy theory territory when discussing Yu Suzuki's upcoming appearance at Lucca Convention in Italy just before the release of Air Twister. Surely there is more to it than 'just' promoting an upcoming game right? Get those Italy tickets booked everyone (wife gave me the all clear) and maybe we will find out ;).
Following this we made our way around the various booths and merch stands to see what there was to play or buy. One slightly disappointing area was the market area which I am told was smaller than previous years. Talking to one of the Retro Game Sellers there they would have likes considerably more room to work with and I would echo those thoughts as well.
However, we could not attend EGX without checking out the huge retro section and the actual moving Outrun and AfterBurner cabinets they had on show. These sights are becoming increasingly rare in nature due to the costs of maintaining such equipment or these simply falling beyond repair. It is sad to see iconic pieces of gaming history being lost to the sands of time and this just further ignites the argument for proper games preservation methods for an industry that does such a poor job in this area. Naturally, both machines were played with an Outrun attempted ending at Level 4 on the first go & an attempt at AfterBurner that shall never be spoken about again. When leaving James, Paddy and Sheep (several beers in by now) had commandeered Outrun each looking to seek the glory of completing it on a cab!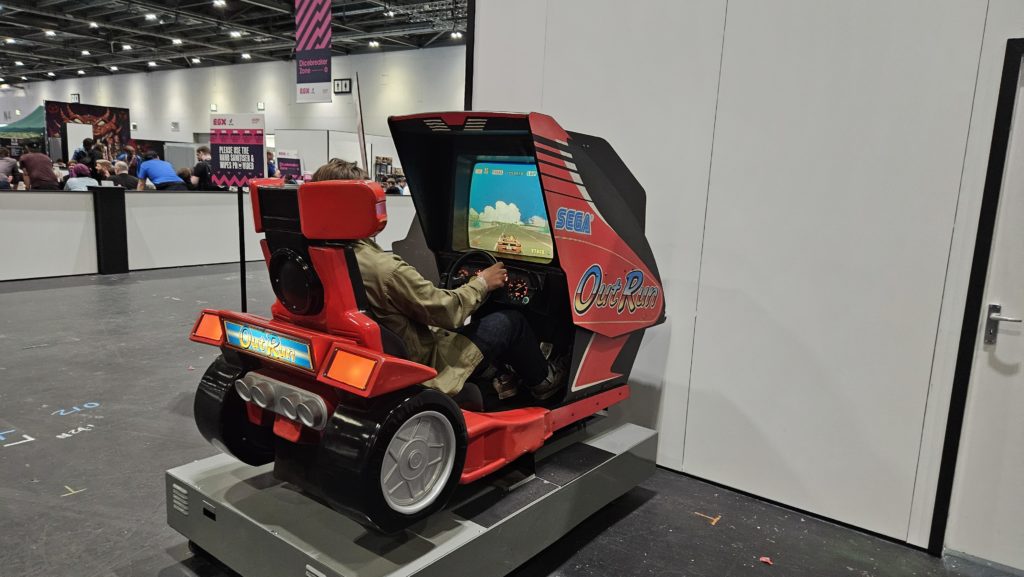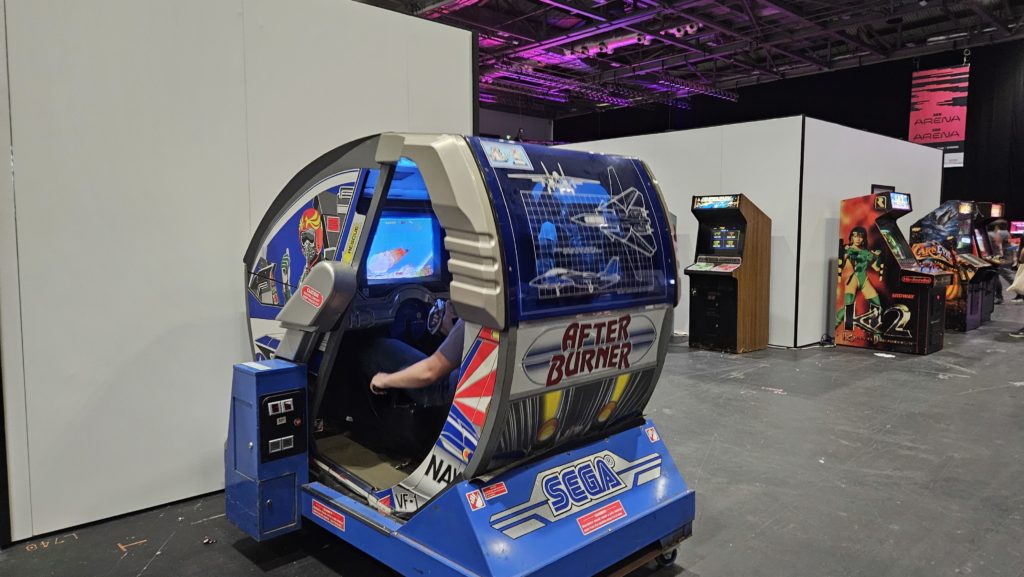 Pictured Left to Right: Outrun and After Burner Aracde Cabinets.
Final Thoughts
Having attended my first EGX in nearly 7 years I can safely say it was a generally well organised and awesome experience made all the better by meeting up with some of the Shenmue community and having the opportunity to meet everyone. I do think that they could have maybe had a few more publishers in attendance or even made the market area bigger. Sometimes the space felt a little empty and could maybe have had an even better atmosphere with more to do. One thing that Gamescom does well is have lots of little areas for smaller talks, interactions, interviews and more. I would love for EGX to do something similar next year.
That said I really enjoyed the day and we will certainly look to do a proper Shenmue meet-up next year for sure!
So I will either see you in Italy (jokes) Gamescom 2024 or back at EGX 2024!