Announced by Koch Media UK on Twitter earlier today, the first of Shenmue 3's downloadable content will release next week for PC and PS4 on the 21st January!
Hey #Shenmue3 fans – we're happy to announce that the "Battle Rally" DLC will launch next week for PS4 & PC on 21 January! pic.twitter.com/vuEBUuxVMP

— Koch Media UK (@KochMediaUK) January 15, 2020
More details were then provided, giving players a tease on what to expect from this upcoming DLC!
"Battle Rally" offers fresh gaming activities in a race unlike any other, as contestants engage in head-to-head battles whilst racing their way through the course.
In addition to playing the hero of our story Ryo Hazuki, players can also choose the treasure-seeking "Wuying Ren" and making her first appearance in this game, Ryo's sparring partner, "Wei Zhen"
The DLC will be part of Shenmue 3's Season Pass, which can be bought separately, or is already included if you originally purchased the Digital Deluxe Edition of the game on either platform.
If you want to be ready for when this DLC hits next week, here are the direct links to the complete DLC collection, which appears to be currently the only way to purchase Shenmue 3's DLC content. We are unsure whether individual DLC content will be split at launch.
EPIC STORE


https://www.epicgames.com/store/en-US/product/shenmue-3/season-pass
PLAYSTATION STORE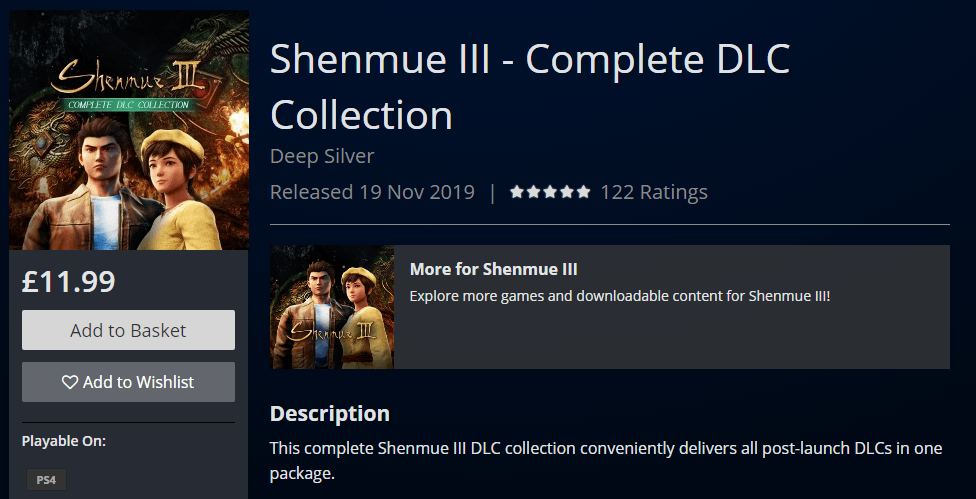 https://store.playstation.com/en-gb/product/EP4062-CUSA12257_00-SHENMUEIII0CDLCC
We're super excited about this first wave of post launch DLC for Shenmue 3, with future DLC content planned now seemingly on the horizon too!
Keep an eye out for more details soon!