Following the news that DATA DISCS would be releasing a Soundtrack for Shenmue 2, they also announced that the original Shenmue 1 soundtrack would also be getting a repress incase you missed out on it the first time around!
Whilst there is still no further news to report on the Shenmue 2 soundtrack, today DATA DISCS have restocked their repress for the original soundtrack, and it's available to buy once again right now!
The @datadiscs Shenmue 1 LP restock is now live! https://t.co/mJU9KD6x7d

— Shenmue Dojo (@Shenmue_Dojo) August 8, 2020
SIX RELEASES NOW BACK IN STOCK!
Streets of Rage 2 / Shenmue / Sonic Mania / Golden Axe I & II / Streets of Rage 3 / Shinobi III. All available to order now at https://t.co/Z7oODGAIml pic.twitter.com/nVq2IGpbhY

— Data Discs (@datadiscs) August 8, 2020
You can head over to the DATA DISCS website right now and pick up your Shenmue 1 Original Soundtrack on Vinyl Record: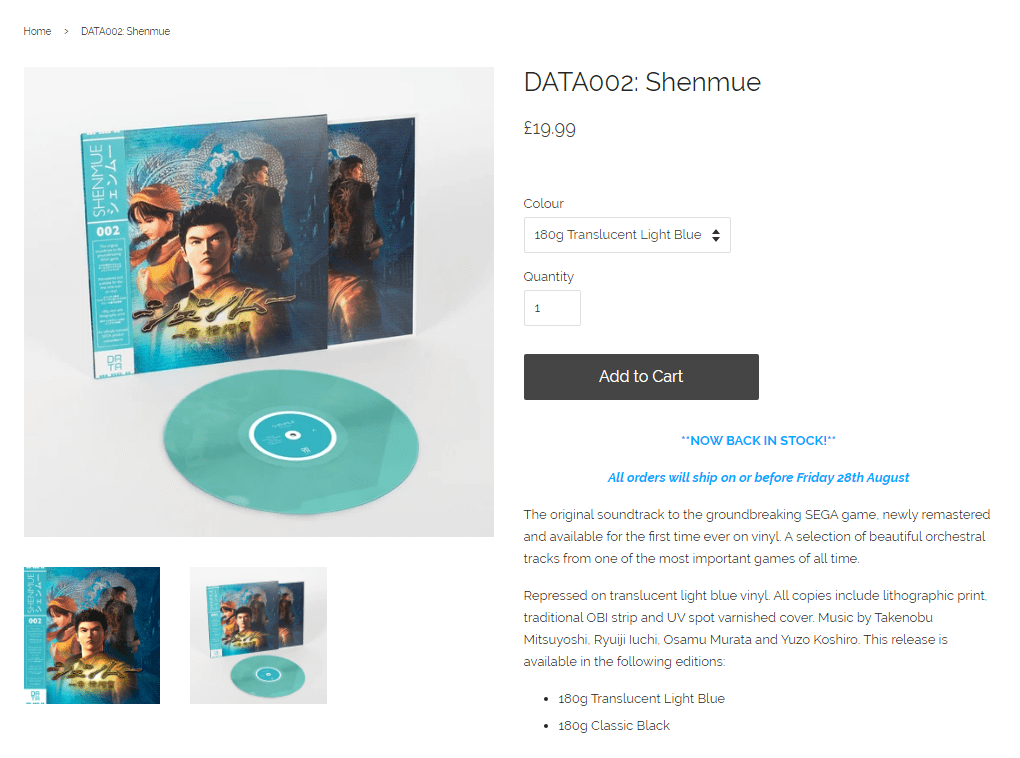 Additional Information
**NOW BACK IN STOCK!**

All orders will ship on or before Friday 28th August

The original soundtrack to the groundbreaking SEGA game, newly remastered and available for the first time ever on vinyl. A selection of beautiful orchestral tracks from one of the most important games of all time.
Repressed on translucent light blue vinyl. All copies include lithographic print, traditional OBI strip and UV spot varnished cover. Music by Takenobu Mitsuyoshi, Ryuiji Iuchi, Osamu Murata and Yuzo Koshiro. This release is available in the following editions:
180g Translucent Light Blue
180g Classic Black
A1. Shenmue – Sedge Tree (Original Version)
A2. Shenhua – Sedge Flower (Original Version)
A3. Encounter with Destiny
A4. Christmas on Dobuita Street
A5. The Sadness I Carry on My Shoulders
A6. Cherry Blossom Wind Dance
A7. Daily Agony
————————————————
B1. Tears of Separation
B2. Dawn
B3. Snowy Scenery
B4. Separated from Yokosuka
B5. Departure for Hope
B6. The Place Where the Sun Sets (Version 2)
Note: All orders will ship on or before Friday 28th August. Some copies are in shrink wrap, others are packed in resealable polypropylene sleeves (with the record removed to avoid seam splits); all are brand new.