While things have slowed down somewhat we were treated to a raft of Shenmue News over the last few weeks! We have curated all the news below for all of your Shenmue needs!
Shenmue The Animation Announced
In perhaps the biggest news of the month, it was announced on September 4th that Shenmue would be getting an Anime. This is a collaboration between Crunchy Roll, Adult Swim and Telecom Animation Film, with Yu Suzuki as an Executive Producer. The Anime will contain 13 episodes moving through Shenmue 1 and 2. The project will be directed by Chikara Sakurai.
It's true! @adultswim and @Crunchyroll are making a 13 episode SHENMUE anime! Yu Suzuki is producing. We've been working on it for a while and I'm so excited to finally be able to talk about it! https://t.co/8rMkzVAzax

— SPIRAL CURSE DEMARCO (@Clarknova1) September 5, 2020
See further details on the Shenmue Anime here: https://shenmuedojo.com/shenmue-the-animation/series1/
Data Discs Announce Shenmue II LP
That's right… the long rumoured Data Discs Shenmue II LP was finally announced with Pre-orders opening on September 17th. Options comprised of limited edition Green and Orange LP, with limited time pre-order (sold out), as well as a Green LP and Black LP. Not only that Data Discs announced a beautiful looking Shenmue Slipcase to store both this and the Shenmue I LP. And just while your wallet thought it was safe Data Discs confirmed the repress of the Shenmue I LP still had stock remaining. Grab these while you can as they may not come back in stock!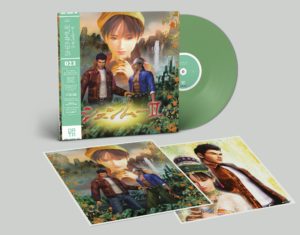 Grab yours here: https://data-discs.com/collections/records/products/shenmue2
Check out more details in our news post: https://shenmuedojo.com/data-discs-shenmue-ii-lp-open-for-pre-order/
Sega Shop Shenmue Items Restock
Last but not least is the news that Sega Shop have restocked all Shenmue Merch apart from the Limited Edition Coin. As ever these items are likely to go fast so get them while you can!

UK – https://www.segashop.co.uk/collections/shenmue
EU – https://www.segashop.eu/collections/shenmue
Thank you to everyone who has followed the Shenmue Dojo news. Don't forget to follow us on Twitter, Facebook and Instagram. If you want to join in more in-depth discussion then sign up to our forums! Link here: https://www.shenmuedojo.com/forum/index.php or at the top of the page!
Until next time, stay safe and keep friends…those you love, close to you!