Shenmue Dojo is proud to present to the community the Shenmue 3 character database by Miles Prower!
Consisting over 300 characters Miles (who also worked on the same document for Shenmue 2's over 700 characters) has worked his way through Shenmue 3 documenting every character, location, mugshot, description and where possible the English voice actor.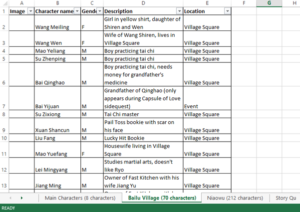 The project started in 2020 and has come to a wonderful fruition in what will only add to a hugely detailed Shenmue World.
Miles would also like to thank Dojo staff Peter, Lemonhaze as well as forum user Salsa Shark + the author of the highly detailed Phantom River Stone Blog, Switch.
Read about how this project ran from start to finish on the Shenmusings Blog.
Don't delay, see this for yourself! Download the full document here: https://www.dropbox.com/s/t8po5ad916ic2tn/Shenmue%20III%20Character%20Database%20%28by%20Miles%20Prower%29.rar?dl=0