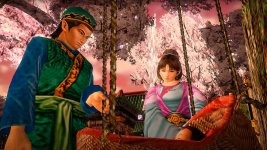 This post have SPOILERS of the games.


In Shenmue II we see a flashback, a flashback of Shenhua's parents, in this blog post
i will talk about this scene, i will talk about Yunshen Yuan as well, Yunshen Yuan is Shenhua's adoptive father,
and i will talk about my theory who are Shenhua's parents.

In this part of the game Shenhua show the Shenmue tree for Ryo, she say that the Shenmue tree holds a special
meaning for her, after that the flashback with her parents begins.

In the flashback we see a beautiful place with a lot of trees, all of these trees are Shenmue trees? maybe,
one is a Shenmue tree but maybe the others are Shenmue trees as well, we don't know yet, but probably there
are at least 2 Shenmue trees in the story, one in Bailu Village and one in Luoyang.

In my opinion this place is not Bailu Village, this place is probably Luoyang, the old capital of China, and
the place in the tapestry in Shenhua's house is Luoyang.

In the flashback we see Shenhua's parents looking at a baby near the Shenmue tree, this baby is Shenhua. In
the game there is nothing about their names, we still don't know the names of Shenhua's parents.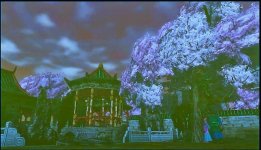 The dialogue between Shenhua's parents is this way.



Shenhua's Father: The Shenmue tree has its flowers in bloom again this year.

Shenhua's Mother: Shenhua... a beautiful flower.

Shenhua's Father: I know... we will name our child Shenhua.

Shenhua's Mother: Shenhua. That is wonderful. The Shenmue tree shall protect her.

After that the flashback ends and this is the only flashback with Shenhua's parents in
the Shenmue Series.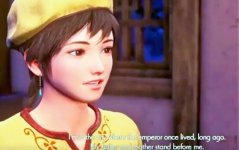 In Shenmue III Shenhua say to Ryo that she have vivid dreams where she is in a city where the
emperor once lived long ago, that her father and mother stood before her, that she was just
born and they spoke her name. This city that Shenhua mentioned is probably Luoyang. This scene
with Shenhua talking about this city have a connection to Shenhua's parents flashback in Shenmue
II.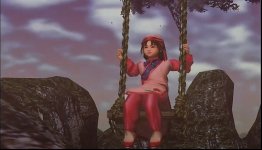 In another part of Shenmue II we see Shenhua with 5 years old, we see her swinging and the Shenmue tree but
no sign of her parents there, and we can clearly see that this place is Bailu Village.

In one scene with Ryo she say that her parents died, that she don't even know how they died, Yunshen Yuan
raised her, but how Yunshen Yuan knew Shenhua's parents? Yunshen Yuan was in Luoyang or in Bailu
Village when everything happened? when Shenhua's parents died and he decided to take care of Shenhua.

I don't know, but i wonder about what happened at that time, how Shenhua's parents died? probably has something
to do with the mirrors, maybe Shenhua's parents had the mirrors and someone killed Shenhua's parents to get the
mirrors, i think this is possible. How Yunshen Yuan is connected with this part of the story? probably because of the
mirrors as well.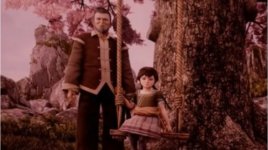 Did Shenhua's parents before dying asked Yunshen Yuan to take care of Shenhua? in my opinion it was probably
this way, probably something bad happened with Shenhua's parents, before Shenhua's parents die Yunshen Yuan
accepted their request to take care of Shenhua, this is what i think about this situation.

Who are Shenhua's parents? In my opinion Shenhua's parents are probably from the emperor and empress family,
i say that because the house in the flashback is big, Shenhua's parents clothes and much more give me this
vibe about these characters.

This house and Shenhua's parents give me a feeling that with this flashback we saw a little bit of the emperor and empress
story, that we saw a little bit of Luoyang, and in Shenmue III we saw that an emperor envoy went to Bailu Village because of mirrors.

Maybe Shenhua's parents are actually the Emperor and Empress, probably Shenhua's parents had the mirrors at one point in the story, maybe
someone from the Chiyoumen knew that and then killed Shenhua's parents to get the mirrors, probably the one pulling the strings, Tentei.

Maybe Yunshen Yuan arrived there in their last moments then Shenhua's parents asked Yunshen Yuan to take care of Shenhua, i think it was
something like this, if we see this flashback i think it will be one of the most emotional moments of the Shenmue Series.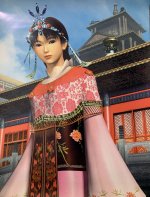 I really feel that Ryo and Shenhua will go to Luoyang in Shenmue IV, and probably in Luoyang we will see more
revelations about Shenhua's parents, the mirrors, the Shenmue tree and even about Shenhua's powers. If Shenmue
IV happen i hope we can see more revelations about these things, to me the story about Shenhua's parents is
an interesting and mysterious part of the story of Shenmue.

What do you think about all of this? Shenhua's parents are part of the emperor and empress family? how Shenhua's
parents died? How Yunshen Yuan is connected to Shenhua's parents story? the place in the flashback is Luoyang?
we will see revelations about Shenhua's parents in the next chapters of the story? share your opinions
in the comments below, thank you all for reading, and remember to keep friends... those you love... close to you,
see you all in my next blog post, bye bye. ~


​
Last edited: