Server Admin
Administrator
Hey guys,
Just thought I'd make a post for this as it might be useful to some of you. This is a DLL that you can either: a) replace for Forklift.dll (although your mods won't work) or b) inject the DLL yourself once you start Shenmue 1/2 with something like Cheat Engine.
The tool allows you to warp yourself, lock the camera, warp the camera, change the camera distance from Ryo, enable 60fps/200+fps, freeze time, change cash and SEGA coins and more: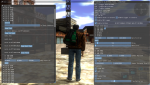 There is also a Task View and Task Console which might not be useful for the majority of you, but it's there if you want to take a look. Mad props to PhilYeahz for all of the task stuff he's been looking into with me.
Anyways, if any of you need a run-down on how to inject the DLL with CheatEngine:-
Start Shenmue 1/2
Open Cheat Engine -> File -> Open Process -> Shenmue I/sm1.exe or Shenmue II / sm2.exe.
Click Memory View, then Tools -> Inject DLL.
Now browse to MiscTools_v2.dll and select it, it will ask "Do you want to execute a function of the dll?", select No.
That's it! (you can now close Cheat Engine)
Wulinshu Wiki
WARNING
:
DO NOT ENABLE PATCHES WHILST IN MENU, YOU WILL FREEZE YOUR GAME IF YOU DO.
There will most likely be updates to this, in which case, I'll update this thread.
EDIT: 28/01 - Added support for SM1, including map warping.
EDIT: 26/02 - Fixed FPS mod for Shenmue 2, cutscenes are still pending.
EDIT: 28/02 - Fixed map warping in SM1.
EDIT: 08/09 - Added facial expressions menu, first persion view (for Shenmue I only), hiding UI and various fixes and stability improvements.
EDIT: 10/09 - Added 'Give All Items' and 'Give Item' buttons. Also added ability to rig the vending machine RNG (used to determine the random capsule toy you can win from vending machines)(currently Shenmue II only)
Special thanks to: PhilYeahz, Raymonf, derplayer, Cupcake, ner0 and any other guys from the Discord I missed!
Last edited: