Since Shenmue 3 has been released for 90 days, the Shenmue 3 spoiler forum has now been merged and we now have one standalone Shenmue 3 forum. This means all spoilers about the game may be discussed openly. This also means topic titles can be viewed from the home page.
Whilst there are still some who have not played, or completed Shenmue 3, we have installed a little fix , to hide the Shenmue section from view, if that's what the member decides to do.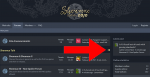 Simply click the slider on the right of the section you wish to hide, and it will remain hidden from view, until you choose to return them to view. Your cookies for the site will remember your settings, and the section will remain hidden for as long as you deem fit.
This feature works across all 3 themes, although there is some tweaking to be done in terms of the position of the slider on the "Bysby" theme, but we will get that rectified ASAP.
I understand people also like to use the "new posts" feature of the forums to check up on new posts made by members since they have been offline. Unfortunately at the moment, there is no real way to remove possible spoiler titled topics from this list. Whilst there may be Xenforo add-ons that could provide this service (i am not sure as i haven't checked), the majority of add-ons for the software cost money, and usually aren't cheap. Whilst i have no issues paying for needed add-ons, there does need to be a demand for something like that, in order to justify it. If there is a proven demand, then we can definitely look into it. But for now, i hope the hide sections switch will suffice for members who choose to still avoid spoilers of Shenmue 3.