I just beat Reqiuem, just Wow! Delivered through and through! Me and my firend have been playing it on a weekly basis and it's been a thrill from start to finish! The jump in quality is very clear to see in just some of the scale of the set pieces. The biggest improvement was the voice acting, I wasn't sure on Amicia during many moments of the 1st game but the delivery of every line within this game as so ON point! Emotionally drained after experiencing it but it has easily been on of the definitive experiences for the generation for me!
Definitely. It earned my GOTY spot easily. Asobo said they have no plans for a third game but that it's not off the table. My eldest (she's about Amicia's age and my youngest is about Hugo's age.) is playing through Innocence and loving it. I'm sure you can imagine how she connects with Amicia. She loves the music too and I printed violin sheet music for her to start playing it. By that evening, she was doing well on it. I'm planning on getting her the two soundtracks in vinyl next year when they release. Also hoping that the novel that bridges the two games will get translated to English and I'll get a copy of that for her too.
Oh, I did manage to buy a copy of the first game on PS5. I don't believe I'll open it as I have the PS4 copy to play, so it may become my copy that goes into a shadowbox to represent the PS5 generation in my wall of fame. Time will tell.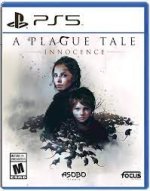 As for other purchases, I got a 1TB Seagate Firecuda SSD to expand my PS5's internal memory and I picked up the free upgrade to Witcher 3. I created a PS5 box art for it as the disc is still needed after the upgrade.
Last edited: