Today I will write about the point of view of if Iwao let Lan Di kill him or not. I reflected a lot about this and I feel that this is an interesting subject to cover.

THIS POST WILL CONTAIN SPOILERS FOR THE GAMES




At the beginning of the first game Lan Di wanted revenge and also the Dragon Mirror.
Lan Di wanted revenge
because he thought that Iwao killed his father.

We see Iwao and Lan Di fighting and Lan Di manages to knock him down. Lan Di asks Iwao where the mirror is and that he would kill Ryo. Iwao tells Lan Di that the Dragon Mirror is buried under the cherry tree.

After this Lan Di asks Iwao if he remembers Sunming Zhao, and Lan Di says that Sunming Zhao is the man that Iwao killed in Meng Cun. Iwao gets up and says... "It can't be... you." Iwao tries to attack but Lan Di makes a powerful move. Then after a short conversation with Ryo, Iwao dies.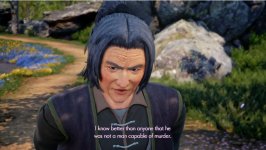 In Shenmue III Master Feng said that he knows better than anyone that Iwao was not a man capable of murder, so if this is true
Iwao would never kill anyone, especially his friend Sunming Zhao and the son of his friend aswell.

During the games we see that characters like Shozo Mizuki have a lot of respect for Iwao, for everything Iwao taught about martial arts. Iwao created the style Hazuki-ryū jūjutsu that is revered by many, Iwao is respected
within the community because of martial arts.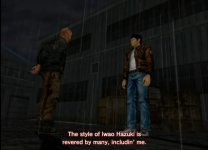 In my opinion we can say that Iwao had a master status about martial arts, so was Lan Di really stronger than him?

Did Iwao let Lan Di kill him? It is really hard to answer this question, but I do like this point of
view.

In Iwao's Room Ryo found a letter that his father wrote for him.

This is the letter that Iwao wrote to Ryo.

"Dear Ryo... Those who follow the path of a warrior must be ready to die, in order to stand by their convictions. Live for one's convictions, die for one's convictions. That is how I lived my life. Ryo, it is up to you to discover your path, and follow it through."

in this letter we can clearly see that Iwao knew that something bad was gonna happen with him. Maybe Iwao felt that Lan Di was coming so Iwao decided to write a final message for Ryo. Maybe before everything happened Iwao decided that he would die this way. Maybe when he wrote the letter he made the choice to die standing by his convictions, standing by what he thought is the right thing in life.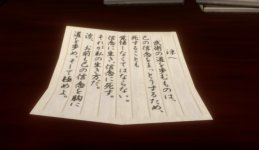 We don't know what happened in Meng Cun between Iwao Hazuki and Sunming Zhao so to me this theory that Iwao let Lan Di kill him is really interesting, but maybe Lan Di really was stronger than Iwao in that fight?

Maybe Iwao really killed Sunming Zhao because there was no other choice. Maybe Sunming Zhao was possessed by the power of the mirrors and Iwao had to kill Sunming Zhao? Maybe Iwao felt that he didn't have
any other choice to save the world, but at the same time he felt guilty for what he did, killing a friend.

Maybe this is one of the reasons why Iwao said to Ryo "keep friends, those you love... close to you." Because maybe Iwao couldn't save his friend Sunming Zhao, so maybe if Iwao was close enough to Sunming Zhao the tragedy wouldn't have happened. Maybe Iwao blamed himself for everything that happened in Meng Cun, so it's possible that Iwao said this to Ryo because he didn't want him to make the same mistake that he did.

All I know is that a lot of things in the story will become clearer for us when we get the revelations about what happened in Meng Cun. A lot of things can change for Ryo and for Lan Di after these revelations about
what really happened in Meng Cun happen. Did Iwao really killed Sunming Zhao or not?

I will make another post soon sharing in detail my thoughts about what i think it happened in Meng Cun that day.

Did Iwao let Lan Di kill him or was Lan Di really stronger than Iwao?

Before everything happened, did Iwao decide
to die this way?

What is your opinion about all of this?

Tell me your opinions in the comments below please, thank you all for reading and remember to keep friends... those you love... close to you.

See all in my next blog
post! Bye bye.
​
Last edited by a moderator: